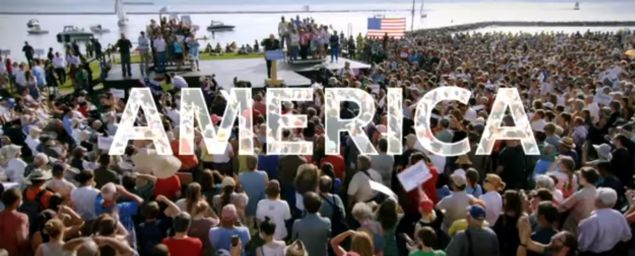 Folk rock is at the front and center of Bernie Sanders' latest television advertisement.
As warm scenes of spinning windmills, tugboats, parents and children, farmers and cows and tossed hay bales play across the screen, Simon & Garfunkel sing "America," a popular song from their 1968 album Bookends. The mood of the ad, set to air in Iowa and New Hampshire, is hopeful: a Des Moines skyline, dancing at a campaign rally and plenty of shots of a grinning Mr. Sanders, the Democratic presidential candidate.
"They've all come to look for America," the folk rock duo sings as the sign-waving masses cheer for Mr. Sanders, a Vermont senator electrifying liberals across the country.
The irony, though, is that "America" is probably not the song Mr. Sanders' operatives think it is. Like Ronald Reagan, the Republican president who mistook Bruce Springsteen's "Born in the U.S.A" for a cheerful patriotic anthem when it was really an indictment of the Vietnam War, the ambience of this spot doesn't match the meaning of the lyrics in full.
Mr. Sanders, who has an interest in folk music, may know this himself. The crescendo of "America" is not about crowds of ecstatic people coming together in the name of American glory and community. Written by Paul Simon, who like Mr. Sanders is a 74-year-old native New Yorker, the protest song is at best bittersweet, describing the journey of a man leaving Saginaw, Mich. to find his fortunes elsewhere.
The Sanders camp was probably smart to omit the second to last verse of "America" from the ad. In the verse, the true meaning of the song emerges, that of an illusory nation failing to deliver on its lofty promise.
"So I looked at the scenery, she read her magazine; and the moon rose over an open field," the duo sings. " 'Kathy, I'm lost,' I said, though I know she was sleeping. 'I'm empty and aching and I don't know why.' "
The song climaxes with the verse most prominently featured in the ad: "Counting the cars on the New Jersey Turnpike, they've all come to look for America." But the listener is not left with the sense of hope fulfilled in the new America. Rather, the image lingers of the young couple riding a bus toward an uncertain destination, anxious and disillusioned. The traffic streams by on a loveless turnpike. They are still looking for America.
Of course, "America" may be a fitting song for Mr. Sanders. On the stump, the self-professed democratic socialist has perfected a fire-and-brimstone delivery that uplifts as much as it depresses, describing a country succumbing to environmental degradation and the greed of oligarchs. The Democratic front-runner, Hillary Clinton, is not so dire, and she has been attacked by Mr. Sanders for being in bed with the wealthy interests causing so much destruction.
Maybe the choice of song isn't so ironic after all.