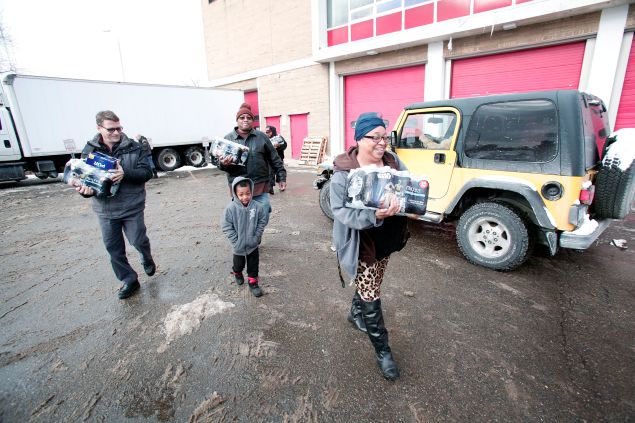 Sen. Bernie Sanders may have gone the distance and called for Gov. Rick Snyder of Michigan to resign over lead levels that have made Flint's water undrinkable, but the mayor of the impoverished city sounds like she is ready to back his top rival, Hillary Clinton.
Karen Weaver, the mayor of Flint, called Ms. Clinton "a fighter" today and said the Democratic presidential candidate would be the "friend in the White House" the impoverished city needs.
"She has actually been the only candidate, whether we're talking Democrats or Republicans, to reach out," Ms. Weaver said in a conference call organized by the Clinton campaign. "We know this is something that's not going away. We need a fighter."
When a reporter pressed Ms. Weaver, a fellow Democrat and Flint's first woman mayor, about whether she was definitely endorsing the candidate vying to become the nation's first woman president, she didn't play coy. "It does sound like it, doesn't it? I want Hillary."
Ms. Weaver, who said she spoke with Ms. Clinton personally and met with campaign aides last week, said she was gratified to hear the former secretary of state discuss the water crisis at the Democratic debate on Sunday. Ms. Clinton certainly has an edge over Mr. Sanders, a Vermont independent, in courting the Michigan Democratic establishment: Amanda Renteria, her national director, is Michigan Sen. Debbie Stabenow's former chief of staff.
"This is a civil rights issue," Ms. Renteria said on the conference call, repeating an argument made by Ms. Clinton and some Democrats that Flint has suffered because it's predominately African-American and state leadership is white. "If this was happening in an affluent neighborhood with white kids, everybody would be responding at all levels of government."
Mr. Snyder, a Republican, is under fire after high levels of lead were found in Flint's water. Michigan's attorney general opened an investigation and asked President Obama to declare a national emergency as national guard troops distributed bottled water to the city's 100,000 residents. Residents can't drink, bathe, or cook with the water.
Dave Murray, a spokesman for Mr. Snyder, told the Observer on Saturday that "political statements, and finger pointing from political candidates not involved in finding solutions for Flint, only serve to distract from solving this crisis."
Ms. Weaver didn't say outright that she wanted Mr. Snyder to resign, though she said she understood the sentiment.
"A lot of people have said the governor should step down," she said. "We want people held accountable."