The event was the 16th New Yorker Festival, and its big Saturday night shindig was going strong when the magazine's editor in chief, David Remnick, strode in. He took a victory lap around the Boom Boom Room, stopping to greet the celebrities and celebrity writers and writers who have become celebrities by virtue of being contributors to The New Yorker. They were all there, high above the High Line, by then several Moëts deep. Jeffrey Eugenides and Gay Talese mingled over trendy bites. Malcolm Gladwell posed for pictures. Tavi Gevinson and Zadie Smith talked about boys by the bar.
Mr. Remnick's late arrival was due to hosting the last event of the day, where he had ended an interview with literary rock star Patti Smith with a surprise duet of her long-ago hit "Because the Night."
"I started playing the opening chords, and she looked at me and said, very seriously, 'I do it slower.' A wave of absolute panic swept over me. I thought, 'Oh, this is really serious. This is fucking Patti Smith,' " Mr. Remnick recalled during a recent phone conversation.
The October night did belong to Mr. Remnick, and to the magazine he has overseen for the past 17 years. The New Yorker, which turned 90 in 2015, had a big year. The publication long known for its large and loyal following has overcome a late grasp of digital has transformed it into a multimedia brand.
In the past 18 months, the legacy magazine has partnered with WNYC to launch an hour-long radio show, beefed up NewYorker.com—even introducing a metered paywall—and continued to attract sponsors and big names to its annual citywide weekend of panel discussions, interviews and performances. In December, HBO aired a documentary about the magazine's signature cartoons. There's an Amazon (AMZN) series premiering on February 16. The New Yorker won last year's National Magazine Award for general excellence, and its paid circulation, 1.08 million, is at its highest ever, according to the most recent figures from the Alliance for Audited Media. Although Condé Nast doesn't provide numbers for individual titles, 2015 continued an upward trend of profitability, said a representative from the magazine.
All this during what has been a particularly difficult time in the media industry. It hasn't been an easy decade or two for magazines, of course, but after a brief reprieve, the past year has felt especially rough. Some publications folded, others shed staff, still others were bought and sold and then sold again, and in the process, were reduced to mere brands.
The New Yorker is, in some sense, somewhat insulated from the larger media landscape: the magazine became part of the Condé Nast empire in 1985, which gave it a measure of freedom from some of the financial pressures faced by independently owned publications. Since its value is tied up with a level of journalistic quality, it has been able to avoid many of the money-generating schemes that other outlets have, whether enthusiastically or reluctantly, embraced. So far, The New Yorker has mainly managed to confine paid posts, for example, to its Instagram feed, a luxury not enjoyed by most other Condé publications.
Of course, the tricky part is maintaining that core identity while appealing to a younger audience.
"My job, because of where I've landed in history, is to take The New Yorker and bring it into the modern world so that it is also at home digitally, and when it ventures into other media like radio or television, it does so with the same sense of purpose and accuracy as it does in print," Mr. Remnick told the Observer.  
Less than a month after The New Yorker Festival, there was another celebration. This time, it was less lavish, as befits the launch of a public radio show. The event space at WNYC is a far cry from the Boom Boom Room, but once again, Mr. Remnick, a novice radio host, starred. There were jokes about tote bags and about pledge drives that got the predictable knowing chuckles.
"This used to be a magazine that came out once a week and it was pretty great, but now it's so much more," Mr. Remnick said during his introductory remarks, before reading off a list of names like a WNYC host thanking sponsors.
The crowd then heard a snippet from an upcoming episode, which featured two female voices reading Kelly Stout's blockbuster "Shouts & Murmurs" piece about canceling plans, which had come out in the magazine—and been enthusiastically shared online—earlier in the year. The voices were familiar, and at the end of the clip, they identified themselves as Girls' Lena Dunham and Allison Williams, the kind of New Yorker-friendly celebrities that have become the title's mainstay.
"Our job as audio producers was to say, 'What does The New Yorker sound like when it jumps off the page and into your ear?' " WNYC chief content officer Dean Cappello explained. "You can hear in many elements of the show every week this idea of trying to bring you inside The New Yorker office."
Mr. Remnick's voice can be easily imagined filling apartments on Riverside Drive or the offices of tenured professors in Ann Arbor, the perfect Venn diagram of New Yorker readers and public radio listeners. But the program also works as a podcast, piped directly into the brain through ear buds and car Bluetooths as listeners go about their morning commutes.
The launch of the radio show was well timed to capitalize on the audio trend. Podcasting is having an extended moment, and The New Yorker, like many publications, had already been doing podcasts organized around a theme—the audio equivalent of blogs. In many ways, though, The New Yorker Radio Hour is a throwback to old-time radio programs—made to appeal to a generation that has discovered audio content anew.
"It's not lost on me for a second, because I listen to so much of it, that podcasting and radio is in a much more innovative moment than it's been in years," said Mr. Remnick. "And that's also part of what I should be doing, bringing younger readers to this thing we do."
The weekly show, which is now carried on close to 100 public radio stations, features a New Yorker-like mix of culture and politics. Cartoonists chat about the week's one-liners. Mr. Remnick interviews the likes of Amy Schumer, Ta-Nehisi Coates, Gloria Steinem and Serial's Sarah Koenig—who, he explained, he met when they were both reporters in Russia in the 1990s. But there are also more whimsical, "Talk of the Town"-style segments and other writers and editors who conduct interviews and shape content.
In one episode, New Yorker writer William Finnegan attempts to teach his editor to surf in the Rockaways. In another, digital editor Nick Thompson follows a numismatist around the city. In addition to conducting longer interviews, Mr. Remnick does the lead-in for the other segments and conducts seemingly off-the-cuff check-ins with staff writers and editors. As a radio host, Mr. Remnick has a natural style: his interviews draw out the subjects and, during his lead-ins to the other segments, he acts as a stand-in for the listener, sounding like the bookish baby boomer from New Jersey he is.
"As someone who has been at this a long time, I really appreciate the fact that David sounds good on the radio, but he is not doing a fake radio announcer voice," Mr. Cappello said. "He has his own way, and it's very natural."
"Let's put it this way. I'm an amateur radio host," Mr. Remnick said, pronouncing the word ama-tur. "Maybe in a year I'll be a radio host."
Modesty plays well on public radio.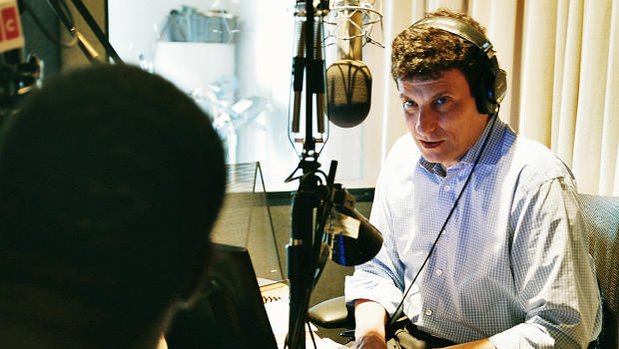 When Mr. Remnick was named editor in chief in 1998, he represented a departure from the glitzy, divisive glam of Tina Brown's tenure. A former reporter who covered Russia for The Washington Post, Mr. Remnick struck a balance between Ms. Brown's celebrity-heavy, zeitgeist-driven pages and the quirky, timeless charm of the magazine under longtime beloved editor William Shawn.
"With a gentle and pensive manner, Mr. Remnick is more likely to be found sitting at a seminar at the Council on Foreign Relations than running the gantlet of paparazzi on his way into some black-tie benefit," The New York Times noted when he got the magazine's top spot.
"The magazine certainly had a tumultuous period, with the sale to Condé Nast and then the Tina Brown years," said Meryl Gordon, the director of NYU's Magazine Writing program at the Arthur L. Carter Journalism Institute. "David has brought it to a place of continued admiration, but also stability."
Mr. Remnick, then 39, was not the first choice; Slate editor Michael Kinsley was. Other names bandied about at the time included Graydon Carter, Kurt Andersen and then-Observer editor Peter Kaplan. Mr. Remnick, who was a writer rather than an editor, got the job after crafting a multi-thousand word memo "in a blaze of a day and a half over a summer weekend," he recalled.
The memo didn't include mention of the Internet, except as it related to tech coverage. That was 1998, the year that Meg Ryan and Tom Hanks were meeting cute in chat rooms in You've Got Mail and the first dot com bubble was still inflating. The idea that a non-digitally-native publication like The New Yorker needed a website, let alone a web strategy, was still a few years off.
In 2001, NewYorker.com launched as a companion site, meaning that some of the stories were posted online. And for the next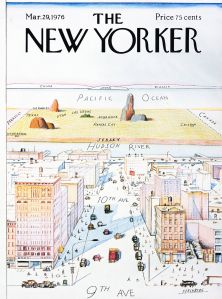 decade, that was basically the formula. In 2014, The New Yorker redesigned its site and opened up the archives, giving users free access to stories dating back to 2007. The gambit worked, and when the magazine started charging again and rolled out a metered paywall system, it turned out that people were willing to pay. In 2015, NewYorker.com had 12.9 million unique visitors per month—a 20 percent increase from 2014—and subscriptions from the site were up 43 percent from the previous year.
"What we've basically done is taken the website, made it a lot bigger, and then made it as much like the magazine as we can with the obvious requirement that we're writing about things that just happened," said NewYorker.com editor Nicholas Thompson, who in 2012 moved from the print publication, where he was a senior editor, to head the website.
"The big surprise of the metered paywall is that readership didn't go down," Mr. Thompson added. "You put a meter on, and obviously a lot of people are going to hit it. But what we found was that readership has continued to climb."
The magazine may have been slow to recognize the importance of digital, but as Mr. Remnick pointed out, The New Yorker hadn't yet figured itself out when it started out as a disorganized, irreverent magazine back in 1925. It took years to form its identity, a luxury that a publication starting today would be hard pressed to come by.
"Most enterprises die before they ever figure themselves out completely. They just do. Think of all the websites that you or I know from some years ago that don't exist anymore; to say nothing of magazines or television shows," Mr. Remnick said. "It's hard to figure out and sustain an idea and a set of ideas and make it work, not just for 10 minutes but for an extended period of time."
When magazines first became websites, The New Yorker was not thought of as a particularly good fit for the fast-paced medium. But the rise in popularity of longer online articles (#longform, anyone?) and the changed way that readers interact with online content shifted expectations.
And while the magazine was figuring out its web strategy, it was able to bank on something that few publications can—the benefit of faithful readers who can practically count their lives in back issues. Still, no publication, no matter how lucky or how much institutional support it has, can afford to become a relic, writing solely for an aging readership.
"What every print publication worries about is their readers becoming old and dying and not being replaced," the media critic Jack Shafer said.
"If I get a letter from someone saying they have been reading the magazine for 40 years, all I can be is grateful to that person. If we are lucky enough and healthy enough, we are all going to love something or do something for 40 years," Mr. Remnick told the Observer. "But I don't want The New Yorker to be a museum of itself, and I don't want to be a curator."
"I want everybody on that subway car to be exposed to it," he continued. "It makes my heart sing to see so many young people on the subway reading it—not carrying it, reading it."
And the magazine's reach will soon expand beyond the subway car with the Amazon series, at a time when Amazon's Mozart in the Jungle beat out Amazon's Transparent at the Golden Globes. Produced by Jigsaw, the hip production company run by documentarian Alex Gibney, the editorial department has an advisory role but is not intimately involved.
Judging from the pilot, the show is designed to be a visual representation of the magazine. There's a humorous short about a messiah shot in Brooklyn, based on a story that ran in the "Shouts & Murmurs" section by Simon Rich; a meandering barefoot walk through swamps with a UC Berkeley biologist based on an article by Rachel Aviv; and an interview with the performance artist Marina Abramovic conducted by staff writer Ariel Levy. Spider-Man actor Andrew Garfield reads poetry and cartoonist Emily Flake draws.
"All of these expansions are a really smart way of keeping a distinguished old brand relevant," said Ms. Gordon of NYU. "If The New Yorker was doing things badly, it would have a danger of diluting the brand. But people expect a certain quality from The New Yorker and it's delivering, so that's good news."
"I think that a brand that is strong enough to carry on its back being the best purveyor of cat cartoons in the universe is not in that much danger of diluting itself or weakening itself," Mr. Shafer said.
But can even the most ardent fan be expected to listen to an hour-long podcast, watch a 30-minute web show, read the magazine and stay current on the web-exclusive content, all in a given week?
Sure, it's possible, according to Mr. Remnick, famous for claiming that he can add extra hours to a day. That is, "If you don't binge-watch Transparent and Orange is the New Black or binge-listen to Serial," he said. "There are choices in life."