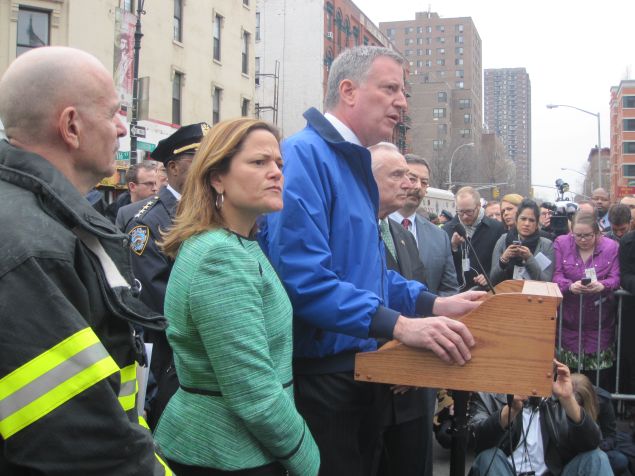 In November 2014, Mayor Bill de Blasio's ambitious housing plan faced its first major test: Astoria Cove, a 1,700-unit luxury complex planned for the Queens waterfront. The mayor saw it as the perfect place to pilot his mandatory inclusionary zoning program, which would obligate the developer to allocate some new apartments for below market-rate tenants as a precondition for permitting construction.
But the local community board, the local councilman, Costa Constantinides, and the Queens borough president all opposed the project. They argued it would strain the area's infrastructure and that the set aside for affordable housing under the mayor's plan was not large enough or cheap enough for the historically working-class neighborhood. The mayor leaned heavily on Mr. Constantinides and on the Council's Committee on Land Use to get the development pushed through—and, with a few minor concessions from Mr. de Blasio, they bowed under the pressure.
Most of the people who backed Mr. de Blasio in 2013 because of his vows to increase housing affordable housing probably never wanted to see huge new residential towers rise in their communities.
Today, Mr. de Blasio seeks to pass a mandatory inclusionary zoning plan for the entire city, and has wedded it to a set of alterations to existing codes that would let developers build without concern for creating parking or keeping their construction in context with the area. In exchange for the loosened rules, the real estate companies would have a choice of either setting aside a quarter of their apartments for households earning between $36,300 and $46,620, or reserving 30 percent for people making $48,350 to $62,150.
As much as universal prekindergarten, boosting the city's stock of affordable housing was Mr. Blasio's top issue on the campaign trail and a priority for his administration. If he is successful, it will be his defining legacy.
But community boards across the Bronx, Brooklyn, Queens and Manhattan have voted to reject much or all of the plan—as have the borough boards consisting of the community board chairs, local Council members and the borough presidents. The concerns about new buildings and new residents overtaxing schools, sewers and subway lines are the same as with Astoria Cove, as are the fears of losing the very features that define New York City neighborhoods, make them attractive to outsiders and beloved to longtime residents—their architecture, their ethnic flavor, the familiarity and affection between members of a cohesive community.
What has changed is the amount of clout Mr. de Blasio wields. In 2014, he was still a new mayor, one who had ridden into City Hall on a hard progressive platform and a 73 percent electoral tsunami, who had installed the Council speaker of his choice and built a line of political credit with Gov. Andrew Cuomo by securing him support from liberal groups over the summer.
Now, nearly half of all New Yorkers feel Mr. de Blasio does not deserve re-election. Poorly picked battles, such as his stalled bid to ban horse-drawn carriages, have shown he can be beaten. Mr. Cuomo turned into an unabashed enemy. Even the mayor's influence over Council Speaker Melissa Mark-Viverito is uncertain. And that is unlikely to change by the time the affordable housing plan arrives before the Council this spring.
Ms. Mark-Viverito, like many members of the Council's Progressive Caucus, abstained from her borough board's vote on the proposals. But dozens of Council members voted against it at the borough level, and even those who declined to participate will be under pressure from activists to vote against it—or will look to leverage their support for concessions from the mayor on the plan or on issues specific to their districts.
To give the mayor a little credit, he probably expected to haggle with the Council somewhat, and asked for things in the proposals he anticipated giving ground on in negotiations. Still, his administration has insisted the current plan is the only way to create the most below-market apartments possible—developers simply can't afford to build any more or any cheaper, even with city subsidies.
Yet community boards, Council members and borough presidents have agreed that allocation in the plan it is simply not enough to stave off gentrification.
This dilemma has two roots, it seems. First, most of the people who backed Mr. de Blasio in 2013 because of his vows to increase housing affordable housing probably never wanted to see huge new residential towers rise in their communities—most of them likely just dreamed of renting their current apartment, or one they once had, for cheaper, in a neighborhood that looked largely the same. And, just like with banning horse carriages, Mr. de Blasio may have promised more on the stump than he could deliver in office.
But the election campaign is long over, and the fight to make a key piece of the mayor's liberal vision a reality has just begun—a fight that will pit him against some of the very people who put him in office.