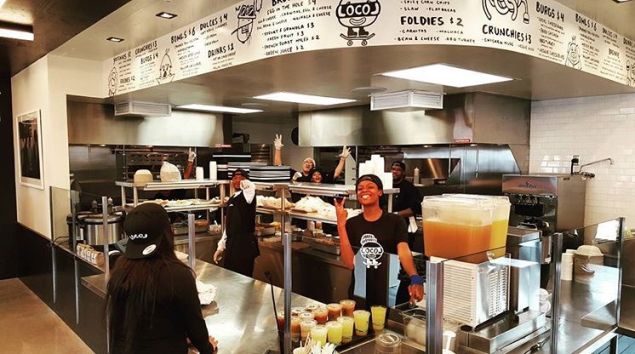 Faith isn't just about higher powers. It's about humans who understand they're fallible and emotional but who are also headstrong, talented and visionary enough to realize the world won't change the way they want it to unless they do it themselves.
I believe in Roy Choi and Daniel Patterson.
I believe that Locol, their revolutionary restaurant chain aiming to take the fast-food industry away from mass-produced swill, factory farming and frozen ingredients, is something the world craves. I believe Locol, which had its grand opening on East 103rd Street in L.A.'s Watts neighborhood last week, will succeed in breathing life into underserved communities and empowering downtrodden areas with affordable food and vital jobs to teach employees how to cook in any restaurant kitchen in the world. I believe Mr. Choi when he says it's possible to run a for-profit venture and also be invested in the "spiritual currency" that comes with feeding customers what they deserve. I believe Mr. Patterson when he says it's a myth some people want to eat garbage and that the reality is everyone will choose great food when given the chance.
I am clearly not the only one who believes in Roy Choi, a chef who became famous by feeding the streets from his Kogi BBQ trucks, and Daniel Patterson, a fine-dining ace as respected as any tasting-menu veteran in the country.
This neighborhood doesn't even have a supermarket, but it now has the most high-profile restaurant in Los Angeles.
Locol was a nonstop party during a weekend of previews and its mobbed opening week. There was Mayor Eric Garcetti, Lena Dunham, Jon Favreau and Jim Brown at the grand opening on Martin Luther King Day. There were streetwear moguls and celebrity chefs who came with their families. There was the guy behind Smorgasburg in Brooklyn who's bringing his outdoor food market to L.A. There were prominent national food media (including one who declared that Locol is the Best New Restaurant of 2016, no matter what happens the other 49 weeks of the year). There were guys with really expensive watches who, after eating, went over to gawk at the Watts Towers sculptures like they were on a South L.A. field trip.
But most importantly, there were giddy neighborhood residents, lined up around the corner, beaming and embracing and dancing on the streets, patiently waiting for the giddy neighborhood residents working inside to take their order, cook their food and serve it. There were $6 messy chili bowls—better than anything you've had in a diner—popping with spice and soul, a fantastic meal when paired with a $1 order of rice or greens. There were $6 bowls of crushed tofu and veggie stew. There were $4 "burgs," including a cheeseburger made with a Tartine bun and a patty consisting of both beef and grains. There were $2 turkey "foldies" that the city's foremost taco expert has called a wonderful celebration of L.A.'s favorite street food. There were $2 chicken nuggets and $3 soft-serve sundaes enjoyed by kids from the Florence Griffith Joyner Elementary School down the block. There was Mr. Patterson behind the grill and filling up the vats for the $1 agua frescas (no sodas at Locol), Mr. Choi giving fist bumps and hugs while carefully managing the flow of his kitchen and dining room.
In his memoir, L.A. Son, Mr. Choi wrote freely about the darker periods of his life—drugs and bar fights and aimlessness bordering on complete self-destruction. He's a man who found redemption when he took the Korean flavors of his heritage and put them in tacos and ignited the food-truck craze. He is pure L.A. Talk to him for a little while (or follow him on Twitter) and he'll ooze humility and ambivalence while also coming off as one of the most willfully confident chefs in the world. I hope he's planning a book about Locol too.
Even by Mr. Choi and Mr. Patterson's high standards and bold ambitions, Locol's Watts debut was a blowout success. This neighborhood doesn't even have a supermarket, but it now has the most high-profile restaurant in Los Angeles. The crowds came hungry every day of opening week. Employees scrambled as they made everything from scratch. Nothing at Locol is frozen. The demand was so overwhelming that Locol decided to take Sunday through Tuesday off to give its staff a break and to fortify itself for the hungry masses that might never subside. This first Watts Locol will also close every Monday beyond that until further notice.
Soon, there will be Locols in Oakland and San Francisco's Tenderloin and another in Watts. Then they will likely end up everywhere, in both largely ignored neighborhoods and those used to showing up on heatmaps. Locol, as Mr. Choi says, is for everyone. Believe.