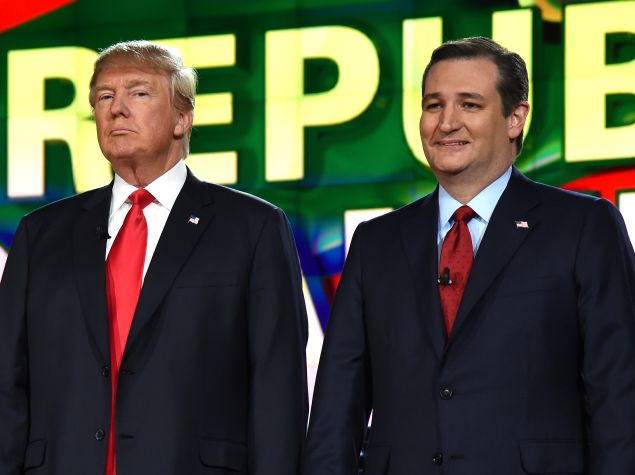 Here are the Observer's six quick takeaways from the sixth televised debate of the Republican presidential primary. The debate, hosted by Fox Business, was held tonight.
Ted Cruz and Donald Trump inevitably clashed. 
Mr. Cruz, the Texas senator, is a front-runner in Iowa and a threat to stop Mr. Trump's campaign in its tracks. The Republican billionaire boasts about leading in all the national polls, but in a state-by-state primary, these polls don't mean much. Mr. Cruz's strength in Iowa has meant that Mr. Trump, forever throwing barbs, has trained his attacks on Mr. Cruz.
He admitted this tonight, relentlessly goading Mr. Cruz on the possibility that, due to his Canadian birth, he is ineligible to be president. (His parents are American citizens and most scholars agree Mr. Cruz, like the foreign born John McCain, can serve in the White House.)
"Since September, the constitution hasn't changed, but the poll numbers have," Mr. Cruz shot back.
Mr. Trump, who relentlessly harangued President Barack Obama about his eligibility to be president, double-downed, insisting Democrats would sue if Mr. Cruz was the nominee. Each man ended up offering the other a chance to serve as vice presidents on their tickets. Each man predictably declined.
"I think I'll go back to building buildings if it doesn't work out," Mr. Trump, a real estate developer, said with a smile.
Later the Republicans clashed again over Mr. Cruz's recent comment about Mr. Trump embodying "New York" values, an attack meant to highlight Mr. Trump's liberal positions with a socially conservative primary electorate. Mr. Trump, lighting up New York Twitter, invoked 9/11, and somehow found the high road. "I have to tell you, that was a very insulting statement Ted made," Mr. Trump said. Mr. Trump, for once, was the aggrieved one.
Will any of this affect the outcome of the primary? Probably not.
Hillary Clinton is still the common enemy.    
 Ohio Gov. John Kasich declared that there was no way Sen. Bernie Sanders of Vermont, a self-described democratic socialist, would be president. There wasn't much else said about Mr. Sanders, Hillary Clinton's top rival in the Democratic primary. But the rest of the candidates piled on Ms. Clinton again, with Jeb Bush dubbing her a "disaster."  Gov. Chris Christie of New Jersey also tried to stay above the fray, deriding Ms. Clinton as an Obama carbon copy. Sen. Marco Rubio of Florida repeated his usual talking points.
None of this was surprising. Ms. Clinton is still the most likely Democratic opponent and one Republicans hope to severely weaken.
Ben Carson lost his relevance.
At one point, the retired neurosurgeon, known for his sleepy cadence and occasional loopy pronouncements, joked to a Fox Business moderator that he was "going to ask" him to "wake" him up. Mr. Carson's campaign, reeling from several high profile departures, is rapidly losing steam, and he did little tonight to reassure his supporters. His rivals ignored him.
Chris Christie took the high road against Marco Rubio. And also lied. 
Mr. Christie, the governor of deep blue New Jersey, has tried to recast his more moderate record. Mr. Rubio, sensing a threat in New Hampshire, lashed out at him, pointing to his support for the nomination of Sonia Sotomayor, a liberal Supreme Court justice appointed by Mr. Obama, and Common Core. Rather than push back, Mr. Christie performed the same rhetorical maneuver Mr. Rubio once used on Mr. Bush, his old mentor: he told him he was attacking when he shouldn't be, because nervous consultants were whispering in his ear.
"I like Marco Rubio. He is a good guy, a smart guy and he would be a heck of a lot better President than Hillary Rodham Clinton would ever be," Mr. Christie said.
Of course, as many commentators pointed out, Mr. Christie did back Ms. Sotomayor.
Marco Rubio really sticks to the script.  
The strengths and weaknesses of Mr. Rubio's campaign were on display tonight. At his best, Mr. Rubio, a Florida senator, is an engaging speaker and strikingly telegenic, the kind of elected official you imagine in the Oval Office. At his worst, he's an automaton, repeating the same talking points verbatim even as questions and dynamics shift. He's an adept debater, and TV serves him well. Whether he appears authentic enough to connect with the wider electorate remains to be seen.
Jeb Bush and John Kasich aren't having break-out moments.
Bullied by Mr. Trump, Mr. Bush has tried to gain traction in the primary by punching back. But by debate no. 6, it's become clear that the former Florida governor is not a made-for-TV candidate. He valiantly, and logically, took aim at Mr. Trump's call to ban all Muslim immigration, pointing to the need for the U.S. to work with Muslims like the Kurds to combat the Islamic State. But every time he attempts a zinger, you can see the strain. Jeb is your middle-aged dad trying to be cool.
Mr. Kasich is also not a stand-out debater. Like Mr. Bush, he is looking to pull an upset in New Hampshire and survive to March. If he does this, it will be in spite of his presence on television.
"I'm liking him tonight," Mr. Trump said of Mr. Kasich, who has repeatedly attacked him. This meant the billionaire didn't view him as a threat.
Disclosure: Donald Trump is the father-in-law of Jared Kushner, the publisher of Observer Media.