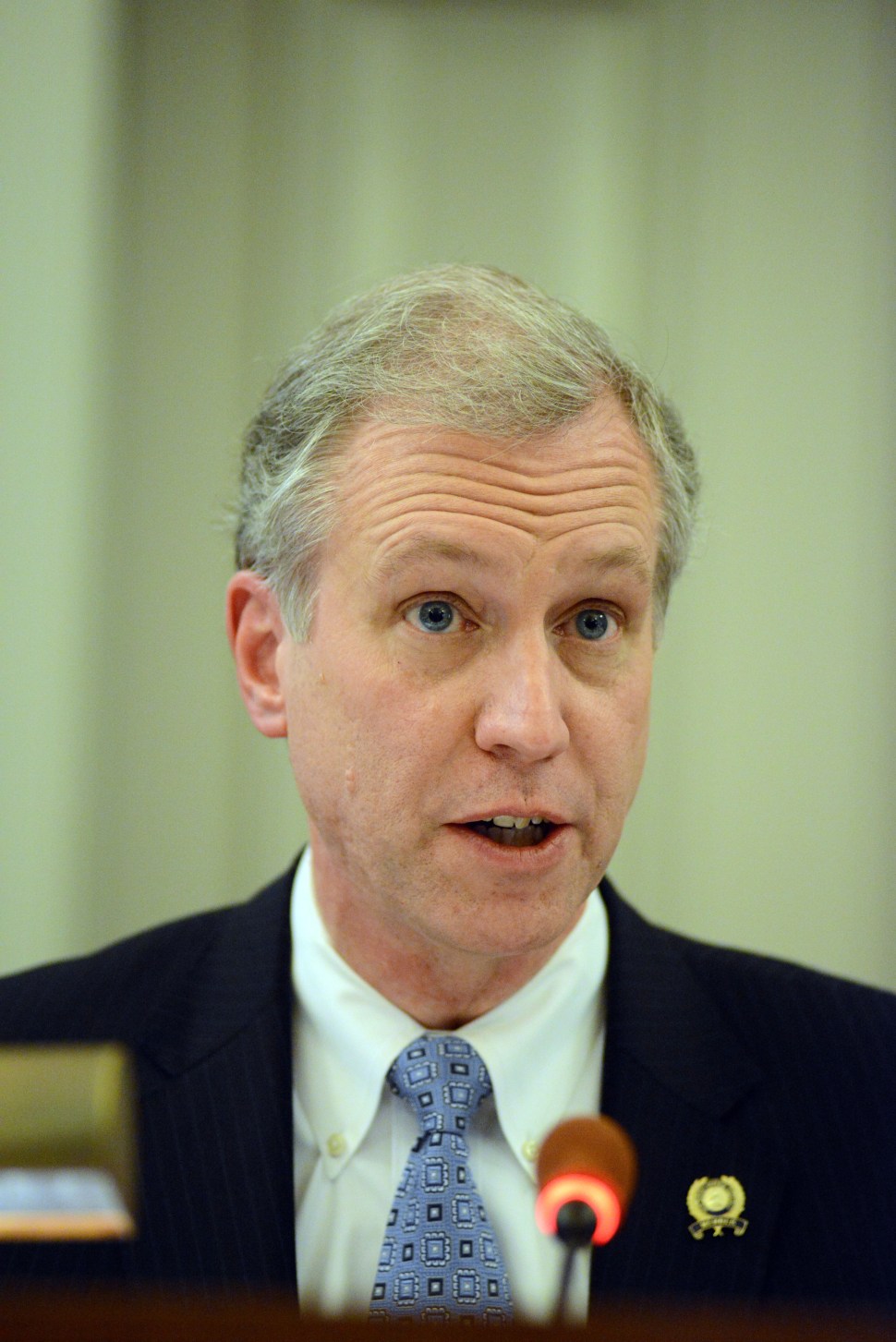 "Montclair" might have seemed that gun-to-the-temple response if someone had asked a year ago about the most likely projected siting of the Bernie Sanders for President New Jersey headquarters.
Or maybe Asbury Park.
Or South Orange.
But Sayreville?
Not bloody likely.
You'd find more willing participants for the formation of an Andrew Golota fan club than a crowd of Bern, baby Bern boosters in the Middlesex river town; and yet on Wednesday evening, Jan. 27th, the New Jersey for Sanders Campaign will formally kick off in Sayreville, that classic bastion of Catholic conservative politics ever unsteadily enveloped within the auspices of the ever seemingly (as long as no one's contracts get stepped on) socially creative Democratic Party.
That's because Sanders's point man in New Jersey is Assemblyman John Wisniewski (D-19), a sparkling blue-eyed pol with the patrician bearing who rose out of that blue collar spill-zone of humanity the rest of the world once saw from the parking lot of the South Amboy multiplex cinema on the way in to see Sean Connery in The Presidio.
Wiz and Sanders.
It seems an unlikely combination.
Like pairing Dan Rostenkowski and Jon Stewart.
But Wisniewski – two decades in the legislature now and waddling in the playpen of second banana contenders for the 2017 Democratic nomination for governor – needed to make something happen to extend that narrative of righteous progressive paladin he forged – justly – when Bridgegate made him the state's leading counterweight to Republican Gov. Chris Christie.
So while the rest of the Democratic Party establishment zigged (gloomily and in slow motion) into the camp of Hillary Clinton, Wiz zagged – the only one in the state to do so, eight years after several handfuls of Democrats opted for Barack Obama over Clinton in the 2008 Democratic Primary. Of course, Wisniewski wasn't one of them. He was firmly – albeit quietly – in the Clinton camp back then.
A year later, he royally irritated that tiny inner circle of impassioned Jon Corzine supporters when he bucked the governor on asset monetization and ever after earned their scorn – even in the furnaces of Bridgegate when the assemblyman stalked Christie like a hard-boiled detective in a Mickey Spillane novel. They still seethed.
"Wiz is a Christie plant," you half expected one of them to blurt as the chair of the Transportation Committee relentlessly went after the then-popular Republican and began the great unraveling of a would-be New Jersey icon. But no one cared about Corzine anymore, and the Rachel Maddows of the world took notice of the lanky pol, and afforded him a wide berth, and so began the repackaged Wisniewski's B actor career as a darling of the left.
As the story line died off and the supposed top tier of Democratic gubernatorial contenders warred over casinos and relentlessly made the rounds of North Jersey pigs in the blanket events, Sanders gave Central Jerseyan Wiz arguably his best shot at extending the progressive narrative furnished by all those MSNBC appearances – and his best chance at carving out some progressive turf in time for the 2017 Democratic Primary.
So Wiz rolled the dice on Bernie.
That was earlier this month when (yes, even just two plus weeks ago) the lamestream (sorry, Sarah Palin is endorsing Donald Trump as we write this) still thought of Sanders more in the context of breaded and deep fried chicken than presidential politics. And now, as Wiz prepares to mount a stage and officially play the role of grassroots Han Solo that eight years ago Cory Booker, Jerry Healy, Steve Rothman, Loretta Weinberg, Jun Choi and others all wrestled to embody, Sanders looks suddenly like a very serious contender for the Democratic presidential nomination.
What was that one poll today? It showed him up over Clinton by 30 points in New Hampshire.
"I told you," a mutt-faced pol muttered to PolitickerNJ at the Statehouse last week, as if his insight into the supposed deadness of the Clinton campaign sufficiently absolved him of his utter acquiescence in it.
"Do you see anyone else besides Wiz backing Bernie?" asked PolitickerNJ, with all the affected innocence of one who doesn't know the score and desperately needs to be steered aright, merely to see the light of sage-like self-love flicker in the eyes of the leathery hallway face.
"Negative," came the newsflash in throaty resignation.
"Wiz is the only one."
As if he felt he needed to add that for effect.
But so it's true.
Wiz is the only one, and so presumably will be that sole beneficiary of Sanders's triumph if the Vermont socialist somehow bulldozes over Clinton over the course of the next few months.
Wiz was supposed to be the guy people would get to make fun of as only man in New Jersey besides Mike Beson wearing a Martin O'Malley button.
But it didn't work out that way.
Sure, he's already angered lefties who wanted him to reach out like ET and magically touch those ranks of lower-limbed Bernie backers who are praying that they can transfer the national Sanders wave into June 5th love and smash the gates of Norcross world in CD1, for example. Midway into posing for his portrait for 2016 progressive politics, Wiz made sure the world knew he backs the reelection of Clinton-glued Donald Norcross and not the Sanders-affiliated Alex Law.
Howls ensued.
Wisniewski brushed them off.
He's heard worse from his colleagues in the establishment for years who, when it boils down to it, don't like him because he's too (apparently) educated for New Jersey politics and – although he's been known to drink Polish beer at the Sayreville festivals – not the kind of guy you want to have a beer with, as the saying goes.
And just as when he no doubt infuriated lesser intellectual talents in law school when he got the better marks, Wisniewski in such an atmosphere will incur ire and jealousy and those same seething assessments from handfuls of entrenched Hillary Clinton backers who hate where they are but never thought to do anything about their affliction, er, condition.
We're not saying Clinton doesn't win, and Wiz did blow it in 2003 when he tried to get out in front early by backing (it's a Vermont thing) Howard Dean.
We're merely saying Wisniewski – by playing politics – found a way to still be relevant, to reinvent, just as U2 does with every new album, and reanimate, and in the process, play a small part in liberating the cycle from being one more bore snore, with everyone on lock down for an establishment candidate who still, all these years later, has to wade through considerable question marks.
And that, if nothing else, even if you don't buy it as a grand Machiavellian machination, is fun.