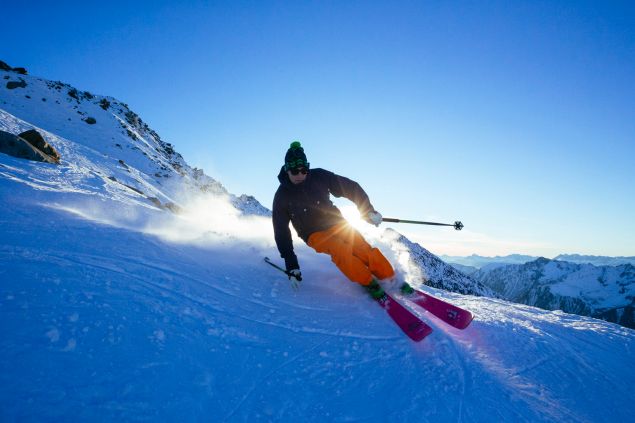 Earlier this winter, I was ascending Chamonix's Grand Montets ski resort in a gondola when my fellow riders turned their attention to the skis propped against my shoulder. "Wow," they said in French, "those are some skis." They enquired how the skis maneuvered on the thin cover of powder, how light they were and if the bindings were comfortable. They even wondered aloud if I would swap skis with them.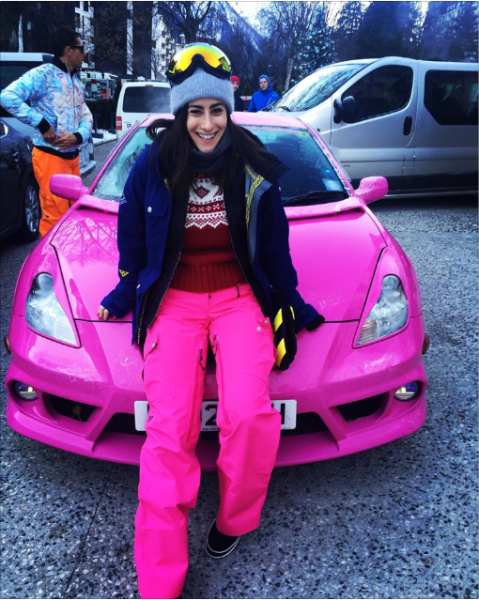 Such is the experience in Chamonix, when your skis are from local brand Black Crows. Easy to identify on the slopes, they are carved from bright neon hues and brandish a bold logo of six chevrons in the shape of a triangle. But they are not just pretty to look at; these are technical free ride skis made for backcountry skiing, the exact thing that Chamonix is known for.
A similar buzz surrounds Camille Jaccoux and Bruno Compagnet, the co-founders of Black Crows. They are local celebrities in this small French mountain town, frequently greet ing friends and fellow skiers, exchanging la bise while waiting in line for the gondola or snapping into their skis for the first run of the day.
Both are former pro-skiers and aside from their ties to Black Crows, the similarities seem to stop there. Mr. Jaccoux is a slender, tall bobo (the French version of a hipster) with a handsome swoop of gray in his dark hair. He was once a stunt double for James Bond. Then there's Mr. Compagnet, who perfectly fits the job description for a professional ski bum, replete with a tumbling gray beard and a face weathered to show season after season of smiling on sunny slopes.
"When we develop products, we try to see if we can bring something different to the experience."
They also have a third co-founder, Christophe Villemin but he's not as visible as the other two and his past isn't as glamorous; he's just an industrialist investor. The three entrepreneurs came up with the original Black Crows idea in a Chamonix restaurant. They were chasing the dream of finding their ideal ski, something fit for riding off-piste, with a broad width that could withstand quick turns and still handle well in powder. The result was their very first design, the Corvus.
Black Crows launched in Chamonix shops in 2007; during that winter, 30 pairs of skis were sold. Last year, with 22 different styles, Black Crows sold just over 10,000 pairs. A decade since their founding, the brand is slowly and strategically expanding into clothing. "It took us three years to do ski poles, which seems pretty easy, but we wanted to make something special," Mr. Jaccoux explained. "When we develop products, we try to see if we can bring something different to the experience."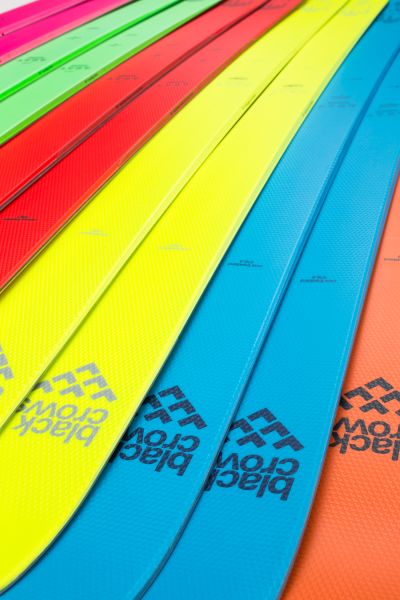 Sticking with their embrace of technical features, including waterproof outerwear made from Gore-Tex, the range still has an underlying focus on design. Camille Kunz, a former design intern at Raf Simons and the recipient of the Chloé award at the Hyères International Festival of Fashion, designed their first collection of outerwear. She turned out slick ski pants, featuring neon bibs for the boys and punchy pink hues for the girls. Her simple parka designs were inspired by vintage and heritage mountaineering jackets and though they feature a dizzying amount of pockets, easily transition from the slopes to the streets.
Sarah Andelman, founder and creative director of Colette, the Parisian fashion concept store, saw promise in the brand before the Black Crows crew touched clothing. "I always thought they had a lot of potential. They have the right connections and I think they can start to touch the fashion world and transition in," she told the Observer, after discovering Black Crows four years ago, when she hosted the first Colette Ski Club on the peaks of Chamonix.
Over breakfast at a mountainside lodge during this year's Ski Club, Ms. Andelman detailed how her involvement with the company progressed. "Last year, Black Crows said, 'Be careful, next year we will be ready with our ready-to-wear collection.' It was quite exceptional."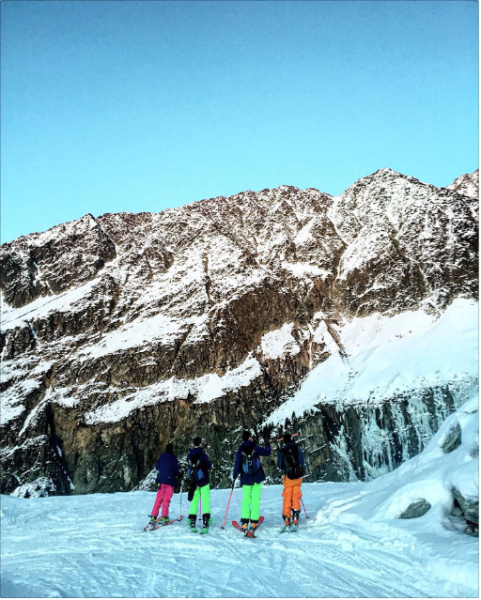 Adding to Black Crows' fashionable clout is new CEO, Eric Bascle, a former Lacoste exec. Although his arrival coincided with the end of 2015, he already has a definite vision for the years to come.
"We have to expand the range of items. More colors, more gear," he told the Observer. "In the near future we will have sweaters in technical fabrics; it could be a mix of wool with a technical treatment to make it waterproof or water repellent." In the not-so-near future he also hopes to open Black Crows stores beginning with Chamonix, followed by outposts in New York and Tokyo.
For now, Black Crows gear is available in Manhattan at Paragon Sports. The neon-clad skis and poles can also be purchased and demoed at Stowe, Vt., and Telluride, Colo. But the Black Crows have a particular sweet spot for Jackson Hole, Wyo., with its jagged terrain and laidback embrace of backcountry skiing. The Crows have a "nest" there, a team of about 14 ambassadors—ranging from pro skiers to ski instructors and even ski patrol-—all of whom ride the slopes on Black Crows.
Avid skier Mr. Jaccoux is a big fan of the resort, as well. "When I discovered Jackson, I fell in love with it. They have such a strong ski culture. It's something special. I feel like a kid when I'm there."