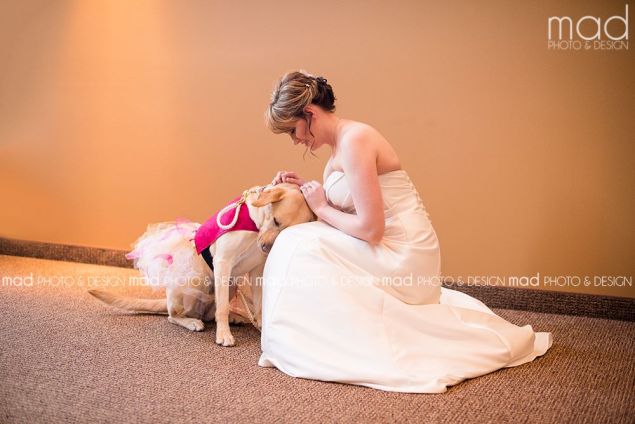 This is how a picture of an anonymous person becomes a national news story.
A photo of a South Dakota bride bending down to pet her service dog went viral last week after the wedding  photographer posted the picture on her site and it got posted on Reddit. Once it was became popular on Reddit, national media attention swiftly followed.
"On Thursday, I got a message from a friend saying that this photo had been posted on Reddit and was number four at the time," photographer Maddie Peschong told ABC News. "And then, within an hour or so, we started getting media inquiries [from] all over the United States."
The heartwarming image of the service dog dressed in a tutu comforting the bride (dog Bella is trained to help owner Valerie Parrot with anxiety, migraines and panic attacks) quickly became fodder for stories in hundreds of outlets, from blogs to national news outlets; from local broadcast news to national television networks.
"I never thought it would be this big. When I posted the photo, I thought this is a sweet photo of a girl and her dog. Val needs to see this. I thought it was cool my grandma liked it so much, let alone Mashable.com," Ms. Peschong said during an interview with ABC News.
Wedding photos, of course, are almost natural clickbait. Last fall, in another example, a father was walking his daughter down the aisle when he stopped to include her stepfather. The gesture was captured by the wedding photographer and posted on Facebook, where it became a viral sensation. There, too, a photo posted to a social network became national news.
Considering that scrolling through a social feed has become another form of reporting and "being popular on Reddit," is a story in itself, it isn't surprising that that's where these kind of feel-good human interest stories increasingly originate.