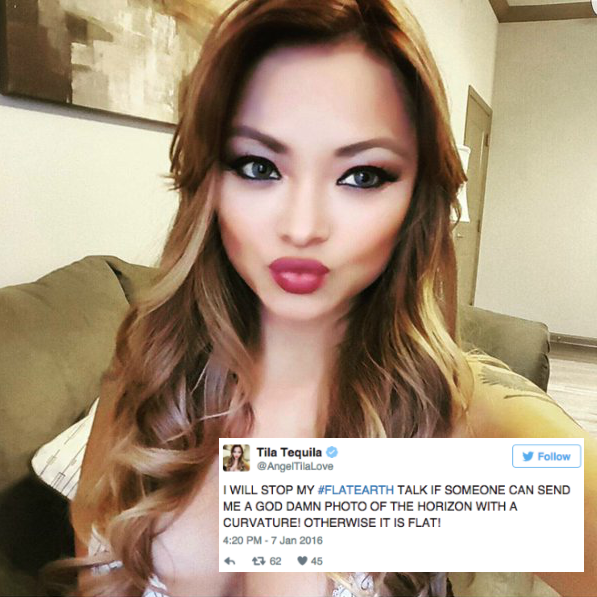 Update: Rapper B.o.B. is the latest celebrity to join the #FlatEarth movement. He's even released a song titled "Flatline," in which he compares himself to Malcolm X and disses Neil deGrasse Tyson. The astrophysicist, who tried to disprove the rapper on Twitter, has now released a diss track of his own.
Remember Tila Tequila? She was the most famous person on MySpace and went on to get her own MTV dating show, A Shot At Love With Tila Tequila, which aired for two seasons in 2007. She's since been on Celebrity Big Brother and found herself in the middle of an uninteresting sex tape scandal, but other than that, she's been out of the limelight.
That all changed late Wednesday night when Ms. Tequila begin completely losing her shit on Twitter. Almost a day later, she's still at it, and it seems she's upped her tweet speed too—now, they're coming in every minute. In total, hundreds of tweets (in mostly all caps) have been posted about a few dozens oddball topics from "ant warfare" to the fact the she died in 2012. She's now trending on Twitter.
She had a lot of thoughts on the shape of the Earth:
There have been many, many more thought about #FlatEarth, but she's also been tweeting a lot about being a robot:
And frequencies:
She's also said a lot about being a clone of herself:
Among other topics:
Stay tuned on her Twitter feed here.