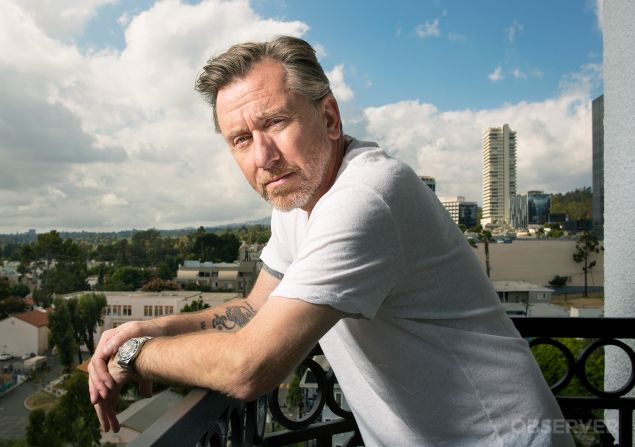 The first voice we hear in Pulp Fiction, the 1994 Quentin Tarantino film that has gone from indie phenomenon to cult classic to a touchstone of film history, belongs to a then-33-year old Tim Roth, uttering a simple line: "It's too risky." 
Twenty-odd years later, Mr. Roth is about to embark on a promotional tour for Hateful Eight, a blood-soaked ensemble western that is his fourth film with Mr. Tarantino, a man he considers a friend. Of course, being friends with Quentin Tarantino these days is a risk all its own.
"A lot of people don't realize 'The Hateful Eight' is a very political film. …We're supposed to be making a film about back then, but it's the same exact racial conversations happening as they are today."
Speaking at a Rise Up/Black Lives Matter rally in New York City in October, Mr. Tarantino referred to some police officers as "murderers," leading several police unions to swear a boycott of not only The Hateful Eight's premiere, but of all future Tarantino projects.
"I was in Mexico when that all went down…" Mr. Roth told me recently, his voice taking on the timbre not of an actor promoting a film, but a man thoughtfully defending a friend. "He's a good guy, Quentin. It's not about being a cop-hater, at all. It's all a little more complex than that."
***
There exists a small but nagging tension that comes with sitting down with any actor worth their salt; I'm talking the A-listers, the Oscar winners, the ones who can recall a time when Los Angeles was the only place to make a film. After all, when a person is that good at pretending to be someone else, how can you ever know who you're interviewing? It's a rare thing to know, for sure.
It's even rarer when that unspoken anxiety is confirmed out loud.
"I used to lie in interviews all the time," Mr. Roth tells me, flashing the wolfish grin that has allowed him to play both charmer and maniac alike over a 33-year-long career. We were in the penthouse of The London West Hollywood hotel, Mr. Roth lounging in a loose-fitting white V-neck, blonde hair casually slicked back. Every so often he would pull on a boxy vaporizer, and the breeze from the open terrace window would pull the mist out toward the warm Hollywood air, down to Sunset Boulevard 10 stories below us.
"What you do is, you plant the lie," he said. "Tell a story that's completely false. Make one up. Make it a good one that sounds feasible. Then you sit back and wait for it to crop up somewhere else. It always does."
"What?" He asked his hand-wringing publicist in the other room, leaning back on a couch. "It's true!"
Why all this pointed talk of lying?
Plot-wise, Hateful Eight hinges on a group of liars. Nine strangers converge on a mountainside haberdashery, seeking shelter from a blizzard in the post-Civil War American West. It's a group as diverse in voice as it is in background—Samuel L. Jackson plays a black Union soldier, for example, Bruce Dern an elderly Confederate general, Mr. Roth providing levity as a foppish hangman from the U.K. named Oswaldo Mobray. Over the course of the movie's 187 minutes, it becomes clear someone is lying about who they really are. An intriguing premise, for sure, and probably Mr. Tarantino's best outing in terms of pure entertainment since he wrapped the Kill Bill saga in 2004.
But the locked-room whodunit that unfolds over The Hateful Eight's extended runtime almost pales in comparison to the real-life drama that encompassed the film. Mr. Roth, for his part, left the country after Hateful Eight's principal photography concluded to work on the indie 600 Miles from director Gabriel Ripstein, content in the knowledge the big-budget western would be waiting in L.A. when he returned.
Then came the backlash over the director's statements. "That's such a Quentin thing, if he wants to protest and demonstrate, that is as it should be," said Mr. Roth, firmly. "It's his right to do that."
In a strange way The Hateful Eight, this admittedly over-long, blood-splattered Western set in the 19th century, repeatedly finds ways to intertwine itself with the racial conversation taking place today. Get past the bullets and the blood puddles, and there are relevant topics at hand.
A plot device in the original script is greatly expanded on, for example. In the original, a letter from Abraham Lincoln carried by Samuel L. Jackson's Major Marquis Warren is mentioned in passing; in the finished product the letter is a fake, which Warren displays like a shield against prejudice: "Black people are only safe when white people are disarmed," Mr. Jackson intones during a tense second-act exchange.
As filming took place—perhaps even as Mr. Jackson uttered this line over and over again in front of a camera—a grand jury in Ferguson, Mo., decided against indicting a police officer in the fatal shooting of Michael Brown. Hundreds of miles away, in snowy southwest Colorado, the decision weighed heavily on the ensemble.
"During rehearsals and everything, all the cast talked about was Ferguson. It came up a lot, and then those other incidents happened one after the other, after the other," Mr. Roth said. "A lot of people don't realize Hateful Eight is a very political film. When we were shooting, it was like, 'What's going on?' We're supposed to be making a film about back then, but it's the same fucking arguments. The same exact racial conversations happening as they are today."
***
The film almost didn't see the light of day, due to the now-infamous leak of Tarantino's first draft. At the time, our main suspects were less a hateful eight but a selective six, a tight circle of actors and producers.
Mr. Roth—along with Mr. Dern and Michael Madsen—was right in the middle of that circle. "I met Quentin at a lovely restaurant on Sunset. He gave me the script and said, 'Read this, but do not show anyone,' " Mr. Roth recalls, referring to late-2013. "My kids didn't even get to see it. No one got to see it."
A few weeks later, Deadline Hollywood ran the headline "Quentin Tarantino Shelves 'The Hateful Eight' After Betrayal Results In Script Leak." Mr. Roth was rehearsing a play when his phone rang, an irate Mr. Tarantino on the other end.
"Quentin was furious," Mr. Roth remembers. "And I know why. The movie has a twist, and now there's that element of surprise in there completely busted. So he has other scripts ready to go, and was just like 'Fuck that' and pulled another out of the drawer. And we were all so sad, because we wanted to work with him, and it was such a brilliant piece."
The solution to that particular mystery—a lot of fingers are pointed at Mr. Dern's reps, but there's also the possibility of a no-name assistant feeding a script with no watermark into an errant copy machine—is probably far less satisfactory than the fate of The Hateful Eight. A live reading of the script billed as its only performance in history turned into a bit of false advertising when the crowd's reaction changed the persnickety Mr. Tarantino's mind. The Hateful Eight, with many tweaks to the leaked script, rode again.
"The situation was very real. Quentin doesn't suffer bullshit lightly. But he got through that. We got through that," Mr. Roth said, that smile returning to his face. "And here we are."
***
To watch Mr. Roth in The Hateful Eight is, in a way, to watch a career come full circle. Not to say his career is over, not by a long shot, but starring in a Tarantino-written and directed film, an ensemble piece set in a limited space, brings to close a loop started when Mr. Roth appeared as Mr. Orange in Reservoir Dogs, Mr. Tarantino's third film. Mr. Roth was just 31 years old when the script by a relatively unknown writer/director about a bank heist gone wrong landed on his lap, Reservoir Dogs written on the cover.
"Getting that script? Holy shit. I remember [Reservoir Dogs co-star] Harvey Keitel saying to me, 'This is good, right?' " Mr. Roth said. "I was so interested in playing Mr. Orange. I liked the conundrum of being an English guy, playing an American character, who himself is also playing a character."
The only problem? "When I got three films under my belt, I stopped auditioning. I'm crap at it. I was losing jobs just by auditioning," Mr. Roth said. "So when I met with [Tarantino], Harvey Keitel was there and they wanted me to read some scenes. And I was like, 'I'm not going to do that.' I held my ground pretty firmly."
Fortunately—for us, for Mr. Tarantino and for the sake of Mr. Roth's career trajectory—that ground Mr. Roth so firmly held soon became a little more wobbly.
"Quentin and I went to a deli on the Strip, had a beer and a sandwich, and talked about the [Reservoir Dogs] script. Then we ended up going to this pub. We had more and more drinks, and eventually I said, 'I'll read for you!' He didn't have the script, so now we're writing down lines on beer mats. We went to 7-Eleven, bought more beers, and walked to my flat where I had the script. I read every single part."
"That's the only time I've auditioned in 25 years," he said, laughing.
A generous person would call 'The Hateful Eight' a tonal companion to 'Reservoir Dogs;' a more blunt observer might call it the same movie in a different setting.
Dogs put the London native in front of an audience either unaware of Mr. Roth's extensive pre-America resume, or just unable to nab a VHS of 1990's stellar Rosencrantz and Guildenstern Are Dead with Mr. Roth and Gary Oldman in the title roles.
Mr. Roth asserts the role of Oswaldo Mobray in The Hateful Eight was written specifically for him and not, some critics have written, Inglourious Basterds' Christoph Waltz. And somehow that seems appropriate. A generous person would call The Hateful Eight a tonal companion to Reservoir Dogs; a more blunt observer might call it the same movie in a different setting.
By either descriptor the two films share a certain spirit, unchanged by the decades between them, especially so for Mr. Roth, energetic as ever. Though the gap between the films has included an Oscar nomination for a supporting role in Rob Roy, a trip to The Planet of the Apes and a three-year stint on TV, you can still see that same feverish 31-year-old actor who held an audition off bar napkins on the Sunset Strip, the one we first met bleeding to death in the back of Mr. White's car.
"I remember the set of Reservoir Dogs, there was music playing through loud speakers. We were all cracking each other up, dying laughing during takes," Mr. Roth said. "It was this jovial, relaxed environment but it wasn't a circus. Now, you walk into [Hateful Eight], and you're surrounded by a fucking circus. But we're still the same guys, we just have it down now; we have the bits and pieces to make a much bigger movie."
***
Mr. Roth has seen far more than just Quentin Tarantino evolve over 33 years in film—he's also watched the industry itself progress and, occasionally, threaten to slip away from him. First, when cities like New York, Atlanta and Montreal began to offer enticing tax incentives to filmmakers, and California was no longer the end-all-be-all of movie production; more recently, as high-profile actors depart film itself for the green—and growing greener—pastures of television.
In 2009, Mr. Roth signed up to play Dr. Cal Lightman—curiously, an FBI expert in deception—in FOX's Lie to Me. This was a time before Kevin Spacey ever monologued into a camera for House of Cards or Matthew McConaughey grumbled about time and circles on True Detective; a time when the thought running through Mr. Roth's mind was "This is going to end my career."
"There was a definite divide between film and television. I started off frustrated with the writing, and the formulaic nature of it all," he said. "And just as the scripts got more and more interesting and surreal, and we started having a fantastic time, FOX cancelled us."
I wondered aloud whether Mr. Roth thought, in the end, the film industry was simply missing something crucial. It is, he agrees, but television is not the answer.
"Nowadays people just know too much; there is the Internet, and there is this obsession with movie star type people. And that's a shame," Mr. Roth said. "Film should have an element of magic about it."
Just days after our talk, Mr. Roth, Mr. Tarantino, and the ensemble cast departed for an extravagant road tour to promote The Hateful Eight, with award recognition already pouring in (the script, that damn script that almost ruined everything, is already building Oscar buzz). In the end the "true story"—a script leak, a furious director, a police boycott—was only as substantial as Mr. Roth's vaporizer mist drifting out into the Los Angeles sky.
And that is, really, the actual tension caused by diving too deep into the affairs of actors—not that you will be lied to, but that you will get to "the truth" and find it's less interesting, less magical, than what is on the screen.
"Film is a couple hours to escape…go on a journey," Mr. Roth said, "and then you get back home and do the laundry."