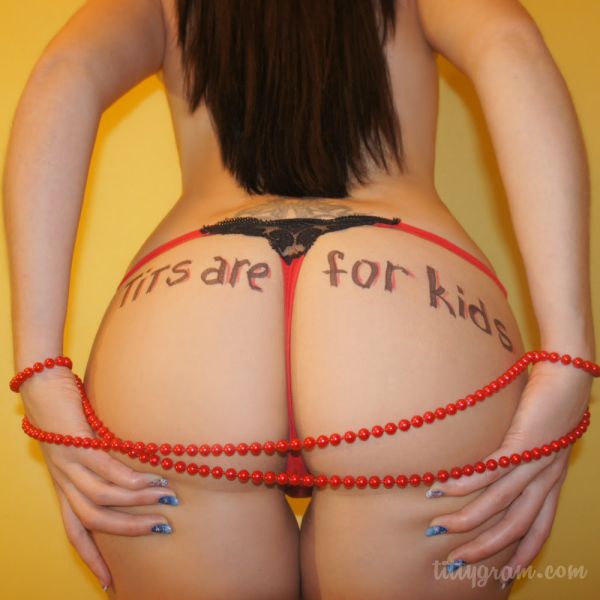 We heard recently that Tittygram has expanded its so-called "Uber for boobs" service to butts. We're a little behind on this news, but don't let that bum you out. We've gotten an exclusive update on how the new service has been for business. Long story short: messages on rumps really bumped up the Russian venture's bottom line.
When we first reported on the company, that lets you hire a model to write a short message across her almost naked chest, we wrote that early users in Brazil kept demanding derrieres as the preferred message vehicle. The CEO, Vladimir Gritsenko, told us at the time that butts were tricky, because a model needed someone to write the message for her. By November, though, they announced a butt option for premium users, via Twitter and their newsletter.
Despite the fact that this line most likely takes extra hands, Mr. Gritsenko confirmed that all the company's models are still freelance. "We are still a platform for artists and boob lovers," he wrote in an email. "The models are truly the artists. Many of them have assistants to take perfect photos and make writings."
There's been a surge in demand for the new service (including at Christmas, apparently). The startup's revenue is up 75 percent and the premium share of total orders more than doubled (premium customers can pick their model and their image isn't watermarked). The newsletter revealing the butt option got 350 percent more interest than regular newsletters.
Weirdly, though, Brazil hasn't especially responded to the new service, but business in Turkey is up 2,000 percent.
SEE ALSO: This artist replicated her breasts exactly to free the nipple on Instagram.
The company is lucky that word of mouth seems to be enough to keep it growing, because major social media companies like Facebook and VK (Russia's Facebook) have been turning away its ad buys, according to the company's blog. Its group on VK has 1,141 members, though; on Facebook, it has 821 likes.
Response to the company in the American media has not exactly been enthusiastic. Bustle called it "tacky, not to mention completely sexist and objectifying," for example. Not everyone may see it that way, but it's worth pointing out that offering one's body as billboard for the company won't make anyone rich. In its terms of service for models, under "Remuneration," it says, "Your remuneration shall be calculated on a following basis: 3 USD per Image."
Since premium photos cost $29.95 each, then models would take in about 10 percent of that fee. Wages like that for work like this? Someone needs a spanking.