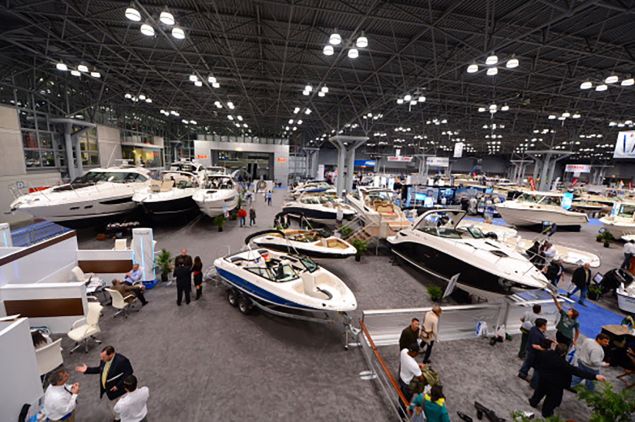 WEDNESDAY January 6
"The heaviest concentration of New York's dream life is almost certainly to be found under the roof at the annual Boat Show," E.B. White wrote in the January 19, 1952, issue of The New Yorker. And that observation certainly still holds true—perhaps more so now, given the ungodly advances in nautical technology through the years. The New York Boat Show, rolling steadily along since 1905, takes place today through Sunday, featuring such aquatic vessels as the practical canoe and the stately yacht. Jacob K. Javits Convention Center, 655 West 34th Street, nyboatshow.com, $16
THURSDAY January 7
The comedian Lane Moore takes on the foibles of online dating in this interactive stand-up act, called Tinder Live!, which also includes appearances by John Glaser, Scott Adsit and Stephanie March—otherwise known as the cast of the now-defunct Adult Swim series Neon Joe, Werewolf Hunter. Bring your smartphone (as if we needed to tell you that): you might end up engaging in a little real-time swiping. The Bell House, 149 7th Street, 9 p.m., thebellhouseny.com, $15
FRIDAY January 8
The last time we went to the Big Apple Circus, decades ago, we noticed the visual artist Chuck Close sitting nearby in the stands, taking it all in. You never know exactly what you'll see at the yearly menagerie that is this traveling extravaganza. The Grand Tour, which is set in the 1920s, features the stock-in-trade of any standard circus show—trapeze artists, horses, clowns, jugglers—but surprises are always in store. The show has been running since October but ends its residency in Damrosch Park at Lincoln Center on Sunday. So, make thy way to the tent! Lincoln Center, West 62nd Street between Columbus and Amsterdam, bigapplecircus.org, $25-$175
SATURDAY January 9
Who says you can't go bird watching in the wintertime? Sure, the yearly spring warbler migration through Central Park is one of the city's great natural attractions, but contrary to conventional wisdom, a number of birds stick around New York through the cold months, including the robin, the yellow-rumped warbler (otherwise known as the butter butt), the red-tailed hawk and a number of ducks. In November of last year, the painted bunting—a resplendent little finch that spends most of its time in the South—made its first appearance in Kings County since 1999. It seems to have taken up residency outside the LeFrak Center in Prospect Park. If you'd like to see it, head to the park and look for the scrum of birders frantically peering through their binoculars to get a sighting. It shouldn't be hard to find. Prospect Park, LeFrak Center, 171 East Drive
SUNDAY January 10
All hail the Golden Globes, the Academy Awards' scrappy cousin! This year the film and TV award ceremony will be hosted by Ricky Gervais, and you can take it all in on the East Coast at the screening party at Videology Bar & Cinema, the cinephile's paradise in Williamsburg (which has the best movie trivia night in the city, in case you were wondering). Red carpet coverage begins at 6 p.m., and the ceremony starts at 8. Videology, 308 Bedford Avenue, videologybarandcinema.com.
MONDAY January 11
The fourth annual First Look Festival, at the Museum of the Moving Image in Queens, features movies that take experiments with form and subject. This year's festival, curated by David Schwartz and Aliza Ma, showcases a lot of foreign works. First Look runs through January 24. Museum of the Moving Image, 36-01 35th Avenue, movingimage.us, $12 per screening, $40 for a festival pass
TUESDAY January 12
Have you ever felt that mice are a lot cuter when they're dead? If that sick thought has passed through your brain—and we're sure it has, especially if you live in a Manhattan apartment—then we're sure you'll enjoy the anthropomorphic mouse taxidermy class at the Morbid Anatomy Museum. The class is taught by Amber Maykut, a Brooklyn-based taxidermy artist, and participants will each get a dead mouse (ethically sourced, according to the website) to do up in tiny human clothes and pose in weird positions. Morbid Anatomy Museum, 424A Third Avenue, Brooklyn, morbidanatomymuseum.org, 12 p.m.-4 p.m., $120
WEDNESDAY January 13
The Winter Jazzfest, now in its 12th year, starts today and runs through January 17. It offers a good opportunity for those looking to get into jazz to cheat the system a little bit, to inhale the music's entire spectrum in one or two nights. The best days to go are Friday and Saturday, when more than 100 diverse groups play in several venues throughout the West Village, late into the night. We suggest the Vijay Iyer Trio on Friday, for one, and Ethan Iverson and Mark Turner on Saturday. Throughout the West Village, winterjazzfest.com, prices vary depending on the day and package.