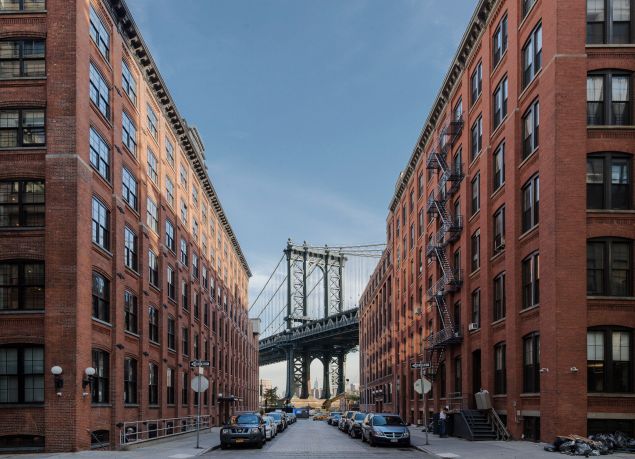 Nine artists and one nonprofit arts organization are the lucky recipients of subsidy grants for below-market workspaces in the Dumbo neighborhood of Brooklyn, the spaces' landlord told the Observer.
Now in its second year, Dumbo power landlord Two Trees Management Company's Cultural Space Subsidy Program gives artists and arts organizations a chance to lease workspace for up to three years at a time at below-market rates.
"We are looking for artists and organizations showing they need space, and what kind of community and social benefits they provide for locally, and to the world," Lisa Kim, Two Trees' cultural affairs director, told the Observer.
Tenants are selected through an open call, and this year's recipients include some big names. Among them, artist Chitra Ganesh, who presented a site-specific installation at the Brooklyn Museum's Elizabeth A. Sackler Center for Feminist Art in 2015; painter and video artist Peter Drake is well known for his role as academic dean of the New York Academy of Art; Jeanine Oleson completed a 2014 residency at the New Museum where she exhibited works on the museum's fifth floor and developed an experimental opera; and Shelter Serra (who happens to be the nephew of art star Richard Serra) is well known for his artwork based on reinterpretations of luxury goods. Arts nonprofit Art in General, which has been located in Lower Manhattan since 1981, will also be granted a space.
Real estate in New York City is obviously a hindrance for most artists and art organizations. The typical market rate for similar spaces in the area could go for upwards of $45-per-square-foot, Ms. Kim said. The spaces offered by Two Trees—at 20 Jay Street, 55 Washington Street and 45 Main Street—range from 700 to 2,500-square-feet each and are being offered to grantees at $12 per square foot to tenants.
Ms. Kim told the Observer that spaces are matched to recipients based on their individual needs, operating budget and the availability among Two Trees' properties. Currently, the organization oversees 100,000 square feet of reduced-rate rental spaces, of which about half is available through the subsidy program.
Below, the complete list of this year's Cultural Space Subsidy grants:
Art in General
Blaine De St. Croix
Marc Dennis
Peter Drake
Gabriele Evertz
Chitra Ganesh
Jerry Kearns
Jeanine Oleson
Shelter Serra
Thomas Stevenson