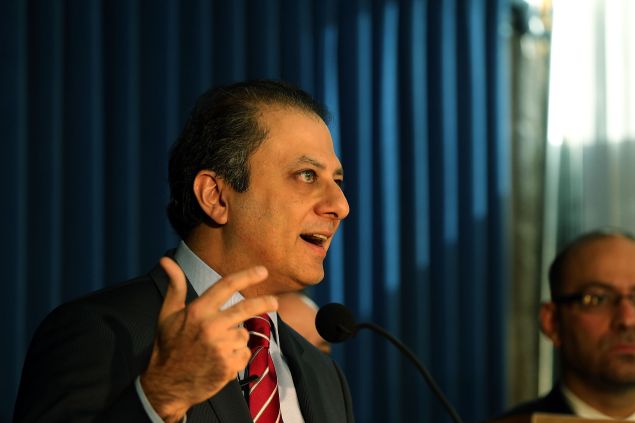 Crusading U.S. Attorney Preet Bharara took a sharp dig at former U.S. Attorney General Eric Holder—whom he served under from 2009 until Mr. Holder stepped down in last year—for how he handled the fallout from the 2008 financial crisis.
Speaking at the Tina Brown Live Media's American Justice Summit at John Jay College of Criminal Justice in Manhattan today—an event Mr. Holder is scheduled to appear at later this afternoon—Mr. Bharara slyly insinuated the former top prosecutor was to blame for the failure to prosecute financial executives. Asked why the Justice Department had not brought criminal charges against any top Wall Street figures in the aftermath of the 2008 financial crisis, Mr. Bharara, known for his zealous prosecution of insider trading and public corruption, suggested the problem came from over his head.
"I don't think there was a failure of resources there, or a failure of will," Mr. Bharara answered. "Decisions were made about who would look at which bad things which arose from the financial crisis. And maybe, it's possible that someone, you know, taking a step out, maybe someone should ask that question later in the day of an individual who's coming."
The dryly sarcastic comment provoked a low murmur of laughter in the auditorium. Mr. Bharara openly named Mr. Holder when asked later about the delayed prosecution of Khalid Sheikh. The 9/11 Commission called Mr. Mohamed the "architect" of the 2001 terror attacks on the World Trade Center.
Mr. Mohamed remains in the Guantanamo Bay detention center in Cuba after a failed military trial, and faces prosecution in federal courts. The Central Intelligence Agency's use of so-called "enhanced interrogation techniques"—which critics call torture—to extract information after his capture in 2002 has complicated the case for the government.
Mr. Holder ran into controversy in 2009 when he announced his intention to try Mr. Mohammed and four other accused 9/11 conspirators in a civilian court in the Southern District of New York, an effort Congress ultimately blocked because of security concerns.
Mr. Bharara today apologized to the families of those who died in the terror attacks, and seemed to suggest that the former attorney general had been vindicated.
"I say, 'I'm sorry that you haven't gotten justice yet.' Another good question for Mr. Holder, who's coming later," the prosecutor said, recalling the furor. "It was six and a half years ago that he called me in November of 2009, and said that 'your office will be prosecuting Khalid Sheikh Mohammed.'"
Mr. Bharara noted his office had since convicted numerous other terrorists, including Osama bin Laden's son-in-law, without incident.
"And it shows everyone that all these bad things that would arise, if we tried terrorists in a local court in New York, didn't come to pass, and may not have come to pass if we tried Khalid Sheikh Mohammed as well," he said
After leaving the Justice Department, Mr. Holder returned to private practice at the firm Covington & Burling, where he worked before taking the job as the nation's top law enforcement official. Covington & Burling counts a number of multinational companies and financial institutions among its clients.
The former attorney general did not immediately respond to requests for comment.
President Barack Obama appointed Loretta Lynch, former U.S. Attorney for the Eastern District of New York, as Mr. Holder's replacement. Mr. Bharara was rumored to have coveted the job himself, but refused to answer if he expected to become attorney general if ex-Secretary of State Hillary Clinton wins this year's presidential election.
"I'll wait til it happens," said the former aide to Sen. Charles Schumer.
CLARIFICATION: An earlier version of this story reported that Mr. Bharara said, "I don't think there was a failure of resources. It was a failure of will." Representatives of Mr. Bharara's office and Mr. Bharara himself strongly disputed that those were his words. A review of a tape of the event seems to confirm that what was actually said was "I don't think there was a failure of resources there, or a failure of will." The cross talk and audio quality make it difficult to be 100 percent certain, but Mr. Bharara told the Observer "I absolutely DON'T believe there was a failure of will.  I've said the opposite for over six years."