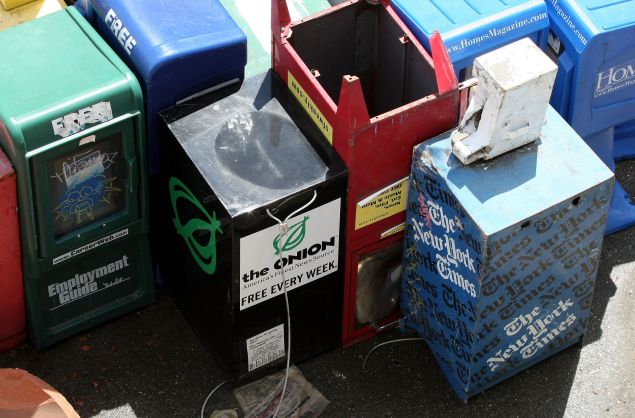 Spanish-language network Univision announced this morning that it has acquired a stake of satirical news outlet The Onion. Because millennials love comedy!
"Comedy is playing an expanding role in our culture as a vehicle for audiences to explore, debate, and understand the important ideas of our time," Univision and Fusion head Isaac Lee said in a statement. "It has also proven to be an incredibly engaging format for millennial audiences, and is expected to play a key part in the 2016 presidential election process via our robust content offerings in Spanish and English. The Onion has been, and continues to be, a leading force of this phenomenon of intellectual, social, cultural and satirical commentary online."
The details of the deal were not disclosed, but NPR's David Folkenflik reported that Univision parent company Univision Communications Inc. bought a 40 percent, controlling stake in the satirical news network, which includes the company's entertainment and pop culture site The A.V. Club  and viral news parody site Clickhole.
Univision has sought to broaden its base—last May, it acquired The Root, a website aimed at an African-American readership. And two years ago, Univision partnered with Disney-owned ABC News to launch Fusion, an English-language news network aimed at the millennial market (a venture that ABC is now exiting).
The Onion will continue to operate independently, but Univision will, according to a press release, "have oversight of Onion Inc. to leverage Univision Digital's distribution, resources and media expertise to expand the exposure of the brand."
Hmmm….sounds like this story from The Onion about corporate buzzwords.