A scrappy, street smart Republican from Essex County whose high school coach once put him on the team because he said the kid would stop a baseball with his face, 22-year legislative veteran Senator Kevin O'Toole (R-40) of Cedar Grove will not pursue another term in the state senate.
"It has been an incredible honor and privilege to serve the people of New Jersey," said the senator in a letter to county committee members mailed out Thursday night. "I can never repay the debt of gratitude I owe the voters and constituents for having entrusted me to represent them. When I first ran for office in 1989, at age 24, I never dared dream that I would be fortunate enough to serve the public for 29 years – when my term ends.
"It's now time to move on and experience new and exciting opportunities that my life has to offer," he added. "As when I voluntarily left the Cedar Grove Town Council after seven years, the party chairmanship after 12 years, and now 22 years in the Legislature, I believe it is time to create opportunities for the next – younger – generation of dedicated public servants to have their chance to make a difference."
The news from O'Toole world indicated what could be a coming landslide of lawmakers out of power as Gov. Chris Christie prepares for departure at the end of 2017 and New Jersey hits the reset button on the Statehouse. Another senator, veteran Union County heavyweight Ray Lesniak – told PolitickerNJ last year that he intends to run for governor in 2017 – not another term as senator.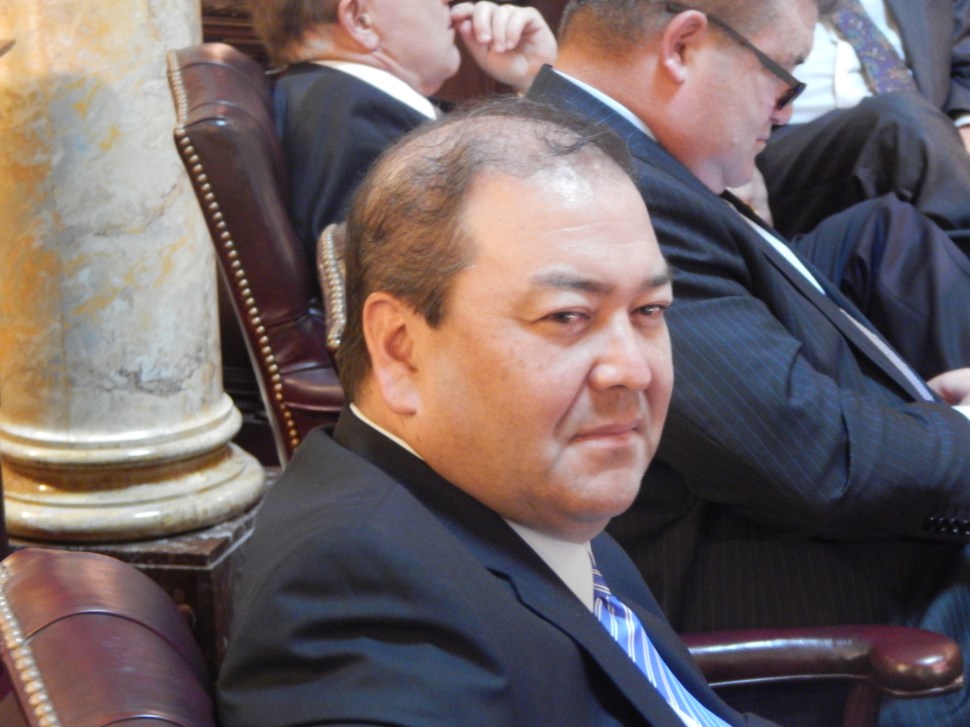 For his part, O'Toole, 51, has been one of Christie's biggest allies and one of the defining figures in Statehouse politics over the course of the past decade, who did a key stint for the Republican team on the redistricting commission while simultaneously occupying an ongoing role in the senate as an impassioned orator from the floor, and Christie's go-to operator. In a long career marked by aggressive political gamesmanship, the senator from Cedar Grove managed to get inside a lot of backrooms – regardless of party – where the watchword was power.
In addition to one from Christie, a signed message from former Gov. Jon Corzine hangs on the wall of the senator's 22-attorney O'Toole Fernandez Weiner Van Lieu law firm.
The play to two would-be opposing sides arguably came naturally for the stateside product of a wartime romance.
The son of a Korean War veteran Irish American father and Korean War refuge mother, O'Toole started as an angry young man at the microphone at Essex County freeholder meetings, and very early formed an early cross-the-aisle alliance with Democratic Party power broker Steve Adubato, who taught the Republican suburbanite a lot about political organizing. After service on the town council, and six years as mayor of Cedar Grove (1990-1996), O'Toole went to the assembly.
Having survived a redistricting scare that might have sidelined him and hung on through the senatorial era of slate mate Hank McNamara, O'Toole ran for the senate seat when McNamara announced his retirement in 2007. That year, O'Toole secured the senate seat by beating Ridgewood's Todd Caliguire in a brutal and ugly primary.
He was one of nine new Republican senators to assume the oath of office in 2008, a class that included Kip Bateman, Sean Kean (before Kean found himself redistricted back to the senate in 2011), Phil Haines (now a judge), Jen Beck, Chris Connors, and Bill Baroni.
Throughout his career, O'Toole – just as comfortable in attack mode when necessary – demonstrated a knack for alliance building, and maintains close connections to Christie, Essex County Executive Joe DiVincenzo, state Senator Brian P. Stack, and Senate President Steve Sweeney (D-3).
As one of Christie's staunchest supporters, he was a key legislative driver on some of the Republican governor's key issues, including the 2% property tax cap and the public pensions and benefits overhaul.
He has long been a visible player and aggressive inquisitor on the Senate Judiciary Committee.
"As a member," O'Toole said, "I took my responsibility to vet candidates for the Supreme Court, Superior Court, Administrative
Law, Worker's Compensation and Tax Courts very seriously. I felt it very important that the individuals tasked every day to adjudicate justice for the residents of our state possessed the appropriate temperament, knowledge of the law, and sense of fairness that everyone deserved when they walked into a courtroom."
Significantly, O'Toole led a fight from committee in support of Phil Kwon, a fellow Korean-American and the governor's 2012 nominee for the state Supreme Court. O'Toole failed in that effort, and bitterly denounced Democrats at the time for presiding over a public lynching (his words) of Kwon.
"I just have to take issue," he said, with the idea that "Democrats are the party of diversity." He said at the time, noting that the first female and first African-American justices on the N.J. Supreme Court were GOP nominations, and a Republican governor also appointed the first female chief justice.
"Along with the awesome responsibility that came with being a member of the Senate Judiciary Committee, having served on both the Assembly and Senate Budget Committees, to me, meant that we never forget the commitment we have to fund programs that improve the lives of every citizen," he said today. "I am proud to have been a part, for so many years, of ensuring we provided funding for seniors, veterans, people with disabilities, and our children."
O'Toole found himself immersed in controversy during the public Bridgegate inquiries, when emails revealed communications he had with Port Authority personnel on the day (former Senator and then Port Authority Deputy Director) Baroni delivered his discredited testimony on the lane closures before the Transportation Committee. Later a member of the joint committee examining Bridgegate, O'Toole proved a stout defender of the governor's throughout the process and a regular challenger to co-chairs Senator Loretta Weinberg and Assemblyman John Wisniewski.
Regarding his tenure in public office, O'Toole said, "My parents instilled in me that a true public servant always conduct themselves with integrity, has relentless energy, is a passionate advocate, and is always prepared – principles I tried to apply every day in service to my constituents. I have been lucky enough to be elected in four different decades and fortunate to have worked with so many talented public servants at all levels of government.
""I tried to make a lasting difference, the best way I knew how," the senator added. "Public office has forever changed my life; I hope that I had some small impact changing and improving the lives of others. I always tried to help individuals with any and every problem. I took pride as we accomplished so many victories helping those who couldn't help themselves."
O'Toole had a special needs brother who died in 2011, whose presence in the senator's life sparked a keen awareness of special needs students. "If someone comes to me and is a special needs person – they've got me," O'Toole admitted.
A noted defense attorney who anticipates in his retirement from elected office to more vigorously manage the daily goings on of his firm, O'Toole noted with pride the growth of O'Toole Fernandez Weiner Van Lieu, which has expanded over the course of a decade from one to four states. The former longtime chairman of the Essex County Republican Party in 2011 handed that duty to his chief of staff, Al Barlas, who remains leader of the Essex GOP.
O'Toole did not rule out a future run for statewide office, but it won't be in 2017, a gubernatorial election year.
One of seven children of a sprawling family, he remains close to his parents, and  "I am most grateful to my beautiful wife, Bethany, and two amazing children, Kevin Jr., and Ryan Marie, for their unwavering love, support, and understanding throughout my career," the senator said. "I first became an elected official as a single man, now I am a proud husband and father and as I begin the next chapter of my life, I look forward to spending more time with them."