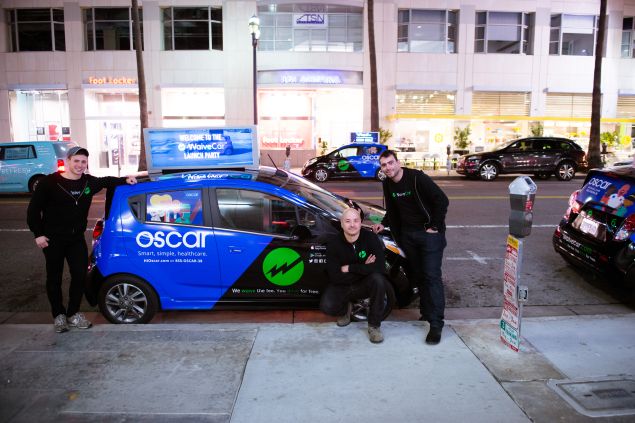 Companies have been advertising on cab roofs for years, but one drawback to this approach is that cab drivers tend to stay only in certain parts of a city, so the ads aren't seen by as many eyes as possible.
Now, a Los Angeles-based startup called WaiveCar is trying to solve this problem by introducing ad-supported car sharing, which disseminates automotive ads throughout Santa Monica and Venice Beach.
Zoli Honig, WaiveCar's chief technology officer, told the Observer that adding promotions to the Zipcar model of car sharing made fiscal sense—a Verifone study of taxis with a similar digital ad setup found that the ads netted a profit of $4,600 per car per screen per month, so the car pays for itself, especially when the sharing aspect is added in.
"The driver is working for us," Mr. Honig said. "With car sharing the ads are constantly in motion and in public view, not sitting in a driveway."
Because the driver is doing WaiveCar a favor, the first two hours of every ride are free. After that, it's only $5.99 per hour to continue the ride.
While there is no strict limit on how long the driver can keep the car, WaiveCar does send some gentle reminders, including a text message after six hours and a call after 24 hours.
But the main incentive for drivers to keep trips short is that WaiveCar's entire fleet is electric—its Chevy Spark EV compact cars only have 81 miles of range.
"No one's gonna drive this to Vegas," Mr. Honig said.
WaiveCar is working exclusively with electric cars because they are environmentally friendly, emission-free and cheaper since users don't have to pay for gas. This also made Santa Monica an attractive starting point—the city has charging stations in eight public parking lots, and electric vehicles can park for free at meters.
This is particularly important because "traffic in Los Angeles County is just horrendous," Mr. Honig said.
WaiveCar users who download the free app for iPhone and Android can search for cars in their area (they need to be able to get to the car in 15 minutes). Once the user books a car, it is unavailable to all other WaiveCar users until the ride is complete. The car is unlocked remotely when the user gets to it—the keys are in the glove compartment. Once the user is done with the ride, a digital map shows the nearest drop-off location.
The advertising aspect actually makes the car safer—the dual-sided LCD ad displays are physically mounted to the frame of the vehicle, making it more structurally sound.
While the company is currently in talks with several advertisers, WaiveCar's only current partner is Oscar Health Insurance, its launch sponsor. The company is also advertising itself on its cars, and Mr. Honig said there had been a lot of retention among customers because of this.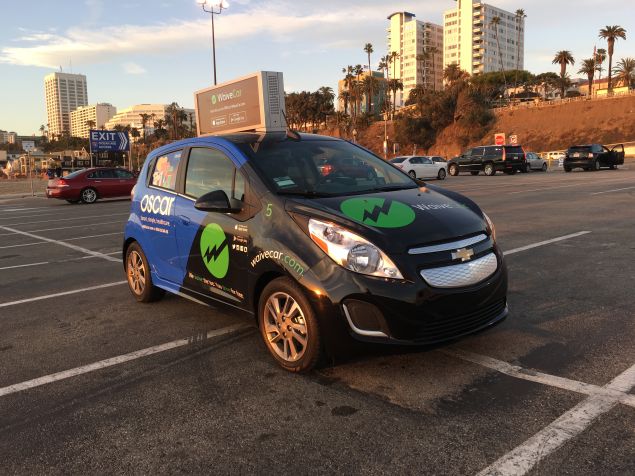 WaiveCar currently has a fleet of 20 cars in Santa Monica—this may seem small, but a foot traffic study the company conducted in the city showed that the ads were seen by 40,000 people a day and 25 million people a month.
But WaiveCar isn't stopping there—it wants to put 200 cars in Los Angeles County before expanding further. The company has looked into starting programs in New York, San Francisco, Austin and Portland, but has not committed to any of these cities yet.
WaiveCar is also starting a rewards program soon in Santa Monica, which it would ape in other cities. This will give users incentives (such as a free extra hour of driving time) for driving in highly trafficked areas like Hollywood Boulevard.
Mr. Honig said that WaiveCar's use of eco-friendly vehicles, along with the fact that it added cab-like advertising to the car sharing experience, would help the company set itself apart.
"Our goal is to provide eco-friendly, alternative transportation options for cities," Mr. Honig said. "And we also provide value for all parties involved."
When asked to sum up WaiveCar's purpose, Mr. Honig invoked a famous folk hero.
"We're a real Robin Hood company," Mr. Honig said