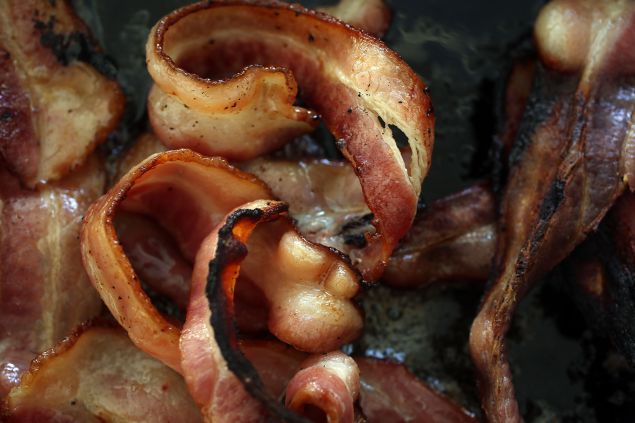 Three weeks into the New Year and the only thing getting thinner at the gym are the crowds. So here's a bit of humpday motivation to keep on those New Years Resolutions on track. Meet your new favorite weightspiration coach: Ian "Rambo" Newman, a 62 year old Australian bloke who tore up Reddit with his incredible transformation.
His secret? Eight minutes "prep-to-plate": 5 percent carbs, 25 percent protein and 70 percent fat. Last time we checked that's the exact makeup of undrained bacon (65 percent fat). That's the meat in the pan with the grease—not after your mom has blotted it dry with paper towel (why do moms do this?)
"The whole low-fat era is finally dying and it's really long overdue," Mr. Newman told the Observer. He has a point: why pat your pizza, when it's the white flour in the crust making your jeans snug?
This is the same bacon that we've been kicking off our salads in the weeks leading up to bathing suit season. But even adding straight-up pork belly to your foods will put you well within this iron-man diet. Fat is, for meat, what sugar is for fruit. It carries all the flavor. So this would mean no more strangling the life out of a burger on your George Foreman grill, like it's Giles Corey in The Crucible.
The idea is to train your body to run on fat instead of sugar.
Mr. Newman works out in a homegym, but does no sit-ups or crunches. The AC/DC-loving, cast-iron grandather blames youth-obsessed marketing for this, and it's reflected in the girls and guys killing themselves on the ab-mat. According to Mr. Newman, anyone who gets down to 12 percent body fat will get abs. Even still, he doesn't do any squats, crunches or leg lifts—All of Mr. Newman's toning comes from his rigorous diet, deadlifts and squats.
You only have to talk to him for about a minute before you get a contact high from his boundless energy. Mr. Newman says that is a side effect of turning his body into a fat burning machine: he doesn't get fatigued from blood sugar spikes throughout the day.