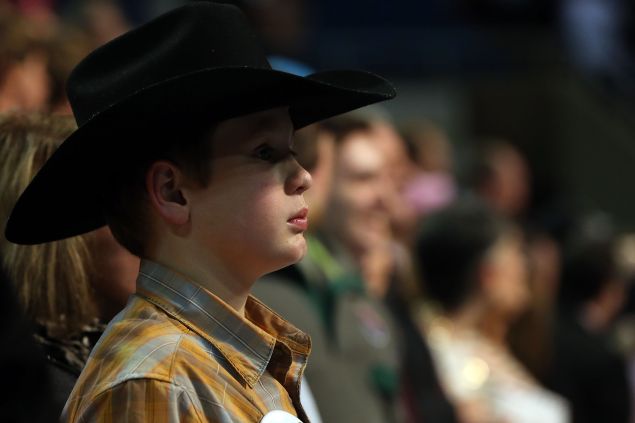 With less than a month to go before the first votes of 2016 are cast, the Republican and Democratic presidential nominating contests are beginning to come into focus. Both fields have already narrowed considerably, with the 17-candidate Republican field down to 12, and the five-candidate Democratic field down to three.
While the Iowa caucuses have not necessarily been a bellwether as to the eventual nominees in recent elections (especially on the Republican side), they do tend to serve an important function by weeding out several candidates.
This year, the quadrennial Iowa weeding appears likely to take place entirely on the Republican side. On the Democratic side, frontrunner Hillary Clinton and her leading challenger, Vermont Sen. Bernie Sanders, both have such significant support and funding that they will remain in the race regardless of what happens in Iowa.
Former Maryland Gov. Martin O'Malley probably also stays in, even with a dismal showing in Iowa, for the same reason he has stayed in all this time despite abysmal polling numbers: Mr. O'Malley is poised to be the only regular Democrat left in the field in the event that an unanticipated crisis ends Ms. Clinton's campaign.
On the Republican side, poor finishes in Iowa will likely end at least two of the 12 remaining GOP campaigns, and possibly as many as five.
While thus far the periodic dumps of her e-mails have not uncovered anything especially damaging to Ms. Clinton, if anything does arise to derail her quest for the White House, regular Democrats who are not sanguine at the prospect of nominating a non-Democrat and self-proclaimed democratic socialist such as Mr. Sanders will be looking for an alternative. Mr. O'Malley, with a campaign infrastructure already in place, might be the likeliest fallback candidate for Democrats who worry about Mr. Sanders' electability in November and/or resent his previous refusal to affiliate with their party during his decades-long political career. As such, it is in Mr. O'Malley's interest to stick around even if, as expected, he gets throttled in Iowa. (According to Real Clear Politics, Mr. O'Malley has only reached 10 percent in one poll out of the 61 taken in Iowa since May. In all polling published since December 1, he has averaged about 5.6 percent, so a double-digit showing for the former governor would mean he closed quite strongly.)
On the Republican side, however, it can be anticipated that poor finishes in Iowa will likely end at least two of the 12 remaining GOP campaigns, and possibly as many as five.
In an Observer column published October 16, six candidates (four Republicans and two Democrats) were identified as the likeliest to drop out based on their lack of fundraising and cash on hand. Two of those—former Pennsylvania Sen. Rick Santorum and former Virginia Gov. Jim Gilmore—remain in the race as Iowa beckons, but neither has improved his fiscal or polling position, and both would appear to be on their way out if they do poorly in Iowa.
Mr. Gilmore has been such a nonentity in the GOP contest that he is often not even polled, and Real Clear Politics' comprehensive Iowa GOP polling scorecard doesn't even list the Virginian. It is hard to see when or how his polling or financial fortunes might improve, so even if he doesn't drop out after Iowa, it won't really matter. Mr. Gilmore clearly is not a contender and his withdrawal from the race is really only a matter of time. If, as expected, he finishes somewhere around 1 percent or less in the Iowa caucuses, such a finish might hasten his departure. But considering he has hung around this long with almost no money and no apparent hope of success, it is conceivable that he might hang out a while longer. What does he have to lose?
Dr. Carson, after a big fundraising quarter, will have the financial wherewithal to stay in the race, even if his precipitous slide continues.
Mr. Santorum was the surprise winner in Iowa in 2012 and used that momentum—as well as a generous donation by growth-stock billionaire Foster Friess—to finish as the last contender standing before Mitt Romney sealed the nomination. Mr. Santorum took Iowa behind the strong support of social conservatives, who tend to dominate the Republican caucuses in the Hawkeye State. (Such is the evangelical prevalence in Iowa Republican circles that televangelist Pat Robertson placed second in the 1988 GOP caucuses, finishing ahead of the sitting vice president—and eventual president—George H.W. Bush, who finished third.)
But Mr. Santorum has not been able to catch on like he did in 2012. He is averaging 0.6 percent in the last five polls and hasn't hit 2 percent in a single Iowa poll since November. He last managed 3 percent in September. He hit his 2015 high of 9 percent in May. Clearly he has been on a downward spiral, possibly hurt by the surge of evangelical favorite Ben Carson, the retired neurosurgeon, as well as the entry into the race by former Arkansas Gov. Mike Huckabee, who has explicitly targeted the evangelical base. Given his money woes, and assuming he isn't able to recapture the magic of his Iowa victory in 2012, it seems fairly clear that this year's Hawkeye caucuses may be Mr. Santorum's last stand.
Speaking of Mr. Huckabee, the Arkansan clearly has been hoping to benefit from the speedy and significant fall of Dr. Carson, who has plummeted from highs of 31 and 32 percent in Iowa polls released in late October to an average of 9.2 percent in the last five polls there. His two most recent polling results have been in the single digits.
But Dr. Carson's collapse does not seem to have shifted many of his voters to Mr. Huckabee, who has averaged 2.6 percent in Iowa in the last month. Mr. Huckabee's fortunes have been so poor that he said, two days before Christmas, he would drop out of the race if he did not place in the top three in Iowa. Currently in sixth place and an average of nine points behind the current third-place candidate, Sen. Marco Rubio of Florida, Mr. Huckabee would need an amazing finish to get into the top three. Look for the former governor to be among the casualties on Feb. 1.
Two other candidates who might be among the likeliest to make an exit after Iowa are Kentucky Sen. Rand Paul and former business executive Carly Fiorina. Like Mr. Huckabee, both are averaging less than 3 percent in the last month of polling in Iowa. If their numbers do not improve, either one might be compelled to bow out.
In particular, Dr. Paul—who is also up for reelection to his Senate seat—might come under pressure to drop his presidential campaign and focus on holding his current job. Ms. Fiorina's Twitter post before the Rose Bowl game, in which she dissed her alma mater, Stanford, to announce she was rooting for Iowa, fell flat and drew significant charges of shameless pandering. Her Iowa numbers have fallen precipitously since her strong performance in an early GOP debate put her into double digits back in September.
Regardless of what happens in Iowa, at least seven GOP opponents are clearly headed on to New Hampshire. Sen. Ted Cruz and Donald Trump each head into the first contest commanding around 30 percent in the polls, putting both far ahead of the next nearest competitor, Mr. Rubio, currently the only other GOP candidate in double digits.
Dr. Carson, after a big fundraising quarter, will have the financial wherewithal to stay in the race regardless of the Iowa results, even if his precipitous slide continues.
Former Florida Gov. Jeb Bush, whose dismal polling numbers continue to disappoint, still has a well-funded SuperPAC and appears to be hoping for a strong finish in New Hampshire, followed by a comeback in South Carolina, where the Bush family has always done well. The Palmetto State put his father's struggling campaign in the driver's seat in 1988 and also helped his brother, George W. Bush, bounce back from a 19-point drubbing by Sen. John McCain in the 2000 New Hampshire primary.
Also likely to hang around regardless of what happens in Iowa are Ohio Gov. John Kasich and New Jersey Gov. Chris Christie, both of whom are below 3 percent in Iowa and appear to be pinning their hopes on New Hampshire.
Mr. Christie, in particular, has significantly improved his position in New Hampshire since winning the endorsement of the state's longtime conservative beacon, the Union Leader, on Nov. 28. According to Real Clear Politics, the New Jersey governor has polled in double digits in each poll taken since the newspaper issued its endorsement. Currently in fourth place, Mr. Christie is within striking distance of Mr. Rubio and Mr. Cruz for second. Mr. Kasich is currently right behind Mr. Christie in New Hampshire, polling a strong fifth place and approaching a double-digit average in his last three polls.
In short, look for all three Democrats to move on from the Field of Dreams caucuses, while anywhere from seven to 10 Republican candidates punch their tickets for the Granite State.
Cliston Brown is a communications executive and political analyst in the San Francisco Bay Area who previously served as director of communications to a longtime Democratic member of the U.S. House of Representatives in Washington, D.C. Follow him on Facebook at facebook.com/ClistonBrownPolitics, or on Twitter: @ClistonBrown.