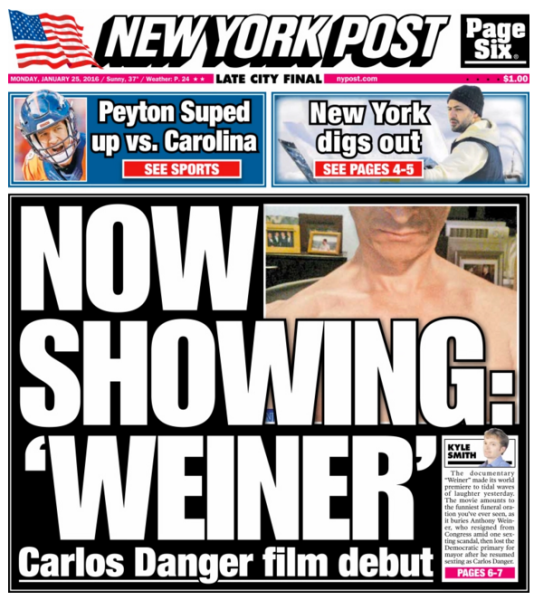 Weiner, a documentary about former congressman Anthony Weiner's failed 2013 mayoral bid after resigning following a surreal sexting scandal, has been making headlines since The New York Times got a sneak peek ahead of its Sundance premiere.
But according to Josh Kriegman and Elyse Steinberg, the filmmakers behind the documentary, that's kind of the whole point.
"What we're trying to do with this film is to show how much the political conversation is driven by these easy narratives and sensational headlines and one-liners," Mr. Kriegman said during a Q&A after the Sundance screening, according to The New York Times.
"It's about our politics today and how increasingly we see coverage being reduced to sensational one-liners and tweets," the Times reported Ms. Steinberg saying at the Q&A session.
The same thing, of course, can be said of the reaction to the film: the coverage of the documentary has certainly been reduced to "sensational headlines."
Let's take a look at some of those headlines:
"Film Shows Clinton Aide's Own Struggle With Anthony Weiner Scandal," The New York Times reported after the paper of record got advance access. The Times story connected the documentary to Hillary Clinton's presidential campaign, an unavoidable association considering that Mr. Weiner's wife, Huma Abedin, is Ms. Clinton's top aide.

"Panicked Anthony Weiner sprinted out the back of a McDonald's to avoid 'woman he'd sexted' as his Clinton aide wife coldly calculated how to win him more power, reveals new fly-on-the-wall movie," exclaimed The Daily Mail, based on the Times story.

"What Weiner Reveals About Huma Abedin," a story on Vanity Fair's website—also based on the Times report—explained.

"Hillary urged Huma to dump Carlos Danger," the Post reported last week (Carlos Danger, for those who have somehow managed to forget, was Mr. Weiner's sexting pseudonym).

"Anthony Weiner documentary edited to nix scenes of Hillary Clinton team telling aide Huma Abedin to leave husband," The New York Daily News, citing  a story from The Hollywood Reporter,  wrote last week.

"Anthony Weiner Won't Be Silenced as New Film Puts Politician Back in Spotlight," Bloomberg News explained.
All that (and more!) before any publication besides The New York Times had actually seen the movie. The documentary finally premiered on Sunday, giving other journalists the ability to view and review the film for themselves.
"A long, hard look into Carlos Danger's downfall," read the headline to New York Post film critic Kyle Smith's double entendre laden front page review. The film apparently features a lot of the tabloid  coverage of Mr. Weiner: "The Post is a co-star of the film (just send the check to 1211 Sixth Ave., guys), which features a dozen or so of our funniest front-page stories…." Mr. Smith noted.
Now that other outlets have seen the film, anecdotes, even those that were reported in the Times' initial story, suddenly became news again:
"Anthony Weiner's staff nicknamed Sydney Leathers 'pineapple,' new documentary about failed 2013 mayoral run reveals," the New York Daily News reported today.

"EXCLUSIVE: 'They didn't want to see it!' Director says humiliated Huma Abedin and her disgraced husband Anthony Weiner REFUSED to preview new documentary detailing the fallout from his second sexting scandal," The Daily Mail screamed, magically transforming the content of a movie into an all caps "exclusive."
"Our hope is that this film can be a part of the political conversation about how it's challenging to have a substantive conversation and how spectacle often becomes the main focus," Ms. Steinberg continued during the Q&A after the Sunday premiere.
That may be the filmmaker's hope. But so far, Weiner has dominated headlines and Sundance coverage has not led to a deep discussion of how the media covers politics. It has become a major media story for the same reason that the Anthony Weiner scandal itself did. It was an improbable sex scandal with no sex, featuring an outspoken politician who craved attention more than anything else.
And now, because of the documentary's release and Ms. Abedin's—and, by extension, Mr. Weiner's—ties to the Clinton campaign, it's making news all over again.
Besides, what tabloid can resist? The puns practically write themselves.