It's hard to overstate the importance of footwear to a man's overall presentation. Never mind that they're all the way down there on the ground, shoes can either elevate a shabby look or destroy an otherwise polished one. There are countless options to choose from, but fortunately there are really only a few you need, at least to start. These three pairs of kicks will get you from the office to after work drinks to weekend brunch in effortless style.
CAP-TOE OXFORDS
In the world of formal men's shoes, Oxfords are broadly defined as having "closed" lacing. What does this mean? It's got to do with the construction of the shoe and involves things like vamps and eyelets and isn't all that interesting. What is interesting, however, is that a pair of well-made Oxfords will be the only pair of shoes you ever need to wear to the office. The essential pair are black, well polished and feature a cap-toe (characterized by that line of stitching across where your toes begin). Why black? Because black goes with everything. Look for a pair with Goodyear welt stitching (a fancy way of saying the sole is stitched to the upper rather than glued) and a leather sole. A goodyear welt will last longer and a leather sole can be easily replaced when it eventually wears out. Have them properly polished regularly (or better yet, learn how to do it yourself), store them on cedar shoe trees and they'll live as long as you do.
John Lobb City II Oxfords, $1,350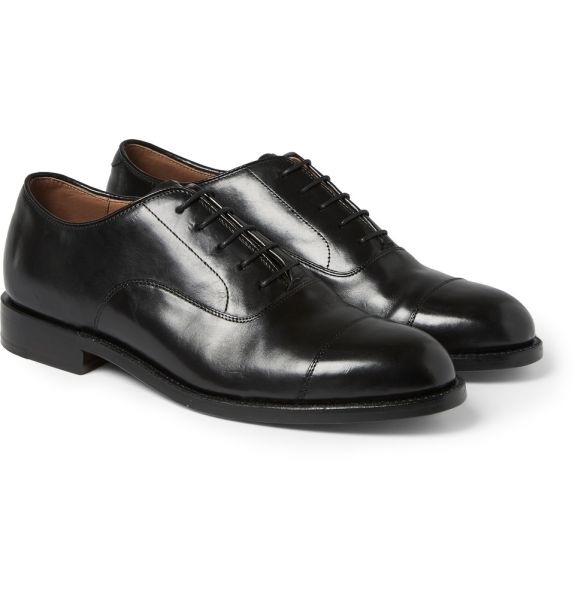 J.Crew Ludlow Balmoral Oxfords, $318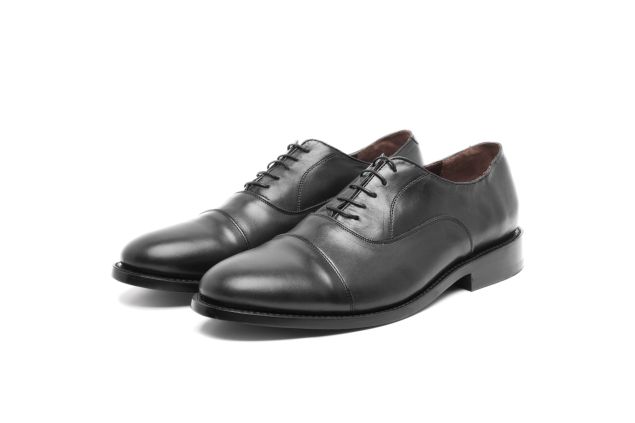 John Doe Black Box Calf Bonucci Oxfords, $161
CHELSEA BOOTS
A man needs a good pair of boots just as he needs a nice leather jacket and a favourite pair of jeans. They're comfortable, durable and make you feel like you could walk over broken glass or kick down a door should the situation require – which it probably won't. Because you don't have a record deal and don't live in the Maine backwoods, the boots for you are neither designed for moose hunters nor favoured by Drake. You're a Chelsea boot man.
Invented sometime in the 1800s the Chelsea boot was popularized by Beatles, Stones and other arbiters of 1960s mod style. It's typified by a sleek leather silhouette, a lack of laces and a couple of pieces of elasticized fabric allowing for easy ingress and egress. Equal parts practical and stylish, these are the boots to wear when you want to look cool, casual and just a little bit dangerous. Pick some in light brown suede with a non-chunky leather or rubber sole, weatherproof and brush them regularly and they'll only get better with age.
Paul Smith Falconer Boots, $395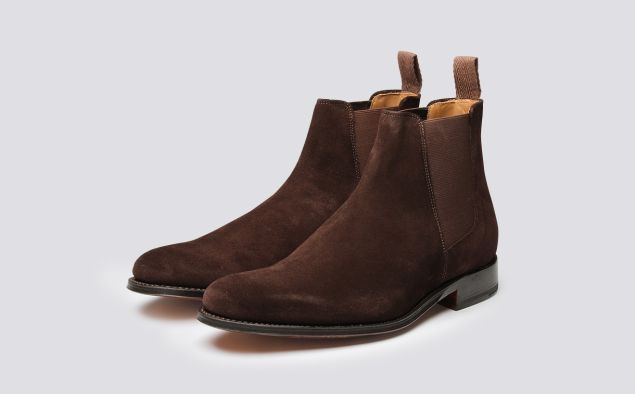 Grenson Declan Boots, $440
Common Projects Suede Chelsea Boots, $505
TENNIS SHOES
Athletic footwear is in a strange place these days, with people paying thousands for sneakers embellished with all manner of studs and gold appliqués and flashing lights. Do not be taken in by any of this foolishness: like all classic footwear the best sneakers in the world distinguish themselves by their subtlety and quality, not by making you look like a 12 year old who won the lottery. The tennis shoe was invented in the early 20th century and perfected by the middle of it, with court legends like Arthur Ashe, Stan Smith and Jack Purcell lending their names to the best examples. Of course if you're actually playing tennis you'll want something more contemporary, but for the man who isn't practicing his backhand, look for something leather, in a neutral colour, with a minimum of colourful accents, stripes and the like. Spot clean them regularly with a damp cloth and give them a thorough going over with brush and cleaning solution like Jason Markk's Premium Shoe cleaner every few months to keep your kicks box-fresh.
Converse Jack Purcell Tumbled Leather, $80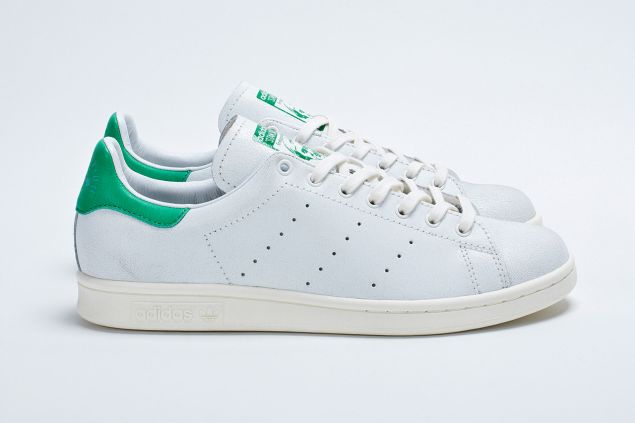 Adidas Stan Smith, $75