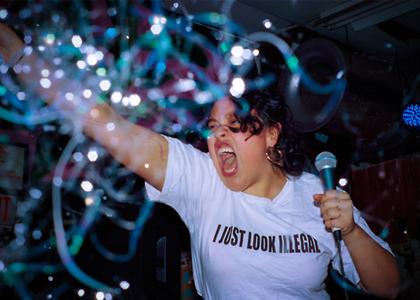 "If you've got a hot girl in front of you, I want you to feel her up. Do it, 'cause she can't get away," says Fat Mike, lead singer of NOFX.
It's the year 2000. I'm at the Warped tour in San Francisco. And it's my first punk show. I am 14 years old.
My whole body stiffens. As soon as the words are spoken, the act is already done. It is as if a pair of rough hands have been summoned up my shirt, and as they claim what they think is rightfully theirs, all I can think is: get your hands off me. But each word is it's own sentence, because when you're really fucking scared, you think in words, not in sentences.
It is hot. His hands are sweaty. I try to push his hands away, but when I do he just digs his hands in harder. He thinks my body belongs to him.
Get. Your. Hands. Off. Me. I scream. I can only turn my face; there are so many bodies so close to me I cannot move. He only smiles.
His smile is my trigger. I elbow him in the stomach.
His smile is my trigger. I elbow him in the stomach. And it's as if I timed it with the circle-pit raging next to me. Only it's not a real circle-pit because it's about as punk as a college football party. All I see are white, frat-boy faces. I notice this before he hurls me, single-handedly into the hell pit.
I do not understand how pits work. Someone elbows me in the face. Someone else punches me in the back. I am the only girl in the hell pit and soon, I have fallen. I am where these men think I belong, on the ground, on my knees, begging to get out. But no one will help me. I get kicked, knees to my face. And I realize that if I don't fight with everything I've got: this is it.
I start flailing my arms, punching everything in my way, until I'm standing up. I can almost see a path through the thousands of bodies in front of me.
Get off me. Get off me.
I say it like a mantra, still punching, who knows for how long. Until I am free. I am out of the crowd. I can breathe. My baseball tee is soaked through. My jeans are covered in dirt. I am filthy. I feel filthy.
Fifteen years later, I still can't listen to a NOFX record.
That doesn't stop white men from singing Fat Mike's virtues to me. Fat Mike is a genius. He's a Bay Area institution. For me, Fat Mike is a traitor, who would sell his female followers down the river for a couple of Valium and feel-good high-fives from the Conquistadors that he calls his fans. Whenever someone praises him, I want to say: fuck you and your complicity. Fuck you for having the privilege to choose not to see what you don't want to.
[youtube https://www.youtube.com/watch?v=T23wfhddpYY&w=560&h=315]
Speaking about the politics of performing onstage, singer Victoria Ruiz of Latino and queer punk band Downtown Boys says, "How do we talk to certain people and make certain relationships with people who do need to be in the front and joining us onstage? How do we make all of our decisions, decisions that are about the power dynamic? And that's what you do in activism and organizing, so I think we pull a lot from people who have tried to change the status quo and have changed it."
Ruiz and her bandmates struggle to confront racism and to make punk shows a more inclusive space.
Ruiz and fellow songwriter Joey DeFrancesco both come from a union-organizing background, and met each other while working together at a hotel in Providence, R.I. They realized the ways in which hotels exploit people of color, and decided to do something about it. But doing something about it applies both to how they view union organizing and how they approach being in a band.
"Unless we're actually taking power either through our words or what we do before or after the set, who we're talking to, and the relationship that we're building because of what we're doing; unless we're actually taking power in those moments, then it truly is nothing but these weird identity politics check marks we're applying to ourselves, and Downtown Boys has always wanted to go beyond identity and into changing the power structure and dynamic," Ruiz tells the Observer.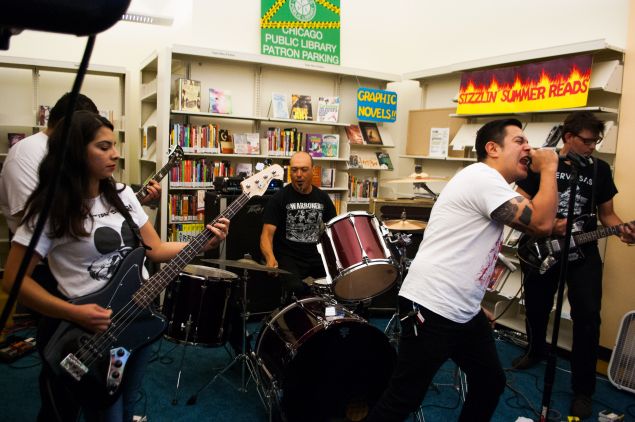 Existing power structures preserve the status quo and erase the work of people of color, even within the punk scene and within punk music in general. Punk has countless subcultures, from straight edge to anarchist, from crust to SHARP, but our artistic movements often mirror the culture that they come from, so the tendency to overlook people of color inherent in America becomes an ugly dynamic of the punk scene as well.
But the emergence of Latino punk and Latino punk festivals challenges that hegemony. Benny Hernandez, lead singer of the Latino punk band Rumores and new-wave band Population, is also one of the founders of Southkore, a former Latino punk collective in Chicago, and is responsible for organizing the first-ever Latino punk festival back in 2006. He did it because at the time, no one would book Latino punk bands at venues in Chicago. After the breakup of the infamous Latino punk band Los Crudos, promoters thought of Latino punk as a novelty. It became disposable, even when the Chicago punk scene was made up of so many Latinos.
"A lot of bands in the neighborhood, and Latino bands, weren't getting exposure. We weren't getting asked to play shows. We weren't part of the white suburban clique of transplants that come into the city and you know, all of a sudden they represent Chicago," Hernandez says.
[bandcamp width=100% height=120 album=2912065129 size=large bgcol=ffffff linkcol=0687f5 tracklist=false artwork=small track=3583328964]
"And it was like: wait a minute! I'd go to a show and I'd see these mediocre white bands opening up for a really good band and I thought, 'Well, if their mediocre white band can open up for them, why can't our mediocre Latino punk bands also get asked to play?' So that's how it came about. We weren't trying to segregate ourselves or say that we were better than our white counterparts, it was just that hey, if we weren't going to get asked to play these parties, we were going to book our own parties, book our own shows, and when Latino punk bands come through, we're going to host them."
Ideologically, Latino punk festivals are an extension of DIY punk culture. But Latino punk festivals also grew from being left out of that same culture. It's a form of resistance of having our culture selectively erased.
It was a way of saying we're here, and we're not going anywhere.
***
Shortly after the NOFX show, I started going to smaller punk shows and local venues. Shows with familiar faces and people who see me as one of them, not as their property.
On a fateful night in September, Suicidal Tendencies, the biggest Latino punk act from Los Angeles, is headlining. But instead of enjoying it, enjoying my first experience with Latino punk, I'm nervous because the show is sold-out. One thousand bodies are going to show up.
But, this isn't like the NOFX show. There are brown people. There are cholas. There are mi gente.
The same old white narrative leaves out so many bands that were a part of the same punk scene, a part of the same history. Where are mi gente?
I have never seen fellow Latinos at a punk show before. For months, I've been going to underground punk shows in suburban Petaluma, and I have only seen two other people of color. But tonight, they're everywhere. They come from different classes and from all over the North Bay. It's like someone sent out a message on Latino sonar, and all of our senses picked up on it.
Tonight, when the first band starts, I see a proper circle-pit. Everyone is thrashing around me, but when someone falls, she is immediately picked up. There is no punching, no hostility, no disrespect.
I stare at the pit. Longingly. But I know better. Sometimes you can want to fit in so badly, but you know all along that you don't belong.
A boy three inches shorter than me, a couple shades darker than me, with a Mohawk more badass than mine, looks at me and smiles.
"You wanna go in?" He asks.
I do. I nod.
[youtube https://www.youtube.com/watch?v=UCrcoGtQDtQ]
He puts his arm on my back and waits. Waiting for the perfect moment to throw me in. Our heads nod to the rhythm of the beat….one…two…and I'm off. I sail into the pit, and I shove everyone as friend-ily as I can. But then, just like before, I fall.
As I fall, my heart does, too. No, it's just like—I don't get to finish my sentence. Before I hit the floor, four arms pick me up and I'm standing again. I look up and two guys, fellow Latinos, ask me: Are you O.K.?
They give a fuck about me. We've all got skin in the game. I nod, realizing there's nothing to fear.
"You wanna go back in?" One of them asks.
I nod. But this time, I throw myself back in.
'We don't need the mainstream to represent us, and personally, I wouldn't want it to.'
The Ramones. The Clash. The Sex Pistols. The same old white narrative leaves out so many bands that were a part of the same punk scene and a part of the same history. Where are mi gente? Why aren't we painted in the same brushstrokes?
Speaking of the erasure of people of color from art, history and in punk, Ruiz tells the Observer, "A great example is Frida [Kahlo]. In the United States I feel like we see her as this sickly, beautiful artist who dated Diego Rivera and painted self-portraits of herself sick and injured. And then you learn about her and she was a communist, she hustled a lot in order to be an artist, she was really respected and loved by a lot of different people. Trotsky had a love affair with her."
"She's clearly this powerful, political force that has gotten white-washed. Not even through literally using the word white, but literally by taking away pieces of her identity that hold so much power, and so I think that same thing gets applied to music and to artists."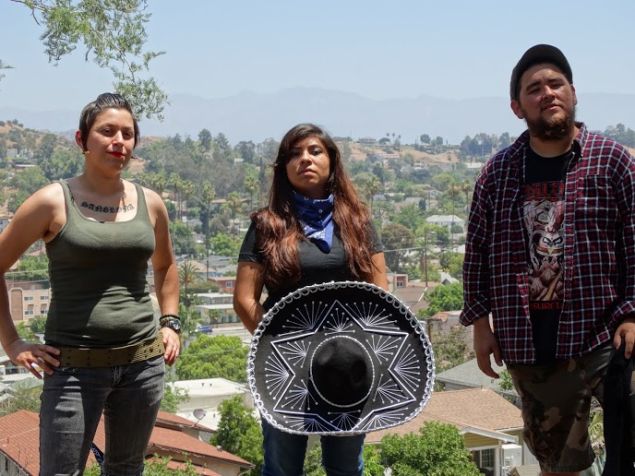 But we do not have to be complicit in the stripping away of our collective identity. Latino punk is spinning its own narrative.
Susana Sepulveda is the founder of the Riot Grrrl Carnival and the front-woman of the Latino punk band Las Sangronas y El Cabron. She is from Tujunga, Los Angeles, and is currently getting her Ph.D in Gender and Women's Studies at the University of Arizona.
"I see punk as fundamentally underground, that's D.I.Y. And P.O.C [People of Color] punks might not always be fully represented in dominant narratives of punk, but we create our own avenues to document our histories and raise our voices. We don't need the mainstream to represent us, and personally, I wouldn't want it to," she says.
So the rise of Latino Punk and Latino punk festivals is its own challenge to empire; its very existence allows us to be seen.
We are not invisible. We are culture. We are home.