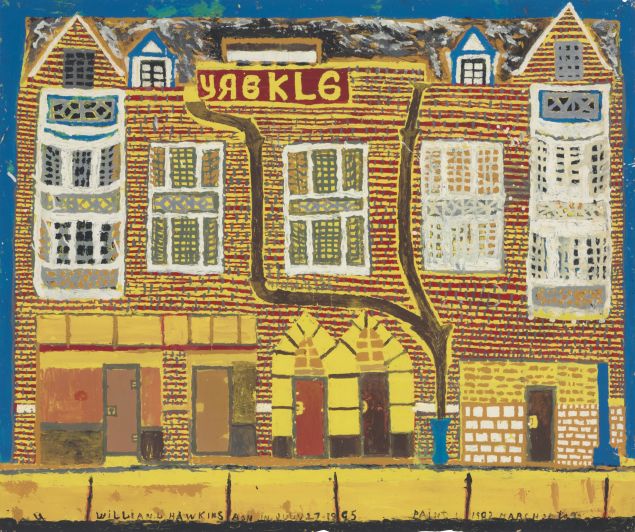 For decades, so-called "Outsider Art" has been a niche market. But a smattering of influential museum exhibitions, and a coterie of powerhouse celebrity collectors, are changing that—fast. Now, with a sales pitch that the greatest works of this field are far cheaper than Contemporary art, dealers and at least one major auction house are claiming this is a time to buy.
Christie's, a huge international auction house that specializes in spotting and positioning the next art trend, is betting big on the category, adding staff (at a time its chief rival is shedding). While the house has long held sales of Folk Art and Americana that have included some works by Outsider artists, it will hold its first dedicated sale of the genre in over a decade on Friday, January 22, timed to coincide with New York's annual Americana sales week, the powerhouse Winter Antiques Show, and the Outsider Art Fair.
What exactly is Outsider art? For years, it's been somewhat muddily defined as work by self taught artists or, more loosely, artists simply operating outside the mainstream world due to isolation or illness. Aesthetically, the works range from raw, crude forms of mark-making, to obsessively complex compositions. (The biggest names in the field include Henry Darger, Bill Traylor and Howard Finster). But, with the turn of the century, these underappreciated works have come to be seen for their sophistication and skill. Notable collectors include David Byrne and Cindy Sherman.
"We really feel there's a trend that's been happening," Andrew Holter, head of Christie's American Decorative Arts Department, told the Observer. "Aesthetically, there's a crossover with Post-war and Contemporary Art material, and it's a much more affordable option if you don't have millions to spend on artwork. In truth, it's almost undervalued."
Affordable is, of course, relative, but for collectors who regularly spend upwards of $1 million on Contemporary works at auction—and this is more and more a regular occurrence—Christie's hopes that the significantly lower price tag for pieces by the biggest names in the Outsider art circuit, such as Hard Labor, a work by Alabama-born Outsider art legend Thornton Dial, estimated $20,000-$40,000, or Martin Ramirez's Untitled (Seven Stags), estimated $60,000-$120,000, will appeal.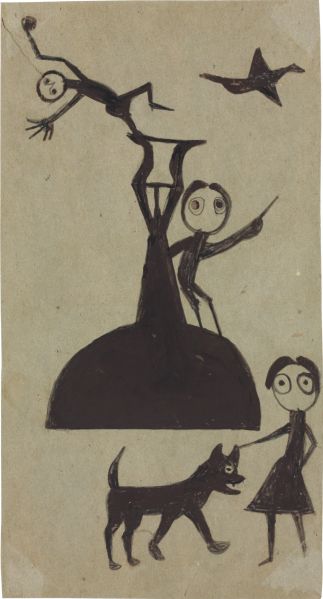 "It's great [Christie's] is showing this kind of commitment," said dealer Andrew Edlin, whose eponymous gallery is known for showing both contemporary art and Outsider artists, and whose organization Wide Open Arts owns and operates the Outsider Art Fair, a 60 plus-exhibitor event (its largest fair to date) opening January 21 at the Metropolitan Pavilion in New York.
"There's a certain level of fatigue in the Contemporary Art world," he said, "and a hunger for something new and exciting."
"You have to view this as an opportunity to expand collector base," Andrew Edlin gallery's new director, Phillip March Jones, told the Observer.
Before coming to Andrew Edlin, Mr. Jones was the inaugural director of the Souls Grown Deep Foundation in Atlanta, which gifted a landmark collection of works by African American contemporary artists—among them Mr. Dial—to the Metropolitan Museum in 2014. He pointed to recent major museum exhibitions, such as the New Museum's show of Rosemarie Trockel (which included works by self taught artists) and the Brooklyn Museum's survey of Judith Scott, as a major factor in pushing the market forward. "When you have great gallery shows, museum shows, fairs, and now the auctions, you've reached another level," he said.
Christie's sale, titled "Liberation Through Expression: Outsider and Vernacular Art," is small at 50 lots, but packed with works by artists James Castle, Eugene Von Bruenchenhein, William Hawkins, Bill Traylor and Adolf Wolfli, all of whom have become widely known as much for their visual acumen as for their unique, often mythic, life stories.
The most anticipated work may be the cover lot: a figurative sculpture by William Edmondson, who was the first black artist to have a solo exhibition at the Museum of Modern Art in 1937, is valued between $150,000 and $250,000. The work, which is believed to resemble boxer Joe Louis, was lost for years until it showed up as a loan in a museum exhibition, according to Cara Zimmerman, Christie's Folk and Outsider Art specialist. Ms. Zimmerman described the work to the Observer as "an iconic object" that could "really set the tone for this field."
Christie's has been slowly building its investment in the Outsider Art field over the last year. In September 2014, the house hired Ms. Zimmerman as its first specialist in the category to help build the market. Previously, Ms. Zimmerman held positions at the Philadelphia Museum of Art and The Foundation for Self-Taught Artists.
The investment in a new specialist, and the decision to break out works of Outsider Art into a dedicated sale, can also be attributed to steadily rising prices for works by Outsider artists that had previously been shoe-horned into other sales.
In a January 2014 sale of "Important American Furniture, Folk Art and Decorative Arts," William Edmondson's Mother and Child sold for $263,000, and in December 2014 the house found success when it placed several Outsider artists in a sale of Contemporary Art in Paris. That sale included pieces by Jean-Michel Basquiat and Andy Warhol, and a new world record was set for Outsider art superstar (if there can be such a thing) Henry Darger for an untitled work that fetched nearly $745,000.
Dealer Frank Maresca, co-founder of Ricco/Maresca gallery, a pioneer in the field, explained that there's strong quality and content to the work available, no matter what label it's sold under. "Among people in the contemporary and modern world, people think it's a discovery," he said.
"Thirty to 35 years ago all of this was called Folk Art, no matter what it was," he said. "Outsider Art has become the catch all term. I don't see it going away really."
A work that will no doubt seduce crossover Contemporary art buyers, Mr. Holter said, is a painting of two girls in red dresses attributed to the paraplegic 19th century American painter Joseph Whiting Stock. The painting was once owned by Pop artist Andy Warhol and hung in the icon's bedroom during the 1980s. The work is estimated between $30,000 and $50,000, and offered in the "Important American Furniture, Folk Art, and Silver" sale.