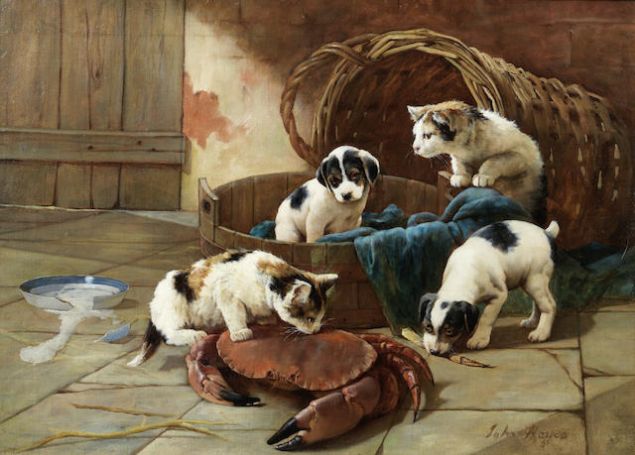 Cats may rule the internet, but dogs rule the art market. At least, according to one of the world's oldest and most venerable auction houses.
Bonhams will host its 35th annual dog-themed art auction, "Dogs in Show and Field: The Fine Art Sale," in New York on February 17, featuring over 150 examples from some of the leading artists—and dog breeds—in the niche but highly popular category. The sale is strategically timed to coincide with the prestigious annual Westminster Dog Show, which celebrates its 140th edition this year.
The house's dog-themed sales have included paintings and "dogiana" (collectible ephemera such as collars and trophies) from the late 19th and early 20th centuries, and began initially in England but caught on in the U.S. 17 years ago.
"Queen Victoria was a dog lover, so [the artwork] followed her lead," Bonhams vice president and director of fine art Alan Fausel told the Observer. Dog paintings first became popular during the Victorian era, he said. The field's leading artists include John Emms, Arthur Wardle and Maud Earl.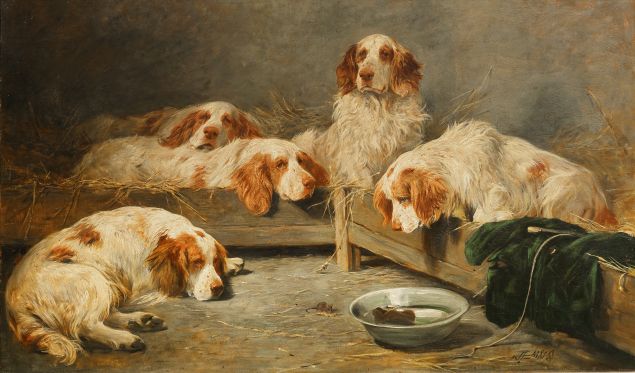 In recent years, Bonhams has expanded its sales to include contemporary dog-themed works by artists including William Wegman, world famous for his photographs of Weimaraners, and George Rodrigue, known for his iconic "Blue Dog" paintings. The sales once featured paintings of cats too, said Mr. Fausel, but Bonhams began excluding those works 15 years ago when it became clear that there wasn't a wide enough variety of feline breeds represented.
So just who buys dog-themed fine art? According to Mr. Fausel, 80 to 90 percent of buyers are from the U.S. and the work is extremely popular with top executives of companies on Fortune's 500 list and a laundry list of celebrities.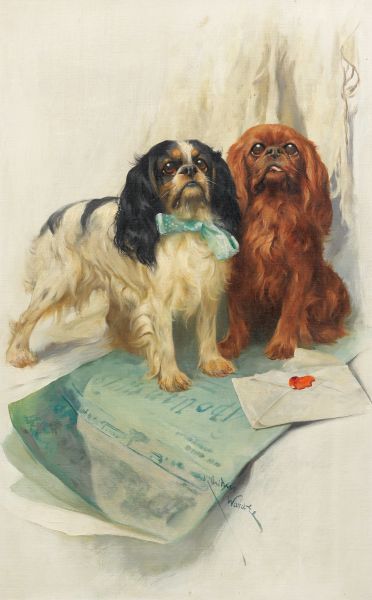 "It's a sale with a lot of internet presence because of the wide flung nature of it," he said. "It appeals not just people in the art world."
Highlights in the February 17 sale include two paintings by Emms, considered a master in the field: Hounds and Terrier in Kennel (est. $150,000-$250,000) and An Unexpected Visitor—Clumber Spaniels in a Kennel (est. $80,000-$120,000). Wardle's Pen Friends brings both an excellent depiction of two Cavalier King Charles Spaniels and a bit of sentimental humor to the mix, as he shows the dogs posing doe-eyed with a newspaper and unopened letter.
But Mr. Fausel's personal favorite, he said, is a painting by John Sargent Noble titled The Young Master, which shows a young boy in a red sporting jacket posing with two hounds nearly twice his size.