Once upon a time, viewing a fashion show was an honor, relegated only to the true fashion elite. It was an intimate event, where designers like Coco Chanel and Christian Dior narrated each look as they descended down a spiral staircase. Fast forward to present day, where social media often trumps IRL experiences, and anyone in any corner of the globe can click a link to catch a live video of models stomping down the runway.
But livestream video is no longer seen as a cutting edge tool in fashion. Designers are now moving on to bigger, better and stranger alternatives to let the public at large see clothing the second it makes its debut. While in the past that has included drones at Fendi and models at DVF wearing Google Glass (RIP), now menswear designers have joined the race to win the digital space.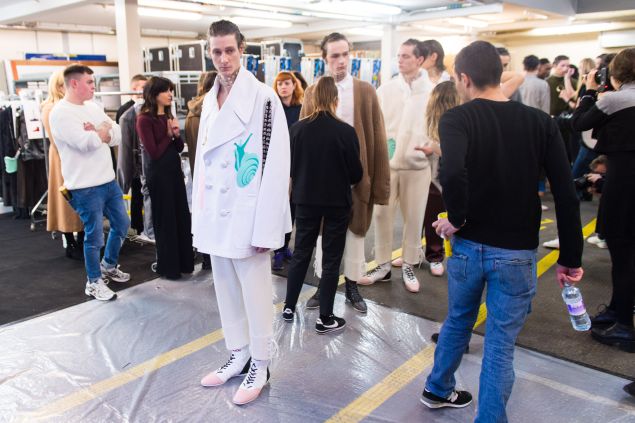 Take J.W.Anderson for example, who livestreamed his runway show on Grindr this past Sunday. Yes, the all-male location-based dating app–which has garnered the reputation of being the easiest way to facilitate a gay hookup–was used as a tool to broadcast a fashion show from London Collection Men to the rest of the world.
Designer Jonathan Anderson explained this rather unexpected partnership in a press release. "At J.W.Anderson, we always look for ways to push boundaries when it comes to gender and our aesthetic. And of course the global reach of Grindr is undeniable. This is why for us, it makes perfect sense for Grindr to be the first outlet to livestream a J.W.Anderson men's show."
To note, J.W.Anderson's PR firm, PR Consulting, happened to announce their representation of Grindr in December. They garnered quite a few raised eyebrows by this partnership, which was formed with the intent to leverage the app's reach into fashion, and vice versa. The app's VP of marketing, Landis Smithers told WWD: "As Grindr grows it's global network and expands into new areas, we wanted to find a partner that would both understand our vision for a more connected world and push us to think differently about how we speak to our users."
Grindr's seven million users, 70 percent of whom live outside the U.S., were directed from the app to a digital destination where the livestream video was shown on a continuous loop for 24 hours following the show. Approximately 100,000 users watched the gender defying show, which included white fur coats festooned with snails, ribbed knit outfits and silver suits with zippered pockets in the shapes of clouds.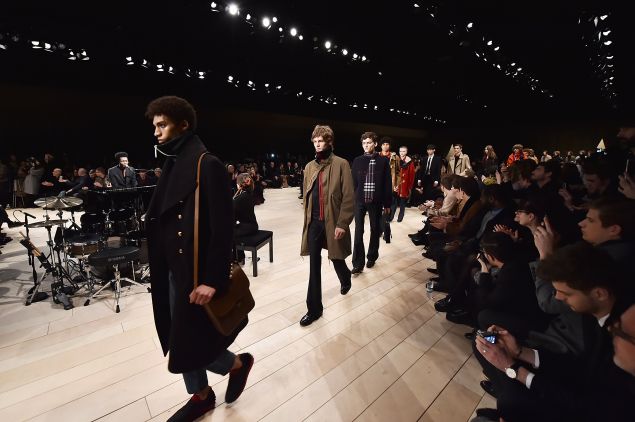 Burberry also used London Fashion Week to prove that they can adapt to changing times. Not only did they create an impromptu tribute to the late David Bowie–by sprinkling glitter on the models' faces–but they became the first fashion brand to stream a fashion show on Apple TV, on a channel of their own. Accompanying their men's catwalk was British crooner Benjamin Clementine, who performed alongside the outerwear-heavy range in London's Kensington Garden. Burberry's channel on Apple TV will also allow users to view past runway shows, makeup tutorials and films from the Burberry Acoustic project.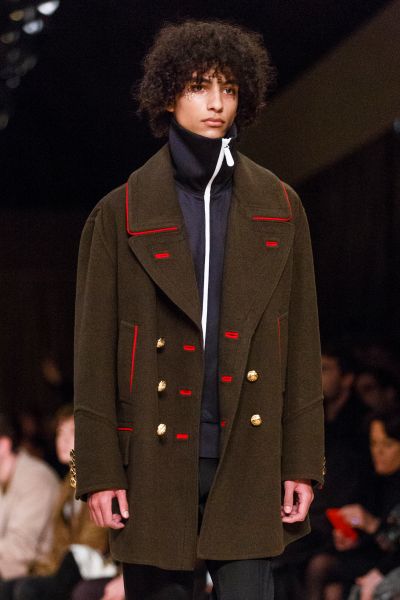 The ties between the English fashion brand and the American tech giant can be traced back to Angela Ahrendts, who made the jump from CEO of Burberry Group to SVP of retail and online stores at Apple in 2014. Since then, Burberry became the first brand to launch a channel on Apple Music and Ms. Ahrendts' was revealed as the highest-paid executive at the company.
The adaptability of these two London brands, and their desire to embrace audiences beyond their expected target, is a testament to changes in the menswear realm. Making it seem as if the men's designers are becoming even more innovative than the women's. It might have to do with smaller audiences, but it proves that these designers actually have their fingers on the pulse of what people want. Well, as long as it's digital.