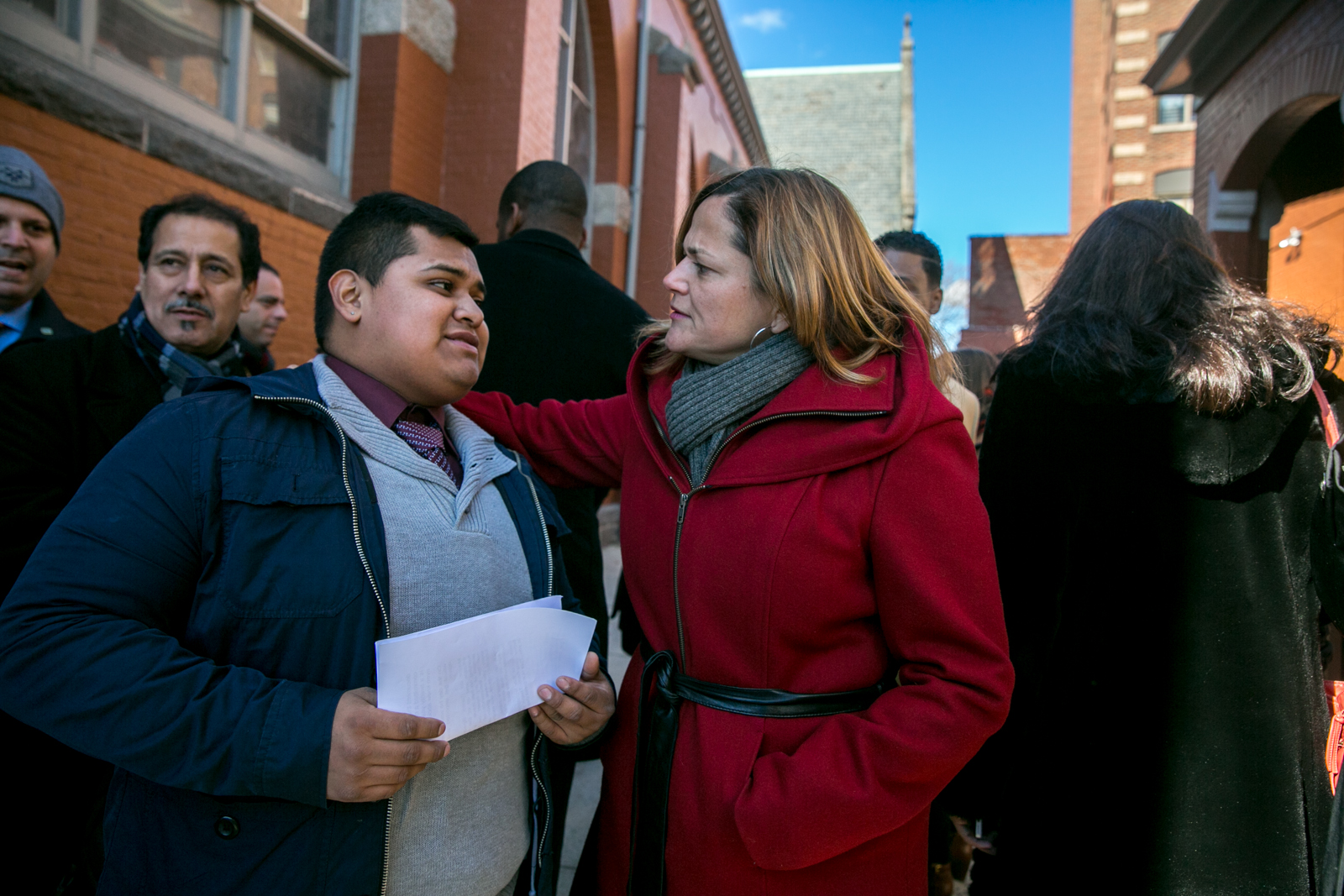 How can political parties and activists recruit more immigrants or children of immigrants to run for office? It might be as simple as asking them.
"A big part of it is making it seem possible," said Sayu Bhojwani, founder and president of the New American Leaders Project, "and uplifting the role models who are already there."
To that end, the group—which aims to elect "new Americans," defined as immigrants or first-generation Americans—has been collaborating with Council Speaker Melissa Mark-Viverito, the first Latina to hold a citywide office. Ms. Mark-Viverito was set to speak today at an event marking the release of report dubbed "States of Inclusion," before the talk was canceled by this weekend's blizzard.
"If we're going to be a successful democracy, then we need to ensure that we bring in voices that historically have been left out of the conversation. We have to be at the table, the decision-making table," Ms. Mark-Viverito said in a brief interview. "And that includes newly arrived immigrants, immigrant communities, people of color, so that's something that I strive for each and every day. Gender balance, as well."
The report surveyed lawmakers hailing from the country's two most common "new American" groups: Asian Americans and Latinos and Latinas. And while there were plenty of differences between those groups, there were also plenty of shared challenges—including that many did not consider running for office until asked by someone else, and got more support from groups outside the political party structure, like advocacy groups and labor unions.
"There are obviously differences both between those two groups and within them, but there's also a lot of commonalities," Ms. Bhojwani, who served as the city's first Immigrant Affairs commissioner under former Mayor Michael Bloomberg, told the Observer. "And I think we could have a much stronger conversation about an inclusive democracy if we started to see those commonalities more often than not."
Both groups reported more frequently than white lawmakers that they had "never thought of running until someone else suggested it," and among Asians and Latin new Americans, that was more common among women than men.
Stephanie Chang, a Michigan state representative from Detroit and the first Asian American woman elected to the Michigan Legislature, said it was true for her: she was encouraged by her predecessor, Rashida Tlaib, to run for the seat.
"At least for me it, wasn't until Rashida Tlaib, my predecessor, and then others really encouraged me to run that I actually sat down and had conversations with other people about what that would look like," Ms. Chang told the Observer in a phone interview. "Having people encourage me and sort of give me that idea that I could do it was really important to my decision."
The lawmakers surveyed also reported getting help from outside the traditional political party apparatus—and one in three Latina lawmakers surveyed actually reported being discouraged by political party leaders from running.
"It did affirm one of the challenges that we have found in terms of finding Latina legislators as mentors for our alum," Ms. Bhojwani said.
That speaks to the group's recent work with Ms. Mark-Viverito, a native of Puerto Rico, who in recent months has been developing a nationwide profile on issues of importance to immigrants and Latinos.
"I think that Melissa represents the kind of embodiment of the ideals that we try to train in our program: it's not just about learning campaign skills, but it's about how do you run in a values-based framework that asserts that your experience and your immigrant background is an asset, and not a liability," Ms. Bhojwani said.
Ms. Mark-Viverito said her own party should do better in reaching out to different populations in search of candidates.
"We have to, as institutions, whether it's the Democratic Party or whatever institutions, have to facilitate and help create these pipelines of opportunity," she said. "We've got to create these pipelines and break the barriers that prevent that reality for some individuals."
Perhaps because they were forced to look outside the typical party network, the new American lawmakers surveyed more often said their campaigns had been boosted by labor unions and community groups.
"It's analogous to why so many immigrants open businesses," Ms. Bhojwani said. "If you can't succeed in the existing structures, if the existing structure limits how far you can go, you think, 'Ok, well, I'll just go out on my own.'"
The findings about community groups also tracks with the NALP's practice of recruiting people who work in community organizing or issue advocacy and training them to run for office, Ms. Bhojwani said. Ms. Chang, who serves on the NALP's board of advisors, herself hails from advocacy groups. For her, running for office was an opportunity to help people in a new way.
"We need to do a better job of just continually asking people who are already leaders to think about taking that next step to run," Ms. Chang said.
The study looked at lawmakers in state legislatures, in part because running for those offices is less expensive than mounting congressional or big city campaigns. But Ms. Bhojwani noted that it was important to for the group to have people with the perspective of new immigrants or first generation Americans in state governments, in addition to federal office—since states have acted increasingly on immigration surrounding issues like drivers license, while the national conversation is stalled in Congress. Plus, states will play a role in implementing any policies that are eventually passed nationally, she said.
The group tries to show potential candidates that there's a science to running for office, by offering campaign workshops. But the psychological impact is almost more important, Ms. Bhojwani said: explaining to candidates that they should be proud of their devotion to their new home, but that they don't need to bury their immigrant history, either.
"It's OK to also talk about being a newcomer, and choosing this community for certain values that you share with the community and the country—it's OK to focus on this new community," she said, and to go out and ask them to register and then ask for their vote. "There are these assets you bring. It's not just about being an under-resourced candidate with a foreign name that no one will recognize."
You can read the full report here.
This story has been corrected to note Ms. Chang is not the first Asian American, but the first Asian-American woman elected to the Michigan state legislature.