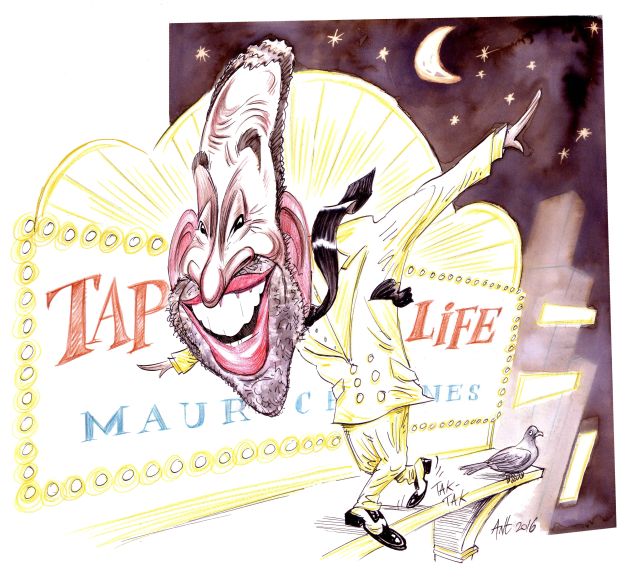 In his new autobiographical revue, Tappin' Thru Life, Maurice Hines takes his audience through a musical reminiscence of his long show business career. Mr. Hines started tap dancing when he was 5 years old alongside his late brother, Gregory—to whom the show is dedicated. Lithe and lanky, with a salt and pepper beard, Mr. Hines is now 72, but still moves with vigor onstage. Over coffee at the Westway Diner the other day, he said he hopes his show inspires younger artists to take up tap. The musical features a number of young tap dancers Mr. Hines has discovered and also mentored, and he is planning to open a performing arts center in Harlem, where he resides. Mostly, though, he lives for the audience. "Every night," he said, "is opening night to me."
You've seen a lot of greats throughout your career. Name the artist who impressed you the most. Sammy Davis, Jr. We went to see him at the Apollo, and the Apollo is no joke. Sammy, I'll never forget, did maybe half the show, and then he sat on the edge of the stage with a cup of tea—a cup of tea!—and just talked to the audience, the Apollo audience, who would normally say, "You gotta get up there and start dancing!" And he enraptured them.
I said to myself, "That's what I want."
So it was formative. It's really my approach when I'm on stage, to connect with the audience, but honestly. All performers use tricks to get the audience. My mother didn't want no tricks. She said, "I want to see truthful out there."
It's interesting that you got so much knowledge about show business from your mother, despite that she wasn't in the business herself. Oh yeah, because she was very honest. When I was doing Jelly's Last Jam, she came to see me in Costa Mesa, Calif. After the show, she always did the same thing: she would cry—"My babies! My babies!"—and then all of a sudden, she'd say, "You missed that tap step in that third number." She was very smart, just instinctively smart. She did not want her sons hurt. She used to say, "My sons my life." That was her phrase. I never said that before in an interview. My father knew it, too, and he was fine with it.
You mention in the show that your grandmother was a Cotton Club showgirl, until she "found Jesus." Are you religious? I am. In fact, when I leave here, I'll be going to church. I go to St. Patrick's every Monday and Friday.
Do you believe in heaven, and if so, do you think your younger brother is up there looking down upon you? I believe that there's an energy somewhere. I don't know if I believe in the clouds and all that, but I believe that Gregory's there and my mother's there and my father's there, and they're looking out for me and making sure I'll do right—because I have a tendency to be very political, about racism in the business. I don't feel it as much now as I did when we were younger, but it's still there; racism is in the world. It's not going anywhere, why should it leave show business?
What's your take on modern tap? For a while, of course, it went down, and they didn't concentrate on the African-American tap dancer like they should have. The problem with tap is that people think, when they see it, that it's very easy, that it's just making a bunch of noise.
Looks hard to me. It's very hard. There's no room for error. One guy, I was leaving Sophisticated Ladies once, and he said, "You know, I love tap dancing. I tap too. I tap like you and Gregory." And I said, "Oh, you tap like me and Gregory Hines? Who have you studied with?" And he said, "Oh, I haven't studied yet." I said, "You know what you need to do? You need to walk on away from me. Because you have just disrespected not only me and Gregory but the art of what we do." I'm not kind when they do that.
What is it about tap-dancing brothers? There's you and Gregory, the Nicholas brothers, the Berry brothers. Gregory and I loved dancing together. Gregory asked me once, it was so cute—I've never really talked about this. We were coming back from the Cotton Club set, and our cousin Tony was driving us home, and by that time I had a dance company with Mercedes Ellington, and Gregory says to me, in this cute little voice, "Maurice, you still like dancing with me?" I looked over like he was crazy. "What are you talking about? First of all, I love dancing with you, and it's an honor to dance with you. I love you." And then he started to cry.