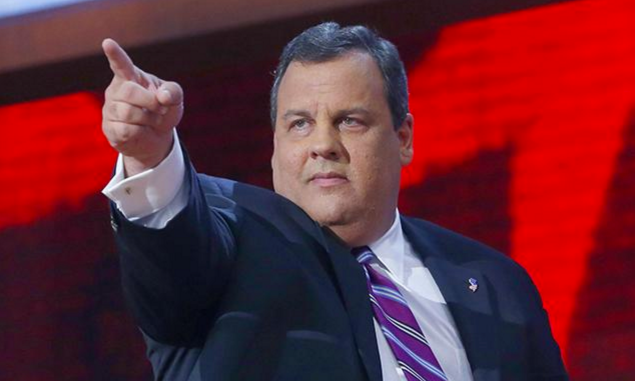 As the New Hampshire primary approaches and Governor Chris Christie prepares for his best shot at turning the tables and pulling ahead of the middle tier in the Republican presidential primaries, the numbers are pointing to a tough row for the governor to hoe. The latest national Monmouth poll shows Christie tied for fourth place with Ohio Governor John Kasich and former Arkansas Governor Mike Huckabee at three percent. If the pattern holds and Christie's resurgence dissipates, does anyone stand to gain from his endorsement?
With the rest of the GOP hopefuls still trailing far behind anti-establishment frontrunners Donald Trump and Senator Ted Cruz (R-TX), Rider University's Ben Dworkin believes Christie needs to distinguish himself from the pack. Trump leads at 36 percent, with Cruz the only other candidate in the double digits at 17 percent.
"He's fallen a few points in the most recent polls, and more importantly he has not been able to break away from the clump of people who are trailing Trump," Dworkin said. "And he needs to break away from them in order to slingshot his way into South Carolina and Nevada. It's less about the margin between Trump and Christie than it is about the margin between Christie and Rubio, Christie and Bush, Christie and Kasich."
Party leadership at home, however, are still banking on a New Hampshire bonanza. Burlington County Republican Chairman William Layton said that he would not count Christie out so soon.
"I'm thinking he's going to win in New Hampshire, or come close enough that he's going to stay in the race," said Layton. "Hopefully we'll continue to watch his candidacy through the Super Tuesday elections."
As Christie plays to strengths like his outsize persona and a conscientiously publicized homeland security record, the question may turn from whether he can pull ahead to whether he can bring those strengths to the next establishment candidate's bid for second place. In the event that Christie stays put in the rankings through New Hampshire and Iowa, Seton Hall University's Matthew Hale said that he would only bring that fire to another candidate once a clear favorite against Trump emerges.
"I fully expect that if Chris Christie is not the nominee, he's going to be a full-throated supporter of whoever is on the Republican side," said Hale, adding that Christie's strong electoral record at home would add to his appeal for one-time rivals. "I would look at his history as head of the Republican Governors' Association. He's pretty good on the stump for other people."
Except, Hale said, for Trump. The outspoken businessman and media personality could be too much of a liability if Christie endorses him too early and decides to run again in 2020 after a defeat for the current GOP favorite.
"Once Trump loses something, I think the luster goes off. I think that he would back someone other than Trump," Hale said. "As Christie bows out I think he's going to wait until at least there's two. I don't think he's going to try to dig Kasich out or dig Jeb Bush out.
"Christie has rehabilitated himself enough in this campaign that he wants to be around for whatever's next. If Hillary Clinton wins, he wants to be the next in line to run against her next time. If there's a Republican that wins, he wants to be Attorney General and sort of keep himself in line with the establishment."
Dworkin also said any early endorsement would be a chancy tack.
"I don't think he's going to lean and pick one or the other," Dworkin said. "I think he will endorse the eventual nominee. I think if he leaves this race early, I doubt that he will take one person to endorse while there's still a competitive primary process going on.
"If he's going to run for anything else after being governor, I think it'll be running for president in 2020."
On any future endorsement for a rival, Layton said that at the state level, the party would make that decision if and only if New Hampshire doesn't go as planned.
"I think party discipline is very important. And if the governor's campaign ends, which I don't believe it will, if it does end then I'm sure we'll all sit down and make that decision together."