MONTCLAIR – With a Bernie 2016 pin affixed to his lapel, Assemblyman John Wisniewski (D-19) stared across a wooden table at his opponent: state Senator Loretta Weinberg (D-37).
On Monday, the two former Bridgegate co-chairs, subbed in for Bernie Sanders and Hillary Clinton in a surrogate presidential debate with a Jersey twist. While presidential contenders Sanders and Clinton may not have been present at Montclair's Unitarian Universalist Church, New Jersey's Democrats still packed the house to see the Sanders' NJ Campaign Chair Wisniewski and Weinberg, who is siding with the New Jersey Democratic establishment to back Clinton, discuss why their candidate of choice would make the best Democratic nominee for president in 2016.
The debate, which was organized by Bluewave NJ, had the two elected officials deliberated on topics like guns, international affairs with countries like Syria, breaking up big banks and which candidate is more electable.
"We know where Hillary stands," Weinberg said in her opening statement. "We know she has what it takes to stand up to the Republican Party. And that is why I think she is the best candidate to represent us against the horrors of those Republican candidates."
As his opening statement, Wisniewski recalled a conversation he had with his daughter, discussing the massive student loan debt that many of her peers face.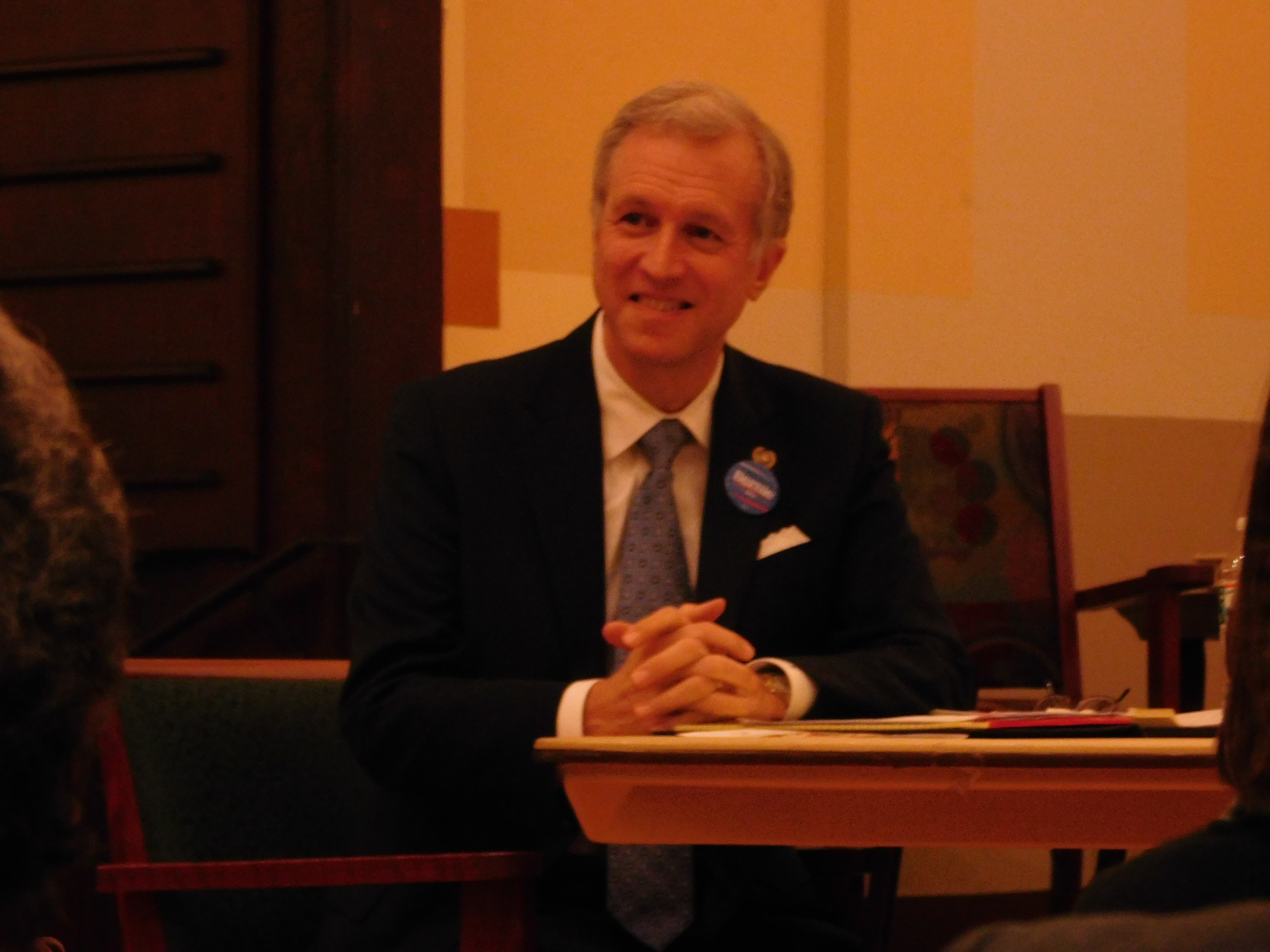 "When you look at the point we are at as a nation you understand that what we are doing we need to do differently," Wisniewski said. "Senator Sanders can lead us in the right direction."
On big banks, moderator Jonathan Alter asked Weinberg why Clinton would be fit to break up big banks despite her perceived affiliation with Wall Street. In doing so, he asked the senator about Clinton's husband, former President Bill Clinton.
"First of all, her husband is not running for president. Hillary Clinton is running for president," Weinberg said. "If she is on the defensive about Wall Street, it is because she is a former Senator from New York. Wall Street is a big part of the state's economy. As president, she will be there."
Wisniewski responded: "Senator Sanders has never said 'Let's do away with banks.' What he said said is that if you are going to regulate banks, you can't at the same time be in the pocket of banks."
When the topic turned to health care, Wisniewski proposed that Sanders' single-payer system could help bring America on par with other developed nations, despite proposed tax increase.
"I think that what President Obama has done, which took how many years and bills on his desk every week trying to repeal Obamacare, the Secretary understands the incremental steps it took to get to this point," Weinberg said. "I believe that what Secretary Clinton wants to do is improve Obamacare, improve Medicaid expansion and take those incremental steps. We need to improve Obamacare and I think Hillary Clinton is the person to do that."
For Wisniewski, however, that assertion demonstrates nothing more than an emphasis on "small ideas" rather than "big ideas."
"If we have any hope in electing Democrats where there are Republicans now, we need an enthusiastic electorate," he said. "At this point in history, we are at a place where we can do better or we can say not enough."
Perhaps one of the most combative moments of the debate came when the argument turned to guns. According to Wisniewski, Clinton and Sanders have similar stances, the main difference comes from Sanders' votes on waiting periods and what he called "overreaching" legislation that would harm gun sellers who have not done anything incorrectly.
"The portrayal of Senator Sanders being some NRA darling is just not the case," Wisniewski said.
According to Weinberg, however, Sanders failed in his vote to not "put forward liability for gun manufacturers."
"Bernie Sanders was supporting the rural gun owners in a very rural, very gun-loving state," Weinberg said. "He was representing his constituency. I believe that Bernie Sanders was a good Senator representing a very rural state which is why he has been very careful and not a big proponent of gun safety."
She later said that Wisniewski sounded like Governor Chris Christie who she claimed always "hangs his hat on some little loophole" on gun legislation so he can justify a veto.
While the debate focused on where the two candidates differed, it was clear that Weinberg and Wisniewski's relationship doesn't hold the rancor that has been building between Sanders and Clinton as Iowa and New Hampshire draw closer and the poll numbers get more and uneven.
BlueWaveNJ is a grassroots organization that aims to promote Democratic ideas and policies in the state and nation.