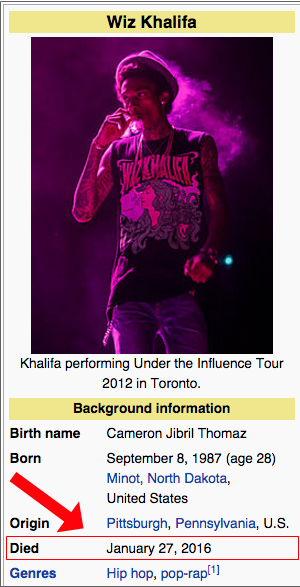 For eight minutes this afternoon, Wiz Khalifa was thought to be dead, according to Wikipedia.
The "Black and Yellow" rapper's page on the site was updated to say that he died today, January 27, 2016, but shortly after, the revision was reversed on the grounds of page vandalism. The cause of death was not listed, but we know what it is (no pun intended)—Kanye West.
The prankster made the death update just as Mr. Khalifa was getting destroyed by Mr. West in today's big Twitter feud. The beef began after Mr. West tweeted a somewhat cryptic message aimed at his rival: "Like, oh that's Ye and I can put his wife's initials on my Twitter."
The two went back and forth a few times, and then Mr. West completely bombarded Mr. Khalifa with a mix of insults and strange compliments. "Bro first of all you stole your whole shit from Cudi," he said in one tweet. "I went to look at your twitter and you were wearing cool pants," he wrote in another.
Mr. Khalifa has yet to respond to the big Tweetstorm (during which Mr. West tweeted at him more than 30 times), so maybe that Wikipedia editor knows something we don't.