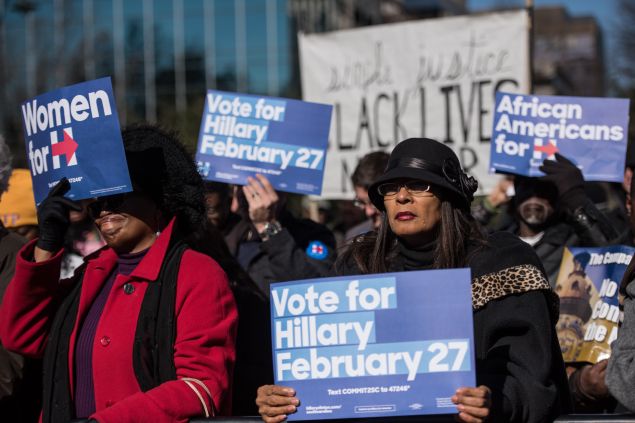 Two new polls released in the past week show women won't be voting in droves for Hillary Clinton the way African-Americans voted in droves for President Obama.
First, a USA Today/Rock the Vote poll found millennial women preferring Vermont Sen. Bernie Sanders to Ms. Clinton. Women between the ages of 18 and 34 preferred Mr. Sanders by a 19-point margin, with 50 percent choosing the senator and 31 percent choosing the former secretary of state.
On Tuesday, a Monmouth University national poll found Ms. Clinton's lead among women had taken a nose dive since December. Ms. Clinton currently leads Mr. Sanders by 19 points among all women, a smaller lead than what the same poll found at the end of 2015, when Ms. Clinton had a 45-point lead. That's a huge drop in just one month.
If these polls are indicative of the direction Ms. Clinton's support among women is heading, as voters tend to make their final decisions in the last month and days before an election (or primary), then Ms. Clinton has a problem.
Women don't appear as though they will support Ms. Clinton the way African-Americans supported Mr. Obama. Part of that reason is due to a larger split of the demographic between Republicans and Democrats. Sure, more women vote for Democrats than Republicans, but the gap is much closer than with African-Americans.
In 2012, Mr. Obama won women by 12 points, or 56 percent to former Massachusetts Gov. Mitt Romney's 44 percent. Black voters favored Mr. Obama at a much wider margin, with 93 percent voting for the president's second term and just 6 percent voting for Mr. Romney.
Mr. Obama also didn't pander to black voters. He didn't bring up his race during every speech, every appearance or every debate. He didn't constantly say he was running to be the first black president. Sure, his surrogates and a friendly media didn't let voters forget that, but Mr. Obama himself didn't. It's one thing for supporters to point that out, but it's another thing for the candidate to feel the need to remind them.
Does Ms. Clinton think we will forget she's a woman? Or that we can't tell? Does she think we have the attention span of a goldfish and must be reminded every few sentences? It's insulting, condescending and makes one wonder if she's sure of her own candidacy beyond her gender.
Ms. Clinton is also not as inspirational a candidate as Mr. Obama was. Beyond being the (at the time) potential first black president, Mr. Obama also seemed to have fresh, new ideas, and wasn't seen as a Washington insider. Ms. Clinton, on the other hand, is seen as an entrenched politician who doesn't have a bold new viewpoint.
This is important for millennials and was one of the reasons they came out to vote for then-Senator Obama. Millennials are following politics more, and are more dedicated to their opinions than any other generation. As a millennial myself (apologies for my generation, we're not all terrible), I can't meet another person in my age group who doesn't have loud opinions about everything. Maybe it's because I live on the East Coast, but seriously, young people won't shut up about their politics.
Mr. Sanders is the candidate who is talking more like Mr. Obama in 2008. He's calling out Wall Street, capitalism and cronyism. When Ms. Clinton talks about those things we laugh, because she receives large donations from Wall Street, including speaking fees and appears to love cronyism—just check out all of her friends she helped while at the State Department.
Her story is also not something that inspires a generation that is more focused on their career and more desiring of personal success. Mr. Obama had help throughout his career, of course, but it was still him getting the help because of his own merit or because of what he represented for political elites. Ms. Clinton, on the other hand, relied on her husband to get where she is today. She was hired to a top law firm in Arkansas and made partner after her husband became governor. She was elected to the senate with help from her husband's donors and riding on the momentum of her husband's popularity after leaving the White House. She ran for president because of all these things, which she only achieved because of whom she was married to.
Young women are averse to the idea that we need a man to succeed, yet that is what Ms. Clinton exemplifies. Sure, Ms. Clinton appeals to more extreme feminists just because of her gender, but the ideals she represents are decidedly not feminist.
There are of course some things working in Ms. Clinton's favor for this election. She does better with older women than Mr. Sanders, and older voters tend to turn out. Mr. Obama was able to get young Americans to vote in record numbers, so if Mr. Sanders can't replicate that, he's toast. Ms. Clinton is also doing better with black and Hispanic voters than Mr. Sanders, so if they come out to vote, she'll have a clear path to victory.
As with every election, it all comes down to who actually turns out and in what numbers. Ms. Clinton has many factors working in her favor, but if Mr. Sanders's supporters are more energized to go to the polls, then Ms. Clinton will have a problem.