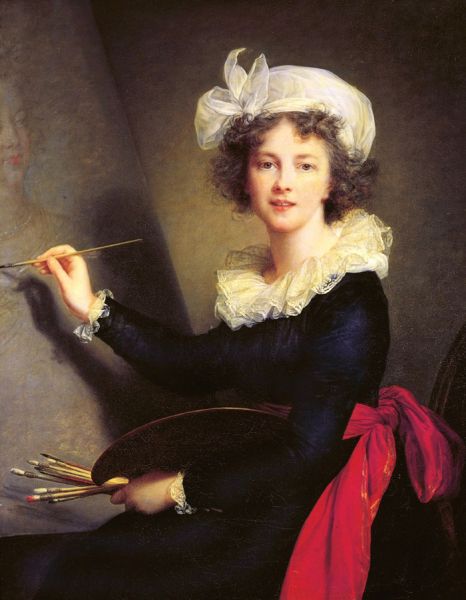 MONDAY, FEBRUARY 15
Opening: "Vigée Le Brun: Woman Artist in Revolutionary France" at the Metropolitan Museum of Art
A self-taught French artist who came of age during the reign of Louis XVI, Elisabeth Louise Vigée Le Brun became one of the few female portrait painters of French and European royalty, and notably painted the king's 23-year-old wife, Marie Antoinette, in 1778. Le Brun was one of a handful of women artists allowed to exhibit in the salon exhibitions of the Académie royale de peinture et de sculpture, and she went into exile in Italy where she continued to paint during the French Revolution. She later lived and worked in Vienna, St. Petersburg and Berlin, before returning to France, where she died at age 86 in 1842. This magnificent exhibition, which features 80 paintings and pastels lent from European and American collections, is the first retrospective dedicated to the artist in the modern era.
The Metropolitan Museum of Art, 1000 Fifth Avenue, New York, 10 a.m.–5:30 p.m., free with museum admission
TUESDAY, FEBRUARY 16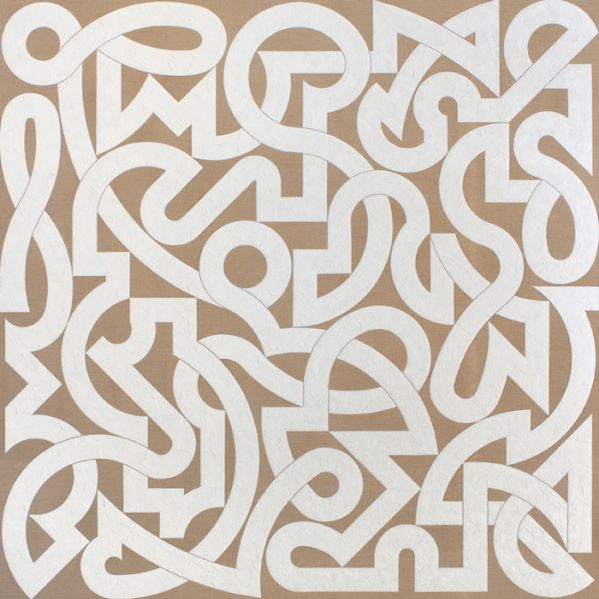 Talk: "Conversation: Valerie Jaudon and Pepe Karmel" at the Grey Art Gallery
This talk featuring artist Valerie Jaudon and NYU professor Pepe Karmel is presented in conjunction with the exhibition "Global/Local 1960-2015: Six Artists from Iran," which takes a scholarly look at the work of three generations of Iranian artists living in Tehran and elsewhere. Ms. Jaudon, who first gained notoriety in the 1970s as a key player in the Pattern and Decoration art movement influenced by Persian ornamental forms, is a professor of art at Hunter College and a widely exhibited and collected artist represented by DC Moore Gallery in Chelsea. Mr. Karmel is a venerable curator and art critic who has contributed to the New York Times and Art in America. Together they share their insights on Iranian modern and contemporary art, including the work displayed in gallery's show.
Grey Art Gallery, 32 Waverly Place, Silver Center, Room 301, New York, 7 p.m.
Opening: "Closed Worlds" at the Storefront for Art and Architecture
"Closed Worlds" is an exhibition that examines environments created for exploration and experimentation, and features 41 prototypes for self-sustaining eco-systems conceived over the past 100 years. This fascinating show takes a look at the architecture, design and engineering ideas behind exhibited projects such as vehicles for missions to outer space and underwater expeditions to controlled studies of nature and alternate life styles. One of the show's highlights is Farzin Farzin's Some Worlds Games, an immersive work that allows visitors to virtually experience any of the other closed systems on view in the exhibition.
Storefront for Art and Architecture, 97 Kenmare Street New York, 7-9 p.m., RSVP required
WEDNESDAY, FEBRUARY 17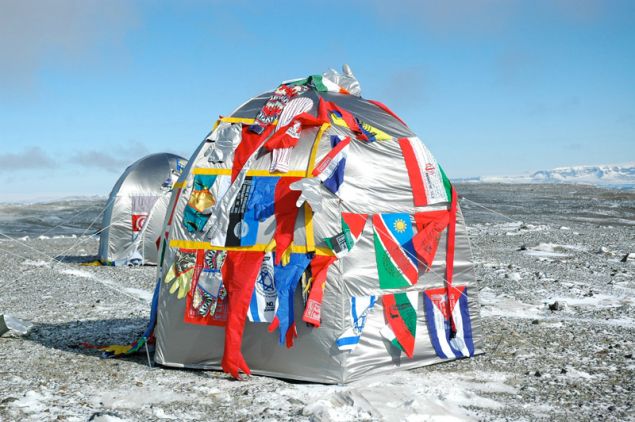 Talk: "Panel Discussion on 'Antarctica' with Lucy Orta" at Jane Lombard Gallery
"Lucy + Jorge Orta: Antarctica," marks the first New York solo show for the artist duo in New York. For the occasion, the gallery is hosting this panel discussion on the work of British-born artist (Lucy) and her Argentinian husband (Jorge), first created for their expedition to the Antarctic peninsula in 2008. The panel will simultaneously address utopian ideas and issues of climate change, and features Ms. Orta, Ecoartspace director Amy Lipton, NYU professor of Environmental Studies and Philosophy Dale Jamieson and talk moderator German-born designer and Parley for the Oceans founder Cyrill Gutsch.
Jane Lombard Gallery,518 West 19 Street, New York,6:30-8 p.m.
THURSDAY, FEBRUARY 18
Opening: "Al Held: Black and White Paintings" at Cheim & Read
This show for American artist Al Held, who died in 2005, features eight monumental, black-and-white geometric canvases made by the contemporary art innovator between 1967 and 1969. Consisting of hard-edged, interlocking rectangular forms, the sparse yet energetic paintings create optical and illusionistic effects as the forms appear to recede and expand in the seemingly endless space of the canvas. Noted critic Barbara Rose appropriately observed in a 1972 New York Magazine profile, "Held's space is a bold imaginative construct having nothing to do with the real world of actual solid objects."
Cheim & Read, 547 West 25 Street, New York, 6-8 p.m.
Opening: "Karen Kilimnik" at 303 Gallery
Celebrated for her whimsical artworks inspired by pop culture, Karen Kilimnik presents a new series of paintings and collages that use historical tapestries and theatrical stage sets as the point of departure. The artist adds images of cats, birds, butterflies and perfume bottles, as well as sparkling glitter, to transform the original scenes. In two of the collages, Ms. Kilimnik simply applies cat stickers to reproductions of Baroque canopy beds in museum collections, while the paintings mix loose brushstrokes with the application of shiny glitter to construct a vision of otherworldliness that's awkward yet charming.
303 Gallery, 507 West 24 Street, New York, 6-8 p.m.
Opening: "Regina Silveira" at Alexander Gray Associates
A Brazilian conceptual artist that has exhibited her multimedia work worldwide for nearly 60 years, Regina Silveira presents a room-size installation of larger-than-life vinyl reproductions of silhouetted frogs being pulled toward a drain in the center of the gallery floor. The excess of the amphibious creatures in the massive work symbolically references both the biblical plague, which the prophet Moses cast on the ruler of Egypt in order to free the Israelites, and acts as a metaphor for war, corruption and surveillance in the contemporary world. Additionally, the artist exhibits a new series of prints that continues her visual study of shadows, contrasting images of everyday objects with fictional representations found in their shadowy existence.
Alexander Gray Associates, 510 West 26 Street, New York, 6-8 p.m.
Opening: "Andrea Bowers: Whose Feminism is it Anyway?" at Andrew Kreps Gallery
A Los Angeles-based artist, feminist and social activist, Andrea Bowers has exhibited thought-provoking work internationally for the past 25 years. Here, Ms. Bowers offers one of her most challenging bodies of work to date in "Whose Feminism is it Anyway?," a show that mixes the artist's interest in the history of agitprop imagery with California's community of trans women activists engaged in demonstrations and civil disobedience. Highlights of the show include photographic portraits of the activists Cece McDonald, Johanna Saavedra and Jennicet Gutierrez, large-scale marker on cardboard drawings of women rendered in agitprop styles, and a video of a roundtable discussion on issues of gender, black liberation, immigration and the prison industrial complex.
Andrew Kreps Gallery, 535 West 22 Street, New York, 6-8 p.m.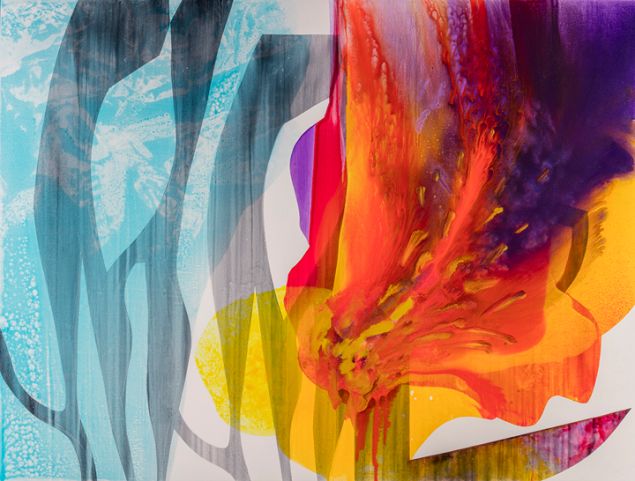 Opening: "Carrie Moyer: Sirens" at DC Moore Gallery
A Brooklyn-based artist and writer who makes abstract paintings and prints Carrie Moyers shows new canvases bursting with lively colors and forms in her first solo show with DC Moore gallery. In works that feature such ironic titles as Cloud 9, Arsenic and Old Lace and Weeki Wachee, the artist layers delicate brushwork with paint pours to pull both the mind and the eye of the viewer deeper into the work.
DC Moore Gallery, 535 West 22 Street, New York, 6-8 p.m.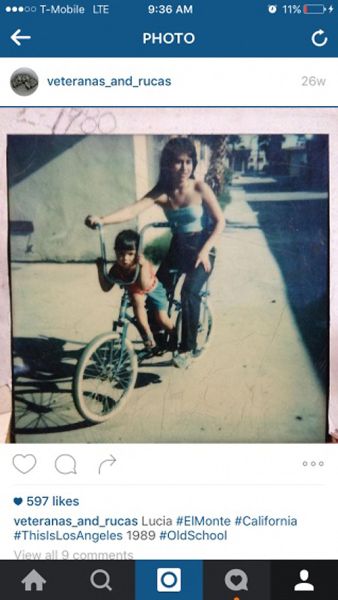 Talk: "Who Owns Digital Social Memory?" at the New Museum
In conjunction with the release of Rhizome's recently funded archive tool Webrecorder, the New Museum presents a panel discussion about archiving content on social media sites, such as Facebook and Instagram, which might someday become obsolete or disappear. The panelists include The Met's online community producer Kimberly Drew, Rhizome digital conservator Dragan Espenschied, New Inquiry editor Nathan Jurgenson, Instagram artist Guadalupe Rosales, Turntablist Transcription Methodology inventor Crunc Tesla and Rhizome artistic director Michael Connor.
New Museum, 235 Bowery, New York, 7 p.m., $15