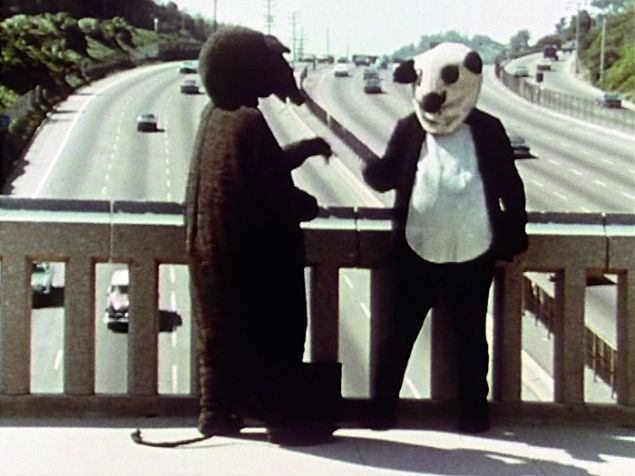 MONDAY, FEBRUARY 8
Screening: "Peter Fischli David Weiss: The Least Resistance and The Right Way" at the Guggenheim Museum
In conjunction with Peter Fischli and David Weiss's retrospective "How to Work Better," the museum is screening two of the conceptual artists' early films, which feature their alter egos, Rat and Bear. The 29-minute Super 8 film The Least Resistance, from 1980-81, finds the ugly rat and cute panda (the artists in shabby theatrical costumes) in Los Angeles in pursuit of fame and fortune, while musing on the meaning of life. In the 1983 film The Right Way, which was shot in 16mm and runs 55 minutes, the duo wander through the pastoral landscape of the Swiss Alps, waxing philosophically, while overcoming amusing challenges along the way.
Solomon R. Guggenheim Museum, 1071 Fifth Avenue, New York, various times, free with museum admission
TUESDAY, FEBRUARY 9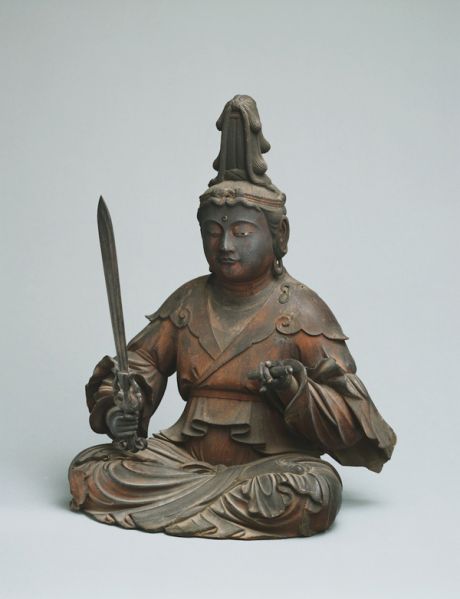 Opening: "Kamakura: Realism and Spirituality in the Sculpture of Japan" at Asia Society
A survey of sculptures from Japan's Kamakura period (dating from 1185 to 1333), this exhibition brings together a group of unique realist icons imbued with sacred powers. Lent from public and private collections in the United States and Europe, the pieces on view mark the beginning of artistic identities in Japan, with master sculptors inaugurating the practice of signing their works—a practice that would continue thereafter. The period is also noteworthy for its technical innovations, including joined woodblock construction, which allowed for the creation of larger sculptures, and rock crystal inserts for the eyes on wooden figures, which made the depicted deities more realistic and thereby more commanding. Although the Kamakura period was historically brief (only 150 years), it clearly had a lasting influence on the art and culture of the country.
Asia Society, 725 Park Avenue, New York, 11 a.m.-6 p.m.
WEDNESDAY, FEBRUARY 10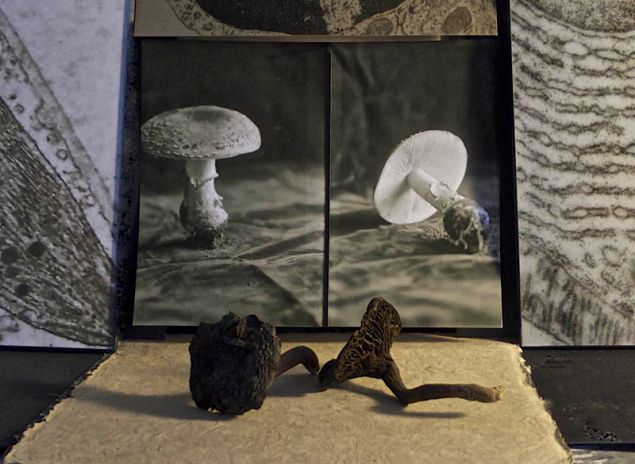 Opening: "Michelle Stuart, Theatre of Memory: Photographic Works" at the Bronx Museum of the Arts
An artist closely identified with the avant-garde Land Art Movement of the 1970s, Michelle Stuart has exhibited her earthworks, sculptures and installation art related to the natural world for over 40 years. "Theater of Memory," deftly organized by art critic and curator Gregory Volk, takes a look at Ms. Stuart's lesser-known photographic works. While a few seminal works from the past are included as precursors to the artist's current use of photography, the crux of the show is dedicated to her recent still lifes, which poetically combine distinctive objects and images culled from her vast archive.
The Bronx Museum of the Arts, 1040 Grand Concourse, The Bronx, 6-8 p.m.
Opening: "Ross Bleckner: Prayer Rugs" at The Third Room
Presented in The Third Room, a collaborative space situated between the neighboring Cristina Grajales Gallery and Leon Tovar Gallery, this exhibition offers a selection of four recent rugs and a 2013 painting by the celebrated artist Ross Bleckner. Depicting hopeful prayers that the artist wrote by hand and then transferred to canvas or had woven into carpets by artisans, the Prayer Rugs merge Mr. Bleckner's own spiritual meditations with his creative sensibility. Seeking to transcend "pain, fear, greed, envy and hate," the artist expresses a desire to "bring something new, beautiful and filled with light and love into this world" with these profound yet humble works.
The Third Room, 152 West 25 Street, Third Floor, New York, 6-8 p.m.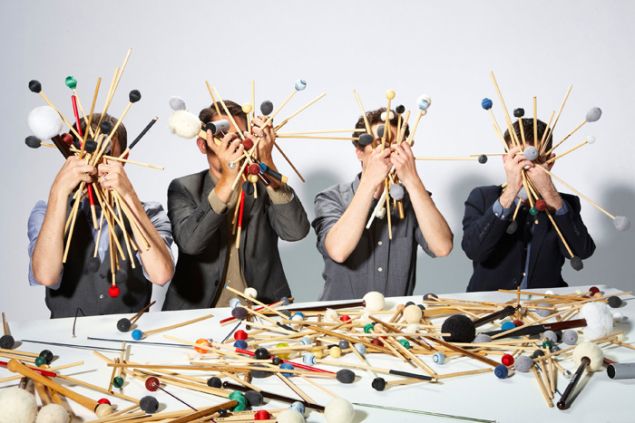 Performance: "Surface Tension" at the Metropolitan Museum of Art
Third Coast Percussion brings their playful and energetic style of performance to the latest "MetLiveArts" program, which features a newly commissioned work by Irish composer Donnacha Dennehy, who seamlessly merges old-style Irish music and new pulse-based textures to create strange yet lyrical compositions. This critically acclaimed Chicago-based ensemble will also perform the 1984 composition Sextet by Steve Reich, one of the founders of the Minimalist movement. Arrive early for a pre-performance drink in the Grace Rainey Rogers Auditorium or a visit to the Met's galleries, as tickets to the event include museum admission.
The Metropolitan Museum of Art, 1000 Fifth Avenue, New York, 7 p.m., $30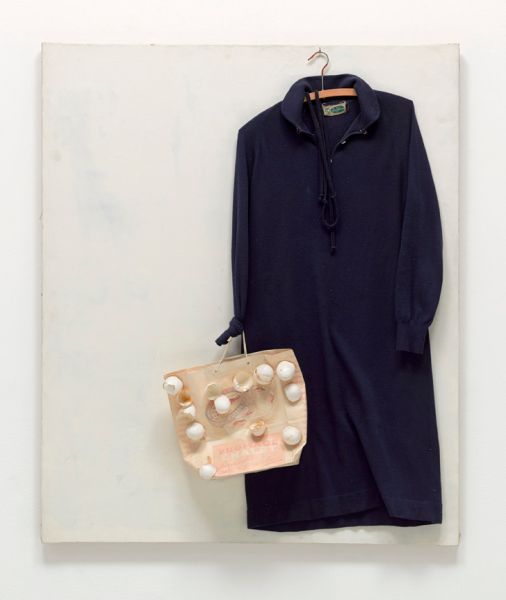 Opening: "Marcel Broodthaers: A Retrospective" at the Museum of Modern Art
The first ever museum retrospective of legendary Belgian poet, artist and filmmaker Marcel Broodthaers' work in New York, this show presents some 200 objects made by the artist between 1963 and 1975 (he tragically died from liver disease on his 52nd birthday in 1976). The survey features Mr. Broodthaers' quirky assemblages made with mussel shells and eggshells, books of his poetry, early experiments in photography and film, his immersive installations—including the influential Musée d'Art Moderne (Museum of Modern Art), a conceptual work of art that critiqued the role of art institutions of his time—and his theatrical displays that he called Decors, which united his older works with new pieces and decorative objects.
The Museum of Modern Art, 11 West 53 Street, New York, 7-9 p.m., by invitation only, opens to the public, Sunday, February 14
Opening: "Affordable Housing in New York: The People, Places, and Policies That Transformed a City" at Hunter East Harlem
Based on the content of a recently published book of the same name by urban historians Matthew Gordon Lasner and Nicholas Dagen Bloom, this comprehensive show features interactive models of apartment interiors, photographs by award-winning photographer and sociologist David Schalliol and historical materials about New York's affordable housing program. Additionally, the exhibition includes ideas for inexpensive housing projects in the future by students from nine international schools of architecture and photographs by New York City housing project residents, who were given cameras and photography lessons by the nonprofit agency Projects Lives.
Hunter East Harlem, 2180 Third Avenue, New York, 6-9 p.m.
THURSDAY, FEBRUARY 11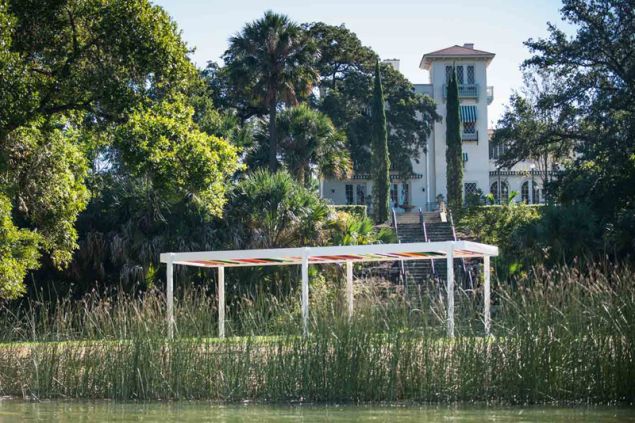 Opening: "Liam Gillick: Phantom Structures" at Casey Kaplan
A British conceptual artist who lives and works in New York, Liam Gillick returns for his eighth solo show at this gallery since 2003. Presenting two new bodies of work, the exhibition offers a look at the artist's conceptual and abstract investigations, developed within his practice over the past 15 years. The first component is a series of phantom wall texts, such as "Run to the nearest town. OK, I'm going to run to the nearest town" and "Shattered factories in the snow." These enigmatic phrases are interspersed with abstract sculptural structures, which consist of white powder-coated aluminum frameworks holding sheets of colored Plexiglas, which—much like the texts on the walls—redefine the architectural space of the gallery. Although they are pure abstractions, the sculptures are visually read in a linear mode, making the two elements flow together in similar fashion.
Casey Kaplan, 121 West 27 Street, New York, 6-8 p.m.
Opening: "Christopher Payne: Asylum" at Benrubi Gallery
Visiting 70 shuttered asylums in 30 states over a seven-year period, photographer Christopher Payne documented a world where the mentally ill were cared for during an era before pharmaceuticals became the cure for all our ills. From eerie interior and exterior shots of deserted—and often-decaying—sanctuaries to ghostly images of hastily abandoned objects such as toothbrushes, bowling shoes and luggage left on shelves, Mr. Payne portrays a frightening picture of the not-so-distant past. And if those photos weren't enough to give you nightmares, the photographer's pictures of the awaiting straightjacket and dressing gowns should have you screaming all night.
Benrubi Gallery, 521 West 26 Street, New York, 6-8 p.m.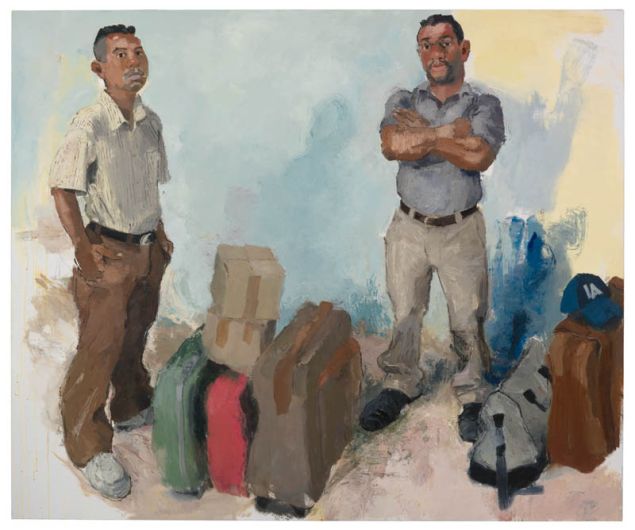 Opening: "John Sonsini" at Ameringer McEnery Yohe
A Los Angeles-based artist best known for his portraits of Latino day laborers, John Sonsini adds a conceptual twist to his portraiture by paying his subjects their normal hourly working wages to sit as his painting models. Working with rough, lively brushstrokes, the artist renders the faces and figures of men seeking daily employment on the streets of L.A., while also capturing the realistic likeness and realities of immigrants in work clothes and cowboy hats that are burdened with all of their belongings in bags. New to his compelling oeuvre is a group of still lifes, which focus on tender and heart-wrenching details of these men's difficult lives.
Ameringer McEnery Yohe, 525 West 22 Street, New York, 6-8 p.m.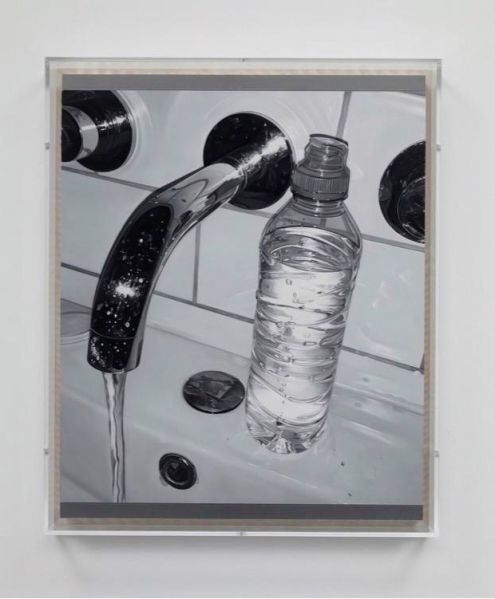 Opening: "James White: Aspect:Ratio" at Sean Kelly
The first New York solo show by James White since 2000, "Aspect:Ratio" presents a finely rendered—yet oddly cropped—selection of recent black-and-white still life paintings from the British artist. As realistic as photographs, Mr. White's canvases capture details of life as though they're being seen through the eye of a forensic detective. A bottle of water abandoned on a bathroom sink and a closet door left open appear to be clues to a crime (or at least a bigger story waiting to unfold), while the artist's placement of the image on the canvas, with strips of gray dissecting the scenes, positions his paintings in a more conceptual realm of art where we are reminded that we're looking at images rather than an actual scene.
Sean Kelly, 475 Tenth Avenue, New York, 6-8 p.m.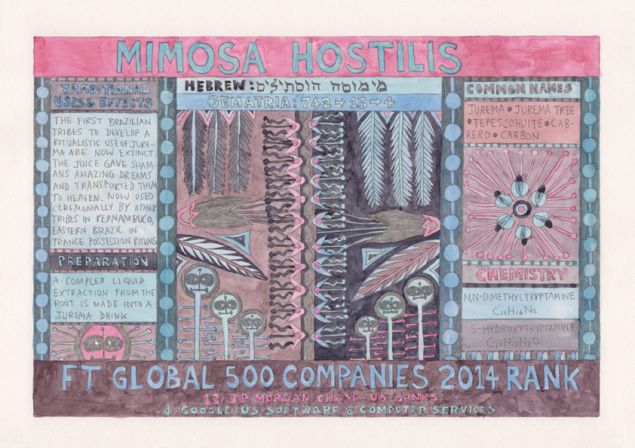 Opening: "Suzanne Treister: HFT The Gardener" at P.P.O.W
A London-based, British artist Suzanne Treister likes toying with her audiences by creating fictional spheres, where the unseen forces of the world are exposed through her playful reinterpretation of histories and taxonomies. For this enchanting exhibition, Ms. Treister has made work by the fictional character Hillel Fischer Traumberg, a banker who becomes a self-taught artist. A high frequency trader, Mr. Traumberg starts taking hallucinogenic drugs, which cause him to alter the algorithms he uses for trading and begin making "outsider" paintings that examine psychoactive plants. Coveted by rich collectors, the artist Mr. Traumberg unaffectedly continues his research to discover new algorithms in the hope of uncovering the real nature and locale of consciousness. Ms. Treister's artwork, appropriately, may truly blow your mind.
P.P.O.W, 535 West 22 Street, New York, 6-8 PM