MONDAY, FEBRUARY 22
Screening: "Coma and My Aleppo" at the Museum of Modern Art
Sara Fattahi's feature-length documentary Coma and Melissa Langer's short film My Aleppo, which are part of MoMA's 15th annual international festival of non-fiction film called "Doc Fortnight," examine how the civil war in Syria is affecting families that are not directly involved in the battle. Coma captures the existence of three generation of women whose lives have nearly come to a halt as they are miserably holed up in the family home in Damascus, while My Aleppo follows a young family of Syrian immigrants from Aleppo that are trying to maintain a relationship with their rapidly changing homeland from their new life in Pretoria, South Africa.
Museum of Modern Art, 11 West 53 Street, New York, 4:30 p.m., $12
TUESDAY, FEBRUARY 23
Opening: "In Time (The Rhythm of the Workshop)" at the Museum of Arts & Design
An exhibition that examines industrial production in relation to the volume of trading on the stock markets, "In Time (The Rhythm of the Workshop)" presents films by three cosmopolitan filmmakers—Andreas Bunte (Berlin), Denis Côté (Montreal) and Daniel Eisenberg (Chicago)—and an installation by the Estonian-Spanish art and design duo Varvara & Mar. Mr. Bunte juxtaposes a short film about fabricating synthetic diamonds with one about an athletic training center in the former GDR; Mr. Côté's documentary studies Canadian factory workers on the job and and their discussion of the workplace during breaks; and Mr. Eisenberg's film appraises 21st century factory production at a prosthetics company. Meanwhile, the museum's first film exhibition is balanced by Varvara & Mar's amusing installation The Speed of Markets, which consists of seven modified metronomes whose rhythms correspond to the volume of selected stock markets, including the NYSE.
MAD Museum, 2 Columbus Circle, New York, 10 a.m.-6 p.m., free with museum admission
WEDNESDAY, FEBRUARY 24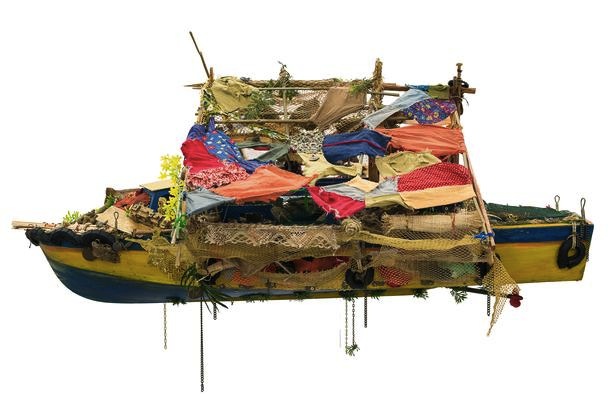 Opening: "Hew Locke: The Wine Dark Sea" at Edward Tyler Nahem Fine Art
An Anglo-Guyanese artist who's well known for work dealing with issues of race and colonialism, Hew Locke makes his New York solo debut with an installation of 35 boat sculptures suspended at various scales from the gallery's ceiling like a magnificent fleet. Titled after Homer's description of the Mediterranean in The Odyssey and Derek Walcott's reuse of the phrase to portray the Caribbean in his poem Omeros, the vessels in "The Wine Dark Sea" represent the hopes and dreams of immigrants trying to reach new lands and the gloom of refugees being lost at sea, as well as the memories of exodus and displacement that people around the world endure.
Edward Tyler Nahem Fine Art, 37 West 57 Street, New York, 6-8 p.m.
Opening: "Nicholas Hlobo" at Lehmann Maupin
A multi-disciplinary artist from South Africa who has a fascination with eels, Nicholas Hlobo makes his New York solo debut with a show of mixed-media paintings and sculptures inspired by the migratory patterns of the elongated creatures. A predatory fish, eels live near the shore before being biologically called to spawn deep in the ocean and dying after the propagative act. The artist uses the voyage as a metaphor for his own creative quest, while making works that also reference his ethnic heritage.
Lehmann Maupin, 201 Chrystie Street, New York, 6-8 p.m.
Talk: "Mumbling Beauty Louise Bourgeois: Alex Van Gelder and Jerry Gorovoy in Conversation" at the New York Public Library
Photographer Alex Van Gelder, who spent three years playfully photographing the private world of Louise Bourgeois, sits down with the legendary artist's former assistant and friend of 30 years Jerry Gorovoy to discuss her life, work and unique sensibility. The insightful conversation, which is moderated by artist and NYPL Artist Dialogue Series founder Arezoo Moseni, comes on the heels of the release of Mr. Van Gelder's gorgeous monograph Mumbling Beauty Louise Bourgeois, which was published by Thames & Hudson in 2015.
New York Public Library, Fifth Avenue at 42nd Street, New York, 6-8 p.m.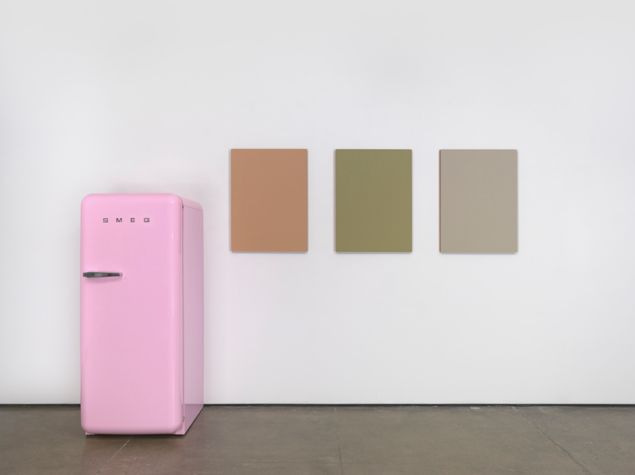 Opening: "Sherrie Levine" at David Zwirner
Largely considered one of the art world's pre-eminent postmodern artists, Sherrie Levine will present her first solo show with David Zwirner since joining this gallery in 2015. The  show features an installation of monochromes that derive their colors from paintings of female nudes by the Impressionist trailblazer, Pierre-Auguste Renoir. These are then paired with brightly colored refrigerators, manufactured in a retro style by the Italian company SMEG. Additional new works include a reflective bronze beach ball (appropriated from a famous Roy Lichtenstein painting) and Ms. Levine's signature paintings of pieces of plywood with prominent knots, which whimsically reference other attributes of Modern Art.
David Zwirner, 537 West 20 Street, New York, 6-8 p.m.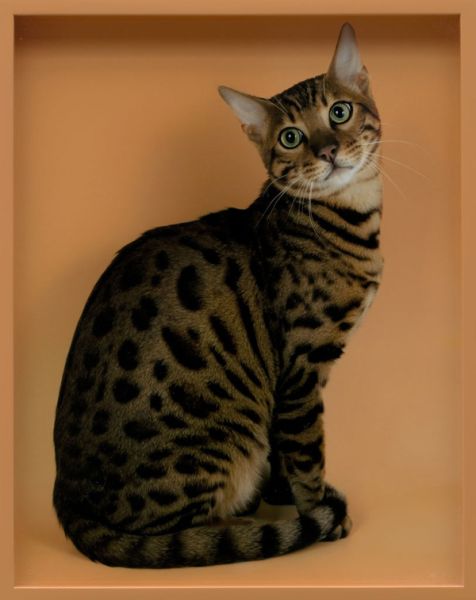 Talk: "Photo-Poetics Artist Panel" at the Solomon R. Guggenheim Museum
In conjunction with the exhibition "Photo-Poetics: An Anthology," the Guggenheim presents a panel of three artists from this show: Elad Lassry, Erin Shirreff and Kathrin Sonntag. The Israeli-born, L.A.-based Mr. Lassry appropriates his intriguing imagery from vintage magazines and films archives. Canadian sculptor Erin Shirreff, who lives and works in Brooklyn, makes photographic collages that cleverly convey a sculptural experience, and the Berlin-based multi-disciplinary artist Kathrin Sonntag creates photographs and installations that use mirrors and trompe-l'oeil affects to question the veracity of documentary photography. Following individual presentations of their works in the show, the artists are joined by the exhibition curators Jennifer Blessing and Susan Thompson for a moderated conversation about current photographic practices.
Solomon R. Guggenheim Museum, 1071 Fifth Avenue, New York, 6:30 p.m., $15
THURSDAY, FEBRUARY 25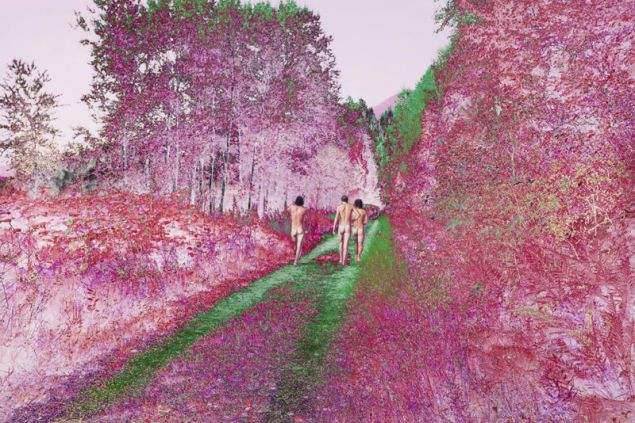 Opening: "Sarah Anne Johnson: Field Trip" at Julie Saul Gallery
A documentary photographer with a surreal touch, Sarah Anne Johnson returns to this gallery for her sixth solo effort. Presenting pictures shot at music festivals that are then digitally manipulated, painted and sprinkled with glitter, the artist offers a psychedelic vision of the people and objects populating these counterculture events, rather than the participating musical acts. Pink Forest captures three young men, walking nude into a magical realm; Painted Ladies portrays a hedonistic group of imaginatively masked women; and Uck depicts a collapsed sign atop a pile of hay that Ms. Johnson has trippily transformed with glitter. If you missed Woodstock—which, undoubtedly, most of us did—"Field Trip" might be the next best thing.
Julie Saul Gallery, 535 West 22 Street, New York, 6-8 p.m.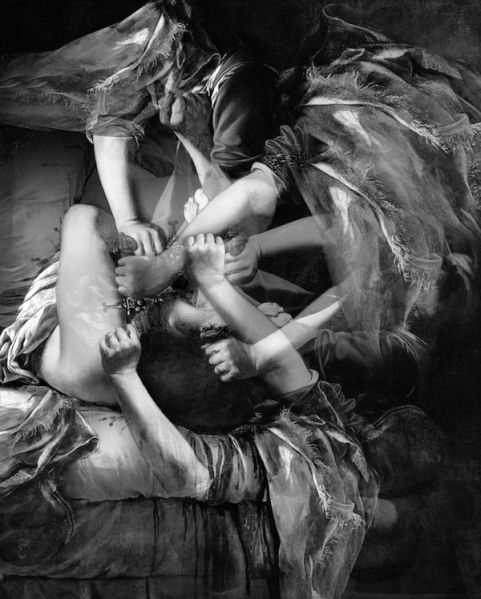 Opening: "Anna Ostoya: Slaying" at Bortolami Gallery
Born in Krakow but now based in New York, Anna Ostoya was one of the standout artists in MoMA's 2013 edition of its ongoing group show "New Photography." Incorporating photomontage and painting, the artist makes works that reference aspects of European modernism. In "Slaying," Ms. Ostoya takes Italian artist Artemisia Gentileschi's painting Judith Slaying Holofernes—an early Baroque masterpiece, depicting two women beheading a drunken general—as her point of departure. A new series of paintings with altered scenarios has the artist unnervingly depicting Holofernes slaying Judith, Holofernes slaying Holofernes and Judith slaying Judith. Meanwhile a portfolio of photomontages mixes that masterpiece with a snapshot of Ms. Ostoya as a teenager, a painting by Georgia O'Keeffe and an image of a robot, amongst other surreal juxtapositions.
Bortolami Gallery, 520 West 20 Street, New York, 6-8 p.m.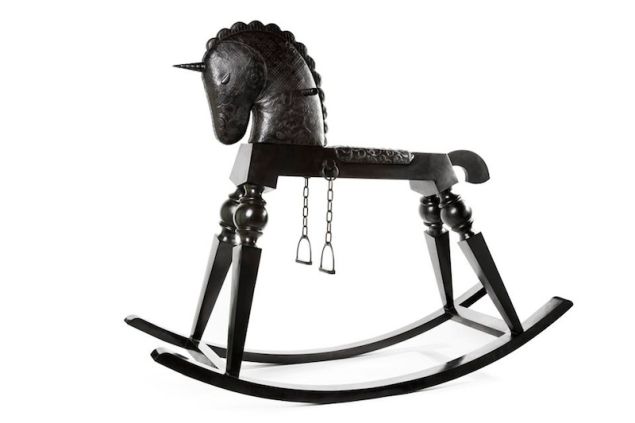 Opening: "Marcel Wanders: Portraits" at Friedman Benda
A celebrated Dutch designer, art director and co-founder of the distinguished design label Moooi, Marcel Wanders has been creating objects and identities for Alessi, Bisazza, KLM, Swarovski, Puma and other major brands for over 20 years. In the wake of his stunning retrospective at Amsterdam's Stedelijk Museum in 2014, Friedman Benda is presenting his first solo gallery exhibit. Here Mr. Wanders constructs a fairy tale environment filled with ghostly mirrors, abstract ceramic creatures, nude women wrapped in LED-lit clouds (which are woven from nylon and mohair threads) and an adult-size rocking unicorn, complete with sadly-hilarious metal chain stirrups.
Friedman Benda, 515 West 26 Street, New York, 6-8 p.m.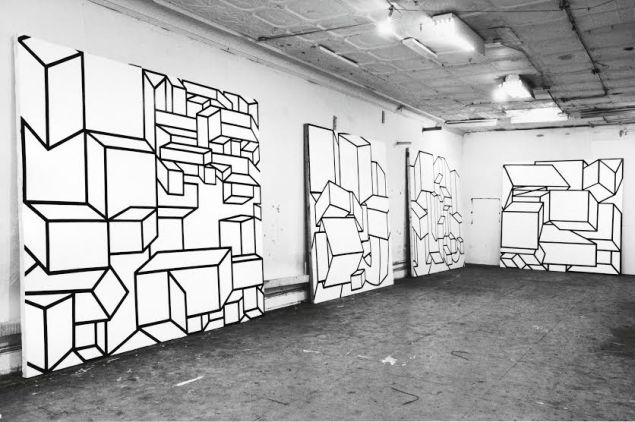 Talk: "Al Held Panel Discussion" at Cheim & Read
Following last week's opening of the highly praised exhibition "Al Held: Black and White Paintings," which showcases eight of the abstract painter's monumental canvases of interlocking forms from 1967 to 1969, the gallery is presenting an in-depth discussion of the artist and his work. The panel of experts for the talk features the venerable art historian Irving Sandler, Whitney Museum of American Art curator Elisabeth Sussman, Brooklyn Rail editor-in-chief and curator Phong Bui, curator and critic Alex Bacon (who penned the exhibition's catalogue essay) and artists Odili Donald Odita and Judy Pfaff.
Cheim & Read, 547 West 25 Street, New York, 6-8 p.m.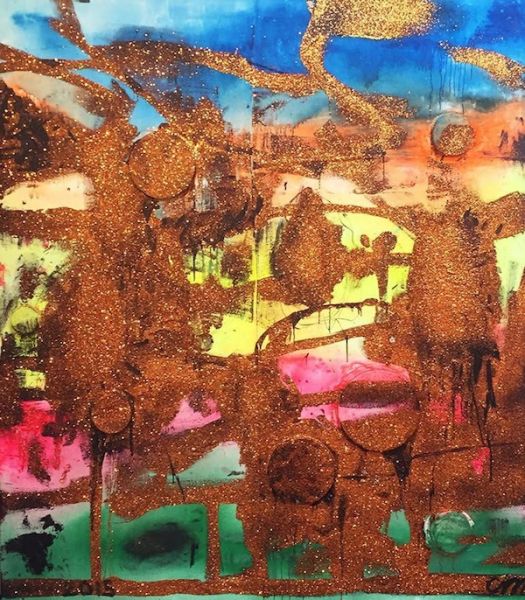 Opening: "Nice Weather, curated by David Salle" at Skarstedt 
Organized by savvy painter and critic David Salle, "Nice Weather" presents a dynamic overview of painting today. Featuring a multigenerational selection of artists who range in age from their twenties to their eighties, the show highlights artworks that deal with structure and materiality. Presenting both figurative and abstract paintings, the exhibition emphasizes the role of gesture in the construction of these works. Chris Martin contributes a massive paint and glitter-saturated canvas; Mary Weatherford provides a big piece with blue brushstrokes overlaid with white neon light; Sterling Ruby adds a jumbo spray-painted landscape; and Stanley Whitney displays one of his colorful geometric abstractions. If that weren't enough, there are also several additional gems by other major talents.
Skarstedt, 20 East 79 Street and 550 West 21 Street, New York, 6-8 p.m.