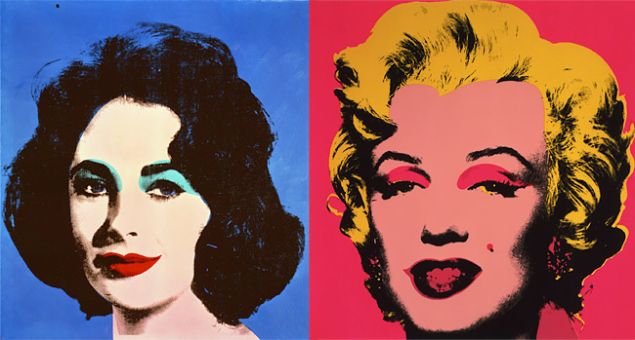 MONDAY, FEBRUARY 1
Talk: "Deborah Davis and Blake Gopnik" at the Jewish Museum
Presented in conjunction with "Becoming Jewish: Warhol's Liz and Marilyn," an exhibition at the museum that sheds light on the Jewish identities of Andy Warhol's most famous subjects (including converted Jews Marilyn Monroe and Elizabeth Taylor), this talk will pair up two of the most notable Warhol scholars around. Deborah Davis is the author of the recently published book The Trip: Andy Warhol's Plastic Fantastic Cross-Country Adventure, which delves into how the artist's 1963 road trip from New York to Los Angeles changed his life and art, while art critic Blake Gopnik is the author of the upcoming biography Andy Warhol: A Life as Art—the first comprehensive profile on the world's most famous Pop Artist.
The Jewish Museum, 1109 5th Avenue, New York, 6:30 p.m., $15 
Screening: "Midnight Moment: Peter Fischli and David Weiss: Büsi (Kitty)" at Times Square Arts
First seen on the Times Square jumbotron screen as part of Creative Time's public video series "The 59th Minute" in 2001, Peter Fischli and David Weiss' six-and-a-half minute video Büsi (Kitty) is back during February as part of Time Square Arts' monthly series "Midnight Moment." Presented in conjunction with the artistic duo's retrospective at the Guggenheim, which opens on February 5, the video captures a close-up image of a black-and-white cat calmly lapping milk from a bowl in a domestic setting—about the farthest thing one would expect to see in the hyperactive realm of Times Square.
Times Square Arts, West 47 Street & 7th Avenue, New York, 11:57 p.m.
TUESDAY, FEBRUARY 2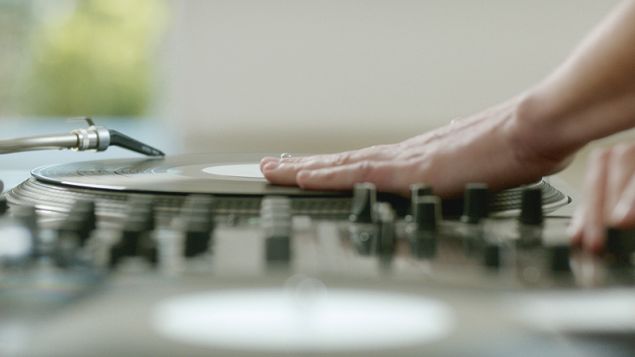 Opening: "Anri Sala: Answer Me" at the New Museum
The first New York museum solo show for the highly acclaimed multimedia artist, "Anri Sala: Answer Me" takes over three full floors of the New Museum for a dynamic display of his immersive audio and video installations. Highlights of the exhibition include the 1998 single-channel video Intervista, a documentary of a personal experience, which finds his mother looking back and forth to two different moments in her life, and 2013's dual-screen video and 16-channel sound installation Ravel Ravel, which presents two distinct performances of Maurice Ravel's Concerto for Left Hand in D major that go in and out of synch. The Albanian-born, Berlin-based artist also shows sculptural works in the form of altered snare drums hanging from the ceiling and mechanized hands in rubber gloves that riffs on Michelangelo's painting of God and Adam nearly touching in the story of creation on the ceiling of the Sistine Chapel in Rome.
The New Museum, 235 Bowery, New York, 7-10 by invitation only, open to the public on Wednesday, February 3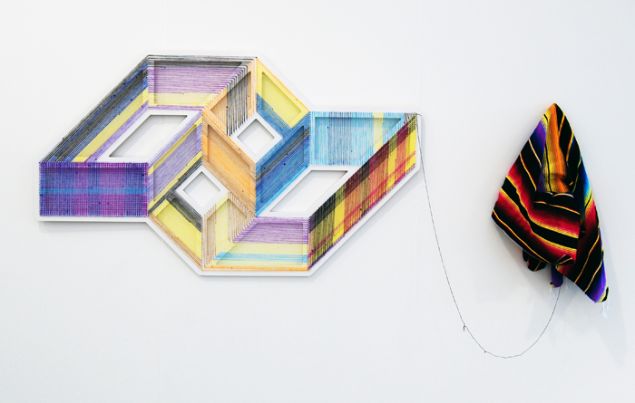 Opening: "Sew What?" at the Children's Museum of the Arts
A group exhibition that focuses on artists using textiles in their work, "Sew What?" offers a colorful variety of artworks by both emerging and established artists. The venerable Louise Bourgeois creates fabric drawings that utilize her old clothes and those of her deceased husband, while Adrian Esparza, a promising Texas-based artist, deconstructs Mexican serape blankets to make vibrant geometric wall works. Other standout pieces include Sheila Pepe's knitted chandelier-turned-spiderweb attached to the gallery's walls and ceiling and Jeila Gueramian's sprawling installation of found textiles, buttons and zippers that makes a joyful and cavernous environment on an upper level of the museum.
Children's Museum of the Arts, 103 Charlton Street, New York, 6-8 p.m. press preview and VIP opening, open to the public on Thursday, February 4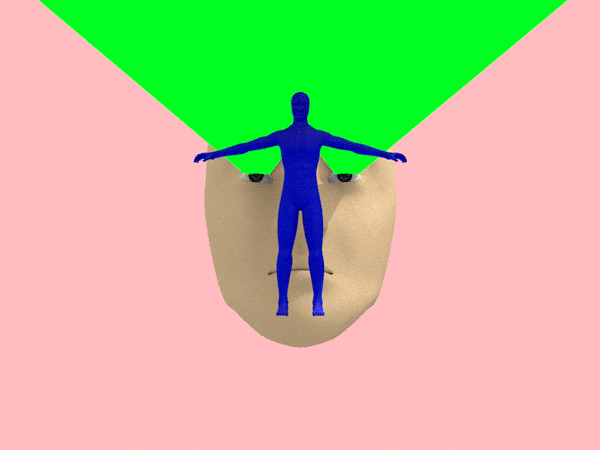 Talk: "MVR 1" at Eyebeam
Organized by Eyebeam research resident Nancy Nowacek and co-director of education and tech integrator at Pioneer Works David Sheinkopf, this is the first in a series of MVR (pronounced "mover") events that will appear at other alternative technology spaces throughout the city. Projects exploring the potential for an innovative dialogue about the relationship between the body and technology will include assistive technology, games, performance and wearables. Founding director of the Media Research Lab at NYU Ken Perlin; artist and game designer Syed Salahuddin; and Amelia Winger-Bearskin, artist and co-founder of the Stupid Hackathon are joined by tech-expert Luke Stark and designer Billy Dang in what should prove to be an eye-opening presentation.
Eyebeam, 34 35th Street, Brooklyn, 7-9 p.m. 
WEDNESDAY, FEBRUARY 3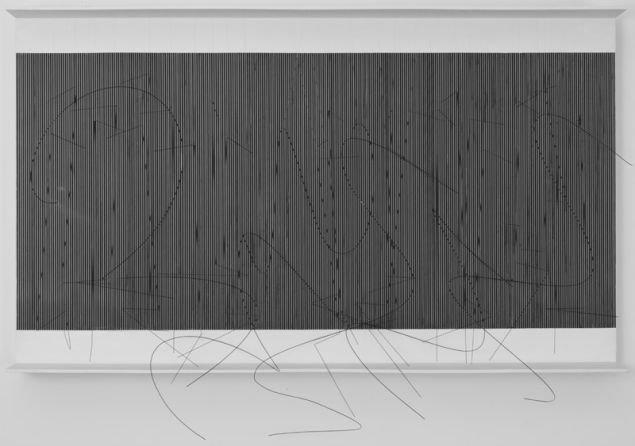 Opening: "The Illusive Eye" at El Museo del Barrio
An international survey of kinetic and Op art, "The Illusive Eye" displays paintings and sculptures by artists from Latin America alongside works by a few of their counterparts from Europe, Asia and the States. Taking the Museum of Modern Art's trailblazing 1965 exhibition "The Responsive Eye" as a point of departure, the show features a luminescent work by Argentina's Julio Le Parc, vibrant constructions by Venezuelans Carlos Cruz-Diez and Jesús Rafael Soto, a geometric abstraction by Cuban painter Carmen Herrera and an installation made with threads of gold by Brazilian artist Lygia Pape. Among the international artists to be featured are Josef Albers, Alberto Biasi, Tadasuke Kuwayama, Bridget Riley and Frank Stella, who's represented by an optical striped painting from 1964 that was lent by The Glass House.
El Museo del Barrio, 1230 Fifth Avenue, New York, 11 a.m.- 6 p.m., free with museum admission
THURSDAY, FEBRUARY 4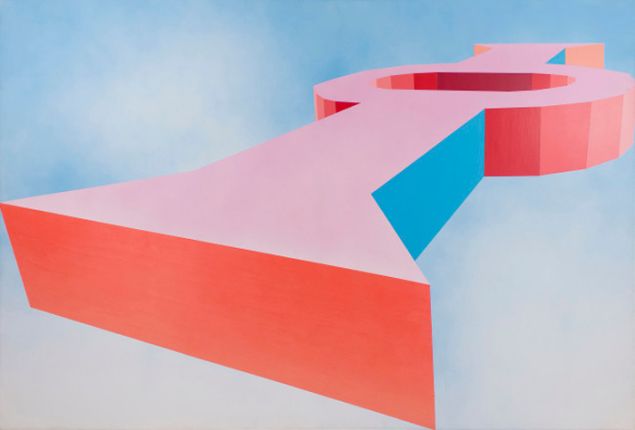 Opening: "Miriam Schapiro: The California Years: 1967-1975" at Eric Firestone Loft
One of the co-founders, along with Judy Chicago, of the Feminist Art Movement, Miriam Schapiro started out as an Abstract Expressionist painter before moving on to hard-edge abstract works (defined by prominent metallic colors) and was an early contributor to the historic Pattern and Decoration Movement of the 1970s. This seminal exhibition, which is also the inaugural show at this East Hampton gallery's new Manhattan location, focuses on abstract canvases and patterned fabric collages from the artist's years in California, where she lectured at UC San Diego and taught at Cal Arts. A concurrent exhibition at the National Academy Museum—Miriam Schapiro, A Visionary—offers an overview of the artist's amazing 60-year career and runs from February 4 to May 8.
Eric Firestone Loft, 4 Great Jones Street, New York, 6-8 p.m.
Opening: "Eight Japanese Women Painters" at Bernaducci Meisel
This exhibition features paintings and drawings—entirely by women—that reveal Japan's cultural perception of femininity via a grouping of bold, realistic works. Presented in collaboration with Masataka Contemporary from Tokyo, the show includes Manami Higashi's lively paintings of cartoon representations of female characters caught in continuous motion and Eri Hatta's pensive portrayals of family photographs that recall childhood memories. Meanwhile Atsuka Ito depicts a woman in a wedding dress whose thoughts are torn between playful innocence and becoming an adult and Kana Minami weaves female heads into dreamlike realms of flowers and butterflies in her surreal works on paper.
Bernaducci Meisel, 37 West 57 Street, New York, 5-7 p.m.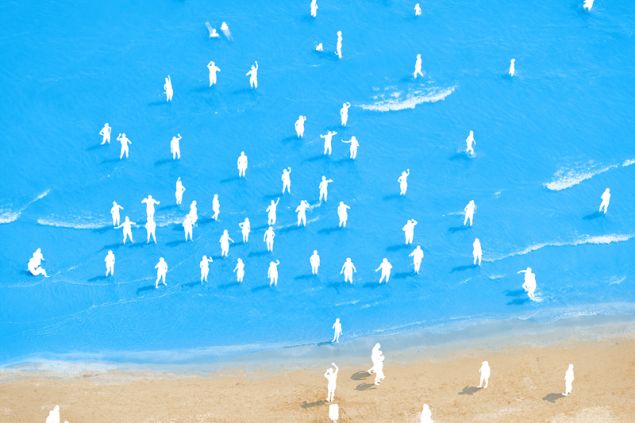 Opening: "Olivo Barbieri: Adriatic Sea (Staged) Dancing People" at Yancey Richardson
Celebrated for making magical aerial photographs look like staged tabletop pictures of miniature toy figures (through a tricky tilt of the camera lens), Italian artist Olivo Barbieri returns to New York with a fresh body of work for his sixth solo show at the gallery. Shooting from a helicopter, the photographer caught groups of people along the shoreline of the Adriatic Sea who appear to be dancing or moving to a set of instructions that recall the folkloric traditions of the region. Mr. Barbieri manipulated the images, rendering the colors in a painterly fashion then creating "ghost-like twins," which reduces the dancers in the pictures to white silhouetted figures in this even stranger adaptation of his style.
Yancey Richardson, 525 West 22 Street, New York, 6-8 p.m.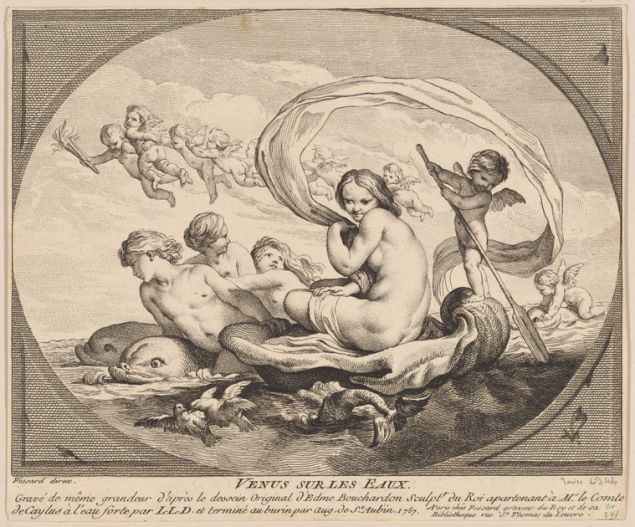 Talk: "Printing Women Today: An Evening with April Gornik, Dana Schutz, Shahzia Sikander and Anne Higonnet" at the New York Public Library
This talk is centered around the NYPL exhibition "Printing Women: Three Centuries of Female Printmakers, 1570-1900," which features engravings, etchings, woodcuts and lithographs executed by female printmakers and drawn from the collection of Henrietta Louisa Koenen at the library. The conversation between moderator Anne Higonnet, art historian and the author of the 1998 book Pictures of Innocence: The History and Crisis of Ideal Childhood, and three female artists—April Gornik, Dana Schutz and Shahzia Sikander—will revolve around the artists' work and their experience as women in the arts.
New York Public Library, Stephen A. Schwarzman Building, Fifth Avenue at 42nd Street, New York, 6:30-8 p.m., reservation required
Opening: "Amy Sillman: Stuff Change" at Sikkema Jenkins & Co.
Taking the German word for metabolism, stoffwechsel—which translates to English as "stuff change"—as her point of departure, Amy Sillman produced a selection of oil paintings, several works on paper in various sizes and a series of paintings that utilize inkjet-printed canvases for her new show, her first solo at the gallery since 2010. Referring to the action of painting as "metabolism" in a recent essay, the artist described her process as "trying to figure something out while doing it." Exploring that concept, Ms. Sillman shows artworks that were built up over a period of time alongside a new body of hybrid paintings that begin with inkjet images of her own drawings printed on canvas. She then over-paints the canvases in the same fluid process of layering intuitive shapes and colors that can be found in her signature works, but with distinctively different results.
Sikkema Jenkins & Co., 530 West 22 Street, New York, 6-8 p.m.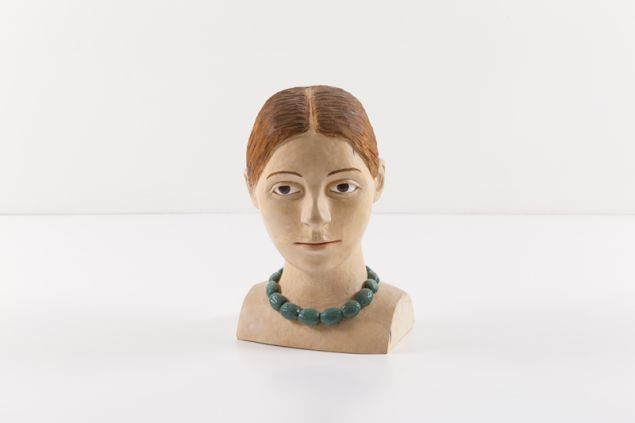 Opening: "Claudette Schreuders: Note to Self" at Jack Shainman Gallery
A painter and sculptor who lives and works in South Africa, Claudette Schreuders makes marvelous carved and painted wood sculptures of people at work and play and prints and drawings that reveal her process. For her sixth solo show at the gallery, the artist presents a new sculptural self-portrait (in a work apron) titled Note to Self, which is surrounded in the gallery space by a selection of recent busts, heads and figures that Ms. Schreuders finds inspiring. Mixed amongst the sculpture and works on paper are likenesses of the 20th-century French painter Balthus and several of her fellow South Africans, including the artists Marlene Dumas and Anton Kannemeyer, as well as Nelson Mandela, the anti-apartheid leader who served as president of her homeland from 1994 to 1999.
Jack Shainman Gallery, 513 West 20 Street, New York, 6-8 p.m.