It looks like the Panthers and Broncos will have some unexpected guests at the big game.
On Monday, a caravan of about 1,000 Uber drivers reportedly drove through San Francisco, yelling and beeping their horns. In a tight pack, the string of disgruntled drivers drove by the airport, the Uber support center and City Hall to protest the recent fare cuts, which have left many drivers earning below minimum wage.
This rally, however, was just a taste of what's to come. These drivers along with many, many more are planning to assemble this Sunday for a protest that will disrupt the Super Bowl, set to be held at Levi's Stadium in San Francisco. Specifically, they plan to congest the highways leading to the stadium and even the area around the stadium itself. Thousands of drivers are expected to attend.
"We're telling them we're going to shut it down for the Super Bowl. We're shutting it down. We're shutting the highways down. We're shutting everything down and we're not going to allow Uber to keep screwing drivers over," Mario, who organized the caravan he said consisted of 1,000 drivers, said in a video recorded by RideShare Report's Mike Dean at the protest. He declined to give his last name.
SEE ALSO: Why Uber Faces a Rocky Road Ahead
In the video, Mario says he has 4,000 drivers from the area planning to attend and that another 5,000 from Los Angeles have committed to the protest also.
"This will continue until Travis decides to man up and start paying these drivers what they deserve," he added.
On the Rideshare Report, Mr. Dean writes that the plan to disrupt the Super Bowl was inspired by a tip a driver received from an Uber employee. He says a driver got word that the company plans to offer a promotion on Super Bowl Sunday and drop rates from $1.15 per mile to 50 cents per mile to help ease the surge pricing effect.
These drivers are just a few of the many who have spent the last few weeks fighting Uber for a living wage. Nationwide, drivers have boycotted, raised their voices on social media (only to be blocked by CEO Travis Kalanick, in some cases) and hosted rallies in dozens of cities, including on Monday in New York City, where an estimated 1,000 drivers gathered outside the company's New York headquarters in Brooklyn. It was no coincidence the NYC and San Francisco rallies happened at the same time. Mario said they were a coordinated act and that his team is united with those protesting in New York, Seattle,Washington D.C., New Jersey and Texas.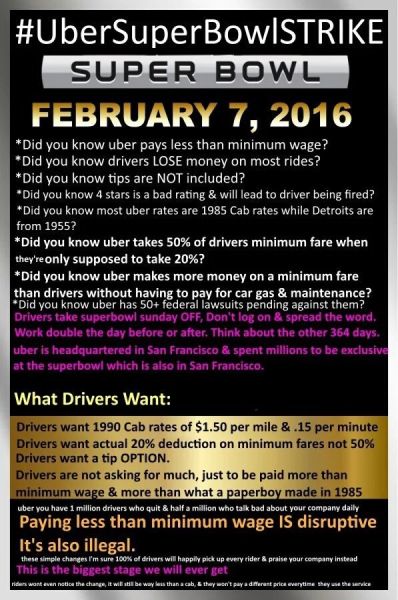 What makes things even more interesting is the fact that Uber is the exclusive ride-hail app of Super Bowl 50. The company spent as much as $500,000 to secure the deal, according to Quartz. Previously, Uber and other similar companies have been blocked from servicing the annual event because of traffic restrictions and other rules set by the host cities. So while this marks the first year fans are permitted to Uber to the Super Bowl, it looks like they won't be able to anyway.
In response to this article, an Uber spokesperson has provided the Observer with the following comment:
"Seasonality affects every business and Uber is no different, so when holiday parties wind down in San Francisco that can mean a slow start to the year for our driver-partners. By cutting prices for riders, we can give them one more reason to take a ride, which helps keep drivers busier during the slow season. To put drivers' minds at ease, we have hourly earnings guarantees in place."
As we've pointed out, though, increased demand and hourly guarantees are not securing living wages for drivers. As we explained when reporting on the Washington D.C. fare cuts last year, any small increase in pay is for a substantial amount of work. A closer look at a chart Uber supplied (but didn't thoroughly explain) to drivers to convince them the price cuts are a good thing, shows that a driver would have to increase productivity by 45 percent to earn only a few more dollars under the lower fares.
Additionally, Uber is defending the move by touting "hourly guarantees," meaning that if a driver makes less than a certain amount, the company will fork up the cash for the difference. But not all drivers even qualify for the hourly guarantees, and how drivers are chosen for the guarantee program isn't clear. Secondly, qualifying drivers must then get a certain number of rides and have a certain acceptance rate. In general, there are a lot of conditions, and as made clear by the nationwide boycotts and protests, this is certainly not putting drivers' minds at ease.