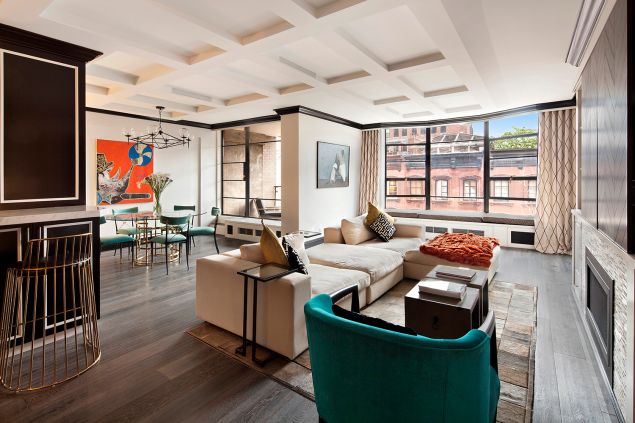 "Everything was custom-done," Town Residential broker Bo Poulsen informed us as we entered the living room of a sixth-floor co-op at 37 West 12th Street. "It was a gut renovation—the coffered ceilings; built-in lighting," and, he added, the Chilean oak floors.
"It's a 1920s, 1930s feel…but he also added all modern elements," Mr. Poulsen said, sliding open the wood-paneled entertainment center to reveal a television perched above the fireplace. (Mr. Poulsen clarified the latter was "ethanol—you just replace the cartridge.")
With the exception of the requisite leather chair in the living room, the retro décor, including a kitchen painted in black lacquer with white trim, wasn't exactly exuding bachelor pad vibes. (The contents of the custom fridge, stocked only with a few packs of beer, did.)
"The renovations took about a year and half—he would have loved to have stayed…he had some life changes; he's going to the West Coast," noted Mr. Poulsen, who is sharing the $3.45 million listing with Kristin Herrera and Jamie Rappaport.
More neutral touches in the master suite included a window seat and textured wallpaper. "This has dry cleaner carousels," Mr. Poulsen said, demonstrating such in the walk-through closet. "The bathroom has heated floors and mirrors—so they never fog up." (The additional full bath has the same features.)
Though the postwar Butterfield House might not be the embodiment of the idyllic townhomes associated with the Village, a peek out the windows or a step onto the terrace off the living room provides a picturesque view of brownstones—and prominent neighbors.
"See that tree over there?" Mr. Poulsen asked, pointing to a rather large oak behind one building. "That's the backyard of Sean Parker's house," he told us.