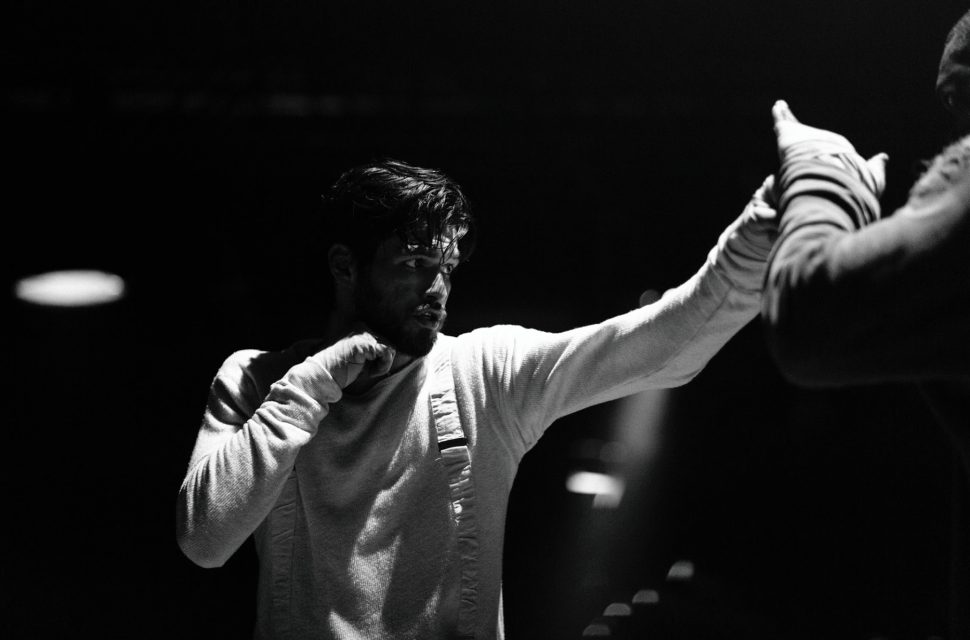 Athletes are perhaps the most expected celebrity guests during New York Fashion Week: Men's. Erick Decker, Victor Cruz, and Julian Edelman have been regular fixtures throughout the week of shows, presentations, and parties, but one unexpected trend is emerging in the sport of boxing. We got a taste of it last summer when men's underwear start-up The Eighth hosted an underground concert at Church Street Boxing Gym. This season, boxing was used in a variety of forms ranging from unexpected venues, to the use of gloves as a mainstream sportswear accessory, and even, in Greg Lauren's case, his use of the sport to challenge the archetypes of masculinity.
It started and ended at Overthrow New York. The grungy boxing club that formerly housed radical activists in The Youth International Party played host to two presentations. The first being Linder last Friday. The emerging menswear brand showed their wares on models who rotated in the center boxing ring (garnished with butterflies) as guests mingled through the gritty space, weaving around the punching bags that hung from the ceiling. Komakino, the cult favorite menswear brand favored by A$AP Rocky, Rihanna, and Robert Pattinson, used the same space. Instead of the usual whisky cocktails menswear editors clamor for, pizza and beer was served up instead.
Then Jace Lipstein, of the blog-turned-lifestyle brand Grungy Gentleman, turned out a pair of fashionable boxing gloves, used as an accessory for his range of "athleisure" basics. "I'm a fan first, so incorporating sports references into our collection gets me excited," Mr. Lipstein said. "So we designed the boxing gloves with Elisabeth Weinstock, and applied our signature six stripes. Boxing is one of the few sports that we feel is iconic, legendary, and timeless. Just the way we like our clothing." Appropriately, the model paired with the look was UFC Middle Weight Champion, Chris Weidman. The aforementioned Mr. Decker of The New York Jets also opened and closed the show.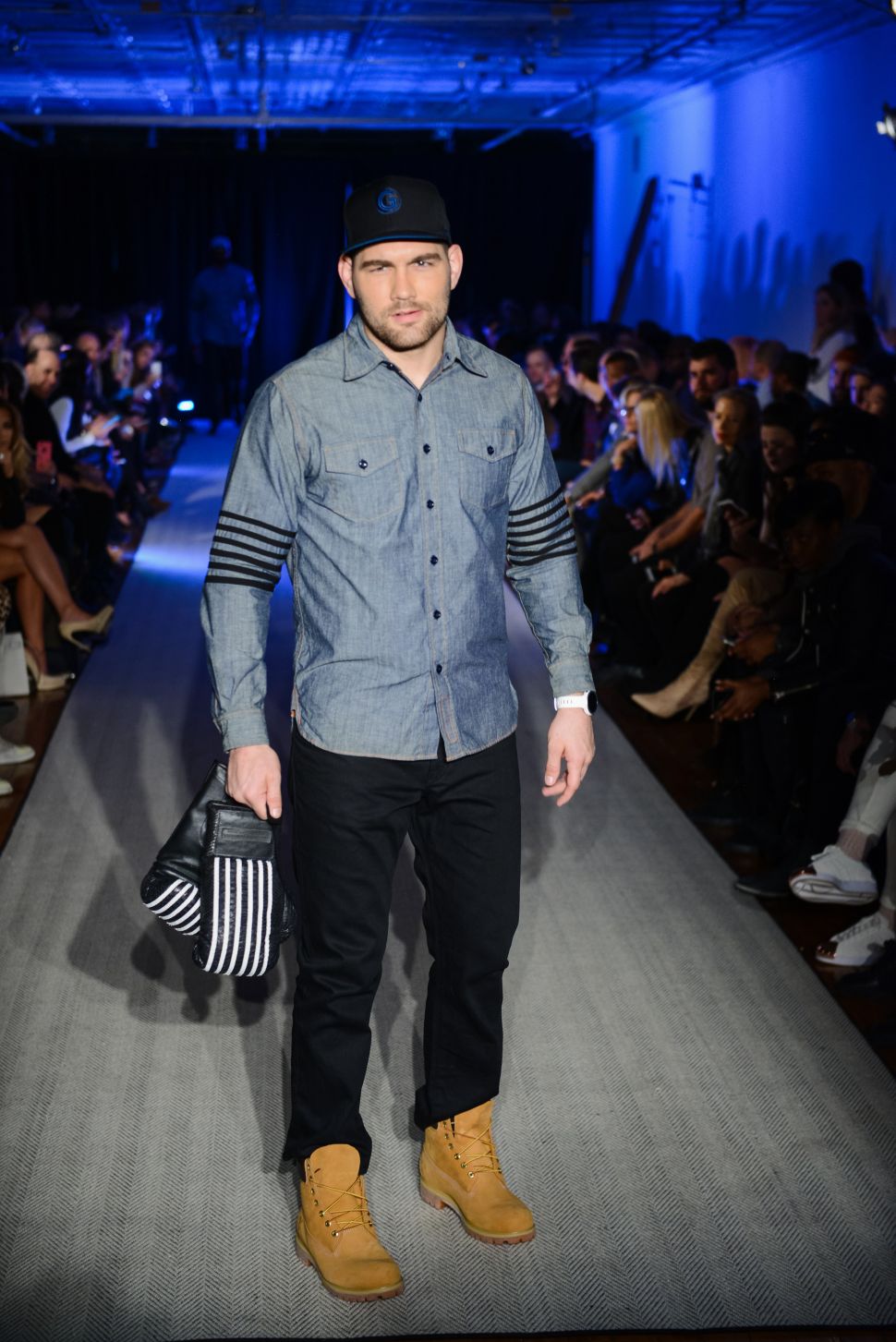 Greg Lauren was on-trend too. The nephew of the almighty Ralph Lauren ditched de rigueur model casting, and instead brought real life boxers to sport his looks at his presentation on Wednesday afternoon. The center of the room was taken over by a full-sized boxing ring where the athletes sparred in Mr. Lauren's garments. "Sports is always a trend in menswear," Nick Wooster, the buyer-turned-men's fashion fixture, said as he perused the looks. "Boxing is of-the-moment, because they have the best bodies to highlight the clothes in the best possible way." 
Mr. Lauren agrees. "I love exploring the male archetypes. Guys, at least guys like myself, wonder if they could have been a fighter in another life," the designer said. "It sort of epitomizes an old school ideal of masculinity, but my boxing world is not about the flash or about the money. Floyd Mayweather might be the best boxer of all time, but my guys are about their stories, and honoring their pain and hard work, and letting it coexist with the beauty."