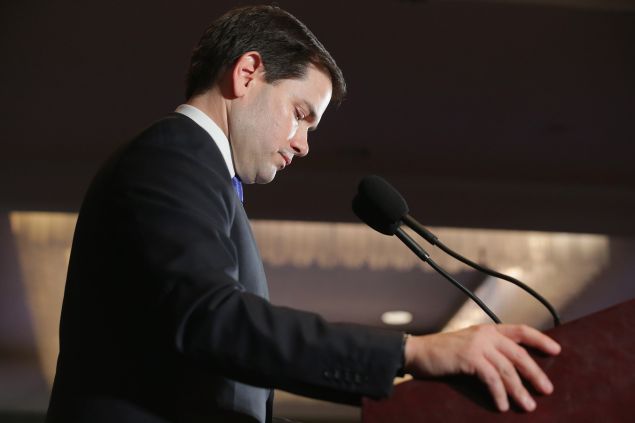 Florida Sen. Marco Rubio had a plan to win his party's nomination. He was prepared to come in third in the Iowa caucus (which he did), use that momentum to come in second in the New Hampshire primary and launch into first in the South Carolina primary. It was called the "3-2-1 strategy."
But after a dreadful debate performance Saturday night, Mr. Rubio placed fifth in New Hampshire, earning him no delegates. Even worse, he placed behind rivals John Kasich and Jeb Bush, who hadn't appeared to have any hope of securing the nomination in the months and weeks ahead of the primaries.
This crash-and-burn scenario does not bode well heading into South Carolina. Iowa and New Hampshire might not have the most delegates to assign, but being the first two deciding states of the process can have a large effect on a candidate's ability to win the nomination.
History, however, provides Mr. Rubio some hope. No candidate who has come in lower than fourth in Iowa has won his or her party's nomination. This would negate Mr. Kasich's and Mr. Bush's strong showings in New Hampshire, since each placed lower than fifth in Iowa. That factoid is good for Mr. Rubio, yet the next factoid is not: Whomever wins New Hampshire typically goes on to win the nomination, the only recent exception being George W. Bush in 2000, who lost the primary to Arizona Sen. John McCain.
If history is an indication, this means Donald Trump will be the Republican nominee. But as we've seen with this election, traditional thinking and strategy have gone out the window. Mr. Trump has self-funded much of his campaign and eschewed traditional tactics like internal polling and get-out-the-vote efforts in favor of earned media hits and name recognition. He has some sort of ground game, but it is not evident, and yet his high poll numbers have carried him to second place in Iowa and a commanding victory in New Hampshire.
It's difficult to see the path forward for Mr. Rubio. It's not impossible, but his campaign will have to buck every election tradition from recent decades in order to secure the nomination. He's currently polling in third place in South Carolina, but there have been no new polls for that state since mid-January, so we don't know where candidates actually stand right now. He's not leading the other candidates in any state except, oddly, Minnesota, but again, there have been no new polls since mid-January.
Mr. Rubio doesn't have a natural constituency. Texas Sen. Ted Cruz has conservatives, Mr. Bush has the establishment, and Mr. Rubio is somewhere in between. He's establishment enough for the establishment, but he's not conservative enough for the conservatives.
It's not certain that the debate performance is what undid Mr. Rubio's momentum, but it's not like a poor debate performance hasn't hurt anyone before (see: Rick Perry). But there were also other factors at play, like differences in ground game and voter satisfaction, as well as poor polling due to the rise in cell phone-only households.
Mr. Rubio has shown contrition since the debate, which may make him more sympathetic to voters. He has admitted he did poorly, but it remains to be seen whether he will be able to change his image going into the next primaries. His poor debate performance was due to his repetition of a single talking point – repeated three times while New Jersey Gov. Chris Christie chastised him for repeating talking points. He pretty much can never say any iteration of "President Obama knows what he is doing" without reminding everyone of the debate, and that's one of his signature lines.
The new narrative that he is just a well-oiled machine was not helped by "Rubio Robots" showing up to many of his New Hampshire campaign stops. People were coming dressed as robots to his campaign stops, holding signs and chanting. The media has latched on to this narrative, and it will be difficult for them to let it go or for Mr. Rubio to prove otherwise. It doesn't matter that every candidate has a stump speech that is repeated ad nauseam to those who follow politics closely or cover the campaigns.
While most voters aren't that invested, Mr. Rubio's flub proved different. It's one thing to give the same talking points at every speech and in every debate – not every voter sees them all. I was quite another to give the same talking point in the same debate, three times in succession.
Mr. Rubio has a hard time letting things go. He is very adept at poking fun at himself over his flubs, but he often goes overboard (he is still making jokes about water bottles, even though his infamous water-drinking moment occurred in 2013). He needs to quickly find a way to address this issue and turn it into a joke at his expense that makes him seem endearing.
Based on his New Hampshire results, however, it may be too late. Mr. Rubio currently has the third-most delegates (seven, to Mr. Cruz's 10 and Mr. Trump's 17), but if he can't change the trajectory of his campaign by South Carolina, those may be the only seven delegates he gets.