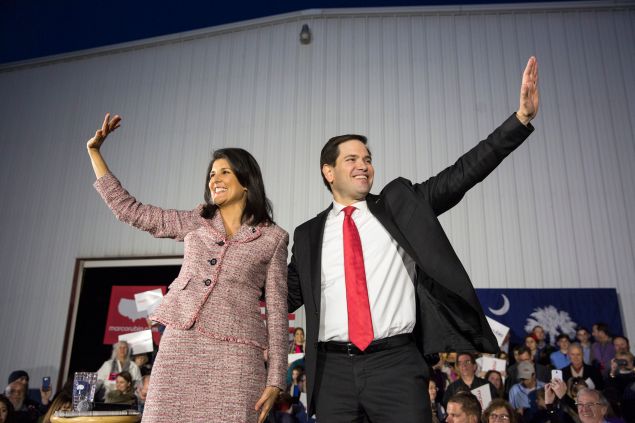 The sight of Florida Senator Marco Rubio standing side-by-side with South Carolina Governor Nikki Haley, after her blockbuster endorsement of his candidacy for president days before the South Carolina GOP primary, gave the appearance of a presidential ticket that would be a game changer for the 2016 campaign.
For what seems like an eternity, the worlds of political television and campaign punditry have been fixated on the reality television spectacle of the latest nasty personal attack by Donald Trump, and more recently the low concept spectacle of Mr. Trump and Texas Senator Ted Cruz calling each other big liars and bad Christians.
The political commentariat class has entirely missed two fundamental aspects of presidential politics: first the nature of the modern GOP that is far broader than the combined factions of Messrs. Trump and Cruz, and second the nature of a presidential campaign that is a dynamic process that changes as the campaign unfolds and is not a still photo of the latest cable television news cycle.
Several weeks ago I wrote a column for The Hill that repeated my long held view that one of the finalists for the GOP nomination will be a 'Plan C' candidate who will ultimately pose a powerful challenge to both Mr. Trump and Mr. Cruz. After his surprisingly strong showing in the Iowa caucus, Mr. Rubio was poised to become that 'Plan C' candidate, but after his weak debate performance before the New Hampshire primary the contest to become the preeminent challenger to Messrs. Trump and Cruz remained up for grabs.
Ms. Haley's endorsement of Mr. Rubio days before the South Carolina primary creates a high-octane second chance for the Florida Senator to claim the mandate to be the 'Plan C' candidate if he makes a strong showing and finishes significantly ahead of Jeb Bush and John Kasich.
The most important race in the South Carolina GOP primary is not the battle between Messrs. Trump and Cruz for the status of 'Plan A' and 'Plan B' candidates, but the contest between Messrs. Rubio and Bush to become the 'Plan C' candidate and a finalist in the ultimate Republican showdown for the nomination.
Governor Haley is one of the most popular Republicans in the modern political history of South Carolina politics, with a favorable rating of more than 80 percent from South Carolina Republican voters. Ms. Haley not only gives Mr. Rubio a substantial boost in the primary, she is a legitimate possibility for vice president on the ticket of any Republican nominee.
Nothing in presidential politics is certain.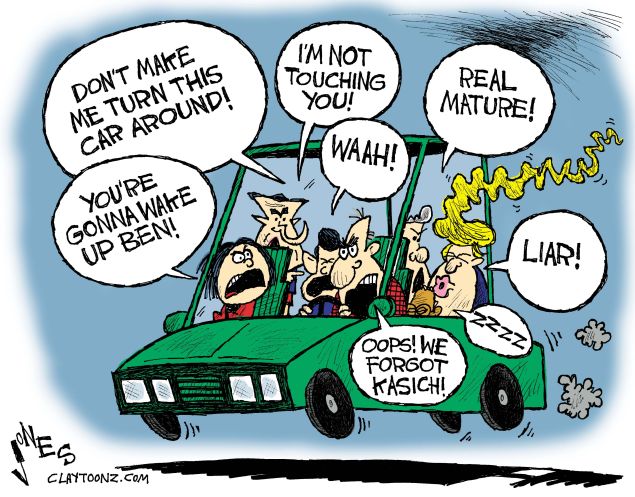 As the daughter of immigrants from India and a nationally respected governor who recently gave a highly successful GOP response to President Obama's state of the union address, Ms. Haley will almost certainly be on the short list of potential vice presidential candidates for any Republican nominee for president.
A potential Rubio-Haley ticket would be the ultimate political nightmare for Hillary Clinton.
Mr. Rubio, a next generation candidate who would win above-average support for a Republican from Hispanic voters, might have more support among younger voters in a race against Ms. Clinton. With Ms. Haley as a running mate, his next-generation appeal would be strengthened even more—along with a heightened appeal to women voters with the history-making possibility of America electing its first female vice president, potentially taking away what had long been viewed as an advantage for Ms. Clinton which is already being challenged by Bernie Sanders.
A look at the polling summaries from Real Clear Politics suggests Mr Rubio would go into a general election with a strong advantage over Ms. Clinton, running ahead of her in almost all match-up polls.
It is no secret to readers of my columns that for many months I have strongly disagreed with the campaign style and political strategy of Ms. Clinton. She has unwisely run a campaign against Mr. Sanders that is heavily negative and often makes charges against him that are both inaccurate and unfair. While I would not suggest that Ms. Clinton criticize President Obama, it is a huge mistake for her to campaign so openly as the candidate who would represent his third term.
In effect, Ms. Clinton is making herself the candidate of the status quo at a time when voters want change. She is making herself a candidate aligned with the past when voters want a candidate aiming at the future. This accounts for the strong challenge she faces in the primaries and caucuses from Mr. Sanders, who embodies the powerful change that voters desire and whose candidacy—to his credit—has shaken the political establishment and stunned the commentariat class of the insider political world.
Nothing in presidential politics is certain. Mr. Rubio first has to defeat Mr. Bush and Mr. Kasich to win the mantle of the Plan C candidate for the nomination. He then has to defeat Mr. Trump and Mr. Cruz to win the GOP nomination. He would then have to defeat Ms. Clinton or Mr. Sanders in a general election that will be a political war of the worlds, and his disastrous debate performance before the New Hampshire primary suggests that he would face a tough race against either Ms. Clinton or Mr. Sanders in the general election.
While I am a Democrat and you can count on me to support the Democratic nominee, as a columnist my duty to my readers is to report the facts as I see them with no holds barred, so make no mistake. The potential GOP nominee that my fellow Democrats fear the most is Mr. Rubio and a Rubio-Haley ticket could pose the ultimate political nightmare for Hillary Clinton.
Disclosure: Donald Trump is the father-in-law of Jared Kushner, the publisher of Observer Media.