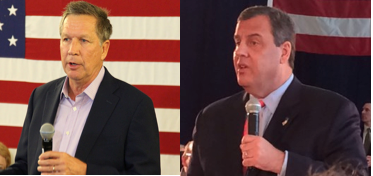 Both New Jersey Governor Chris Christie and Ohio Governor John Kasich have a lot riding on the February 9 New Hampshire primary election. The Republicans are just two in a still-crowded field of establishment-friendly candidates that also includes former Florida Governor Jeb Bush and Florida Senator Marco Rubio.
For both Christie and Rubio, absenteeism from the offices they currently hold has been regularly discussed. Rubio's critics say he shouldn't be missing votes in Washington. In New Jersey, Democratic lawmakers have made it their mission to remind residents that the Governor has chosen the campaign trail over the State House.
For Kasich, those concerns of absenteeism don't seem to be making their way to Ohio. In an October Quinnipiac University poll—taken right in the middle of the road to the primaries—Ohioans actually gave Kasich his highest approval rating ever. In that poll he got a 62 percent approval rating (with 29 percent disapproval). During the same time period, Christie saw his approval ratings take a nosedive. A January Fairleigh Dickinson poll following the Governor's State of the State address put Christie's approval in New Jersey at just 31 percent with 59 percent disapproving of the job the governor is currently doing in New Jersey as he makes a run at the Republican presidential nomination.
So what is different for the two sitting governors?
Christie has likely been hampered by the fact that he entered the presidential race with the Bridgegate scandal hanging over his head, something that had already tarnished his once-sparkling New Jersey reputation. He also has the disadvantage of entering into the race as the head of a state where the economy had failed to rebound in line with much of the nation.
Kasich, on the other hand, entered the political race unbridled. Ohio's unemployment rate is below the national average at 4.6 percent (nationally it is 4.8 percent.) New Jersey's unemployment is still at 5.1 percent, and that number was above 6 percent when Christie first entered the race.
At home, it seems that constituents are more likely to forgive an executive's absence if there is no perception that that absence is impacting their state in a negative way. Though he dropped out of the race in September, Wisconsin Governor Scott Walker said that he believes "it is difficult to run your state and to run for president at the same time."
In Monday's Iowa caucus, both Christie and Kasich barely registered. Kasich came in at 1.9 percent, Christie clocked in in tenth place at 1.8 percent. Now as both of their attentions turn to New Hampshire, the two will be struggling to make inroads against current establishment favorite Rubio (he came in third in Iowa behind Texas Senator Ted Cruz and businessman Donald Trump).
Polls in New Hampshire present a mixed bag of statistics, making it hard to know if Christie and Kasich—who have both spent significant time in the state leading up to the election—will fare as well as they seem to believe they will. On Wednesday, a University of Massachusetts Lowell poll had Kasich at just 7 percent of likely voters and Christie at 6 percent. According to a RealClearPolitics polling average, Kasich is sitting at 10.7 percent in NH while Christie is at 6.2 percent.
Both Christie and Kasich have been spending massive amounts of time on the ground in New Hampshire. Christie set up shop early in the Granite State, starting his campaign there right after the announcement he would be running for president in June. A stronger-than-anticipated finish for either one of them would be a big boost to their campaigns. A faltering might mean that they drop out and put their support behind Rubio (or, possibly, Bush).
Unexpected results have already shaken up the Republican field this election. In Iowa, Trump was expected to win easily. Instead, Cruz took the top spot and Trump came in at a virtual tie with Rubio.
After New Hampshire, the remaining candidates will make their way to South Carolina and Nevada to campaign. If Kasich comes out of New Hampshire strong and Christie does not, it might be likely that Christie will become the next candidate to drop out of the race (both Mike Huckabee and Rand Paul dropped out following Iowa).
Kasich also has another advantage over Christie: geography. Ohio has historically been considered a swing state, something which makes it an important battleground in election years. Kasich has shown his likability on this campaign trail, something that might make him a frontrunner for the Vice President spot on the eventual nominee's ticket. If that nominee happens to be Rubio, the ticket would have representatives from Ohio and Florida, another swing state. Two swing states on the ballot could help Republicans secure the White House against the eventual Democratic nominee. New Jersey's deep blue constituency would likely fail to deliver similar results, making Christie's selection as running mate less appealing.
When the polls close on Tuesday, it will be more clear if either Christie or Kasich will be able to make their case as the governor with the right brand to represent the traditional Republican establishment in the face of anti-establishment Cruz and Trump. Jeb Bush is also vying to represent that same spot, though he has the advantage of not currently holding office over his two fellow governors still in the race.