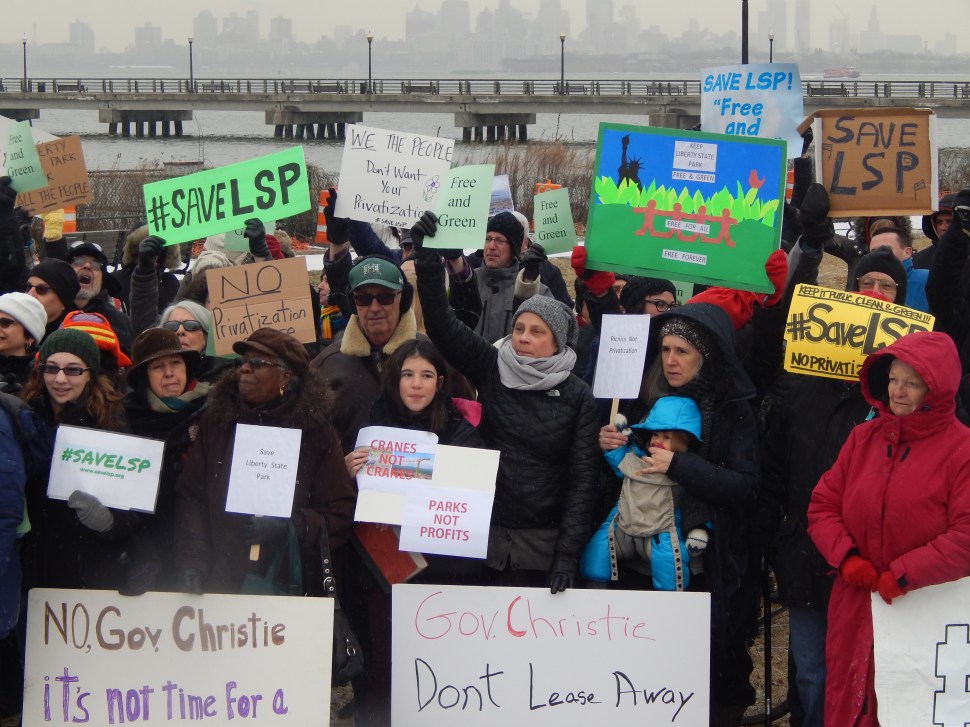 JERSEY CITY – Reeling out of New Hampshire after losing the presidential contest, Gov. Chris Christie has a new opponent on a statewide stage, one who doesn't share Marco Rubio's malfunctioning robot delivery as he discourses on his favorite subject.
As an eight-year old he first made the trek from Jersey City to the Statue of Liberty, and now at 66, Sam Pesin has a Captain Ahab-like fixation on Liberty State Park, perennially chasing its mostly pristine 1,200 acres the way the skipper of the Pequod once pursued that elusive white whale.
The legendary local activist has a message for anyone else who tries to butt in.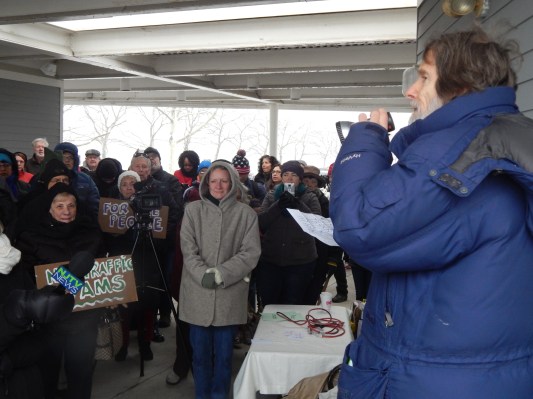 "The governor wants to surrender the park to private interests. Governor Christie," Pesin earlier today yelled into a megaphone in the midst of a crowd of 150 activists and protesters, "get your hands off our park."
The crowd roared.
At issue is a 38-acre piece of land within the 1,200-acre park (600 acres of land, 600 of water) where the state Department of Environmental Protection sees the possibility for commercial development as part of Christie's "Sustainable Parks" initiative, which calls for state parks to generate more money to offset the system's then-$39.8 million budget in 2011.
This past Thanksgiving, the DEP unveiled an 18-page report, which included park privatization recommendations of an amphitheater and hotel. Pesin, who heads up Friends of Liberty State Park, and his allies want Christie and the DEP to deep-six those plans.
At the very least they want to be able to publicly comment and voice their opposition.
"They haven't promised public hearings and a public comment period," said the local park activist, son of Morris Pesin, who helped found the park, for whom the street leading out to the park is named. "It is essential that people express themselves. Right now they're [the DEP] trying to figure out some invitation-only process that they can manipulate, but at some point the people will have their say.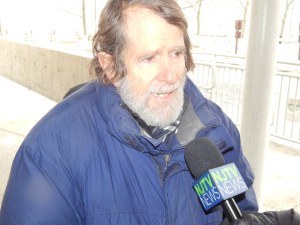 Pesin, Assemblywoman Angela McKnight (D-31), and Freeholder Bill O'Dea this afternoon led their fellow enviros and park goers down to an area close to the water's edge with the Statue of Liberty in the background. They have the support of others in their cause, including Jersey City Mayor Steven Fulop, Senate President Steve Sweeney (D-3), and Senate Majority Leader Loretta Weinberg (D-37), who might hold hearings if the state DEP refuses.
Pesin said he doesn't have an objection to some limited, temporary development for the park, including a winter ice skating rink, for example. But a hotel ad large-scale admissions amphitheater are out-of the-question, he argued. It's not just the historic and precious nature of the land that fronts Lady Liberty and Ellis Island, he noted, but the fact that the land in question serves as a green corridor and sanctuary for urban residents in Hudson County.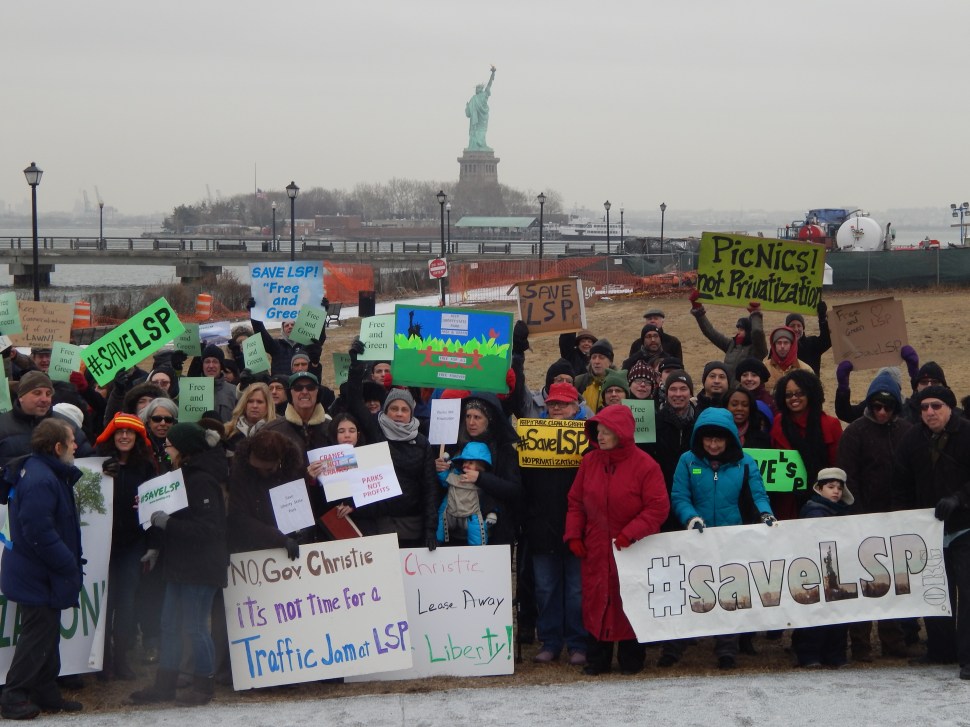 "These privatization ideas not wanted," said Pesin, whose late father first dramatized the idea of a park when in 1958 he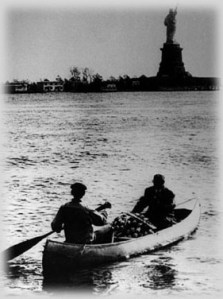 convinced a Jersey Journal editor to take a canoe trip with him from the banks of Jersey City to the Statue of Liberty.
Pesin said his organization landed on the idea of a protest on President's Day in order to make a specific, large-scale point about Liberty State Park.
"Yes, it's a New Jersey State Park but it first opened as New Jersey's bicentennial gift to America," he explained. "It's reserved as an iconic American landmark. Former Senate Majority Bernie Kenny once said that next to Gettysburg, it's the second most sacred land in the United States behind the Statue of Liberty and Ellis Island. Look, it's one of the most valuable pieces of land in the United States. Whatever privatization leases the governor might want to give out, he's giving away priceless land… to a hotel."
Last year, Bob Considine, spokesman for the DEP, told NorthJersey.com that the proposal was not outrageous.
"We feel these options for modest development, which represents less than 3 percent of the entire park, will take one of the crown jewels of the state park system and make it shine brighter with better amenities, facilities, programming and services," Considine said.