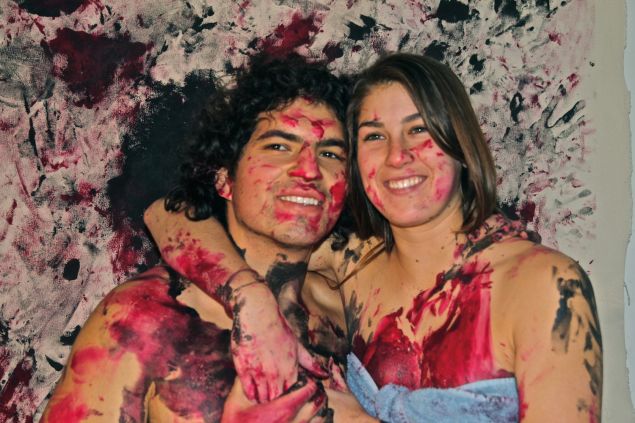 Some of you might recall the splashy V Magazine cover from earlier this year that featured a bare-assed Lady Gaga and her fiancé in the dewy-eyed aftermath of a creative sex-painting session.
Well it seems as if "adult finger painting"—as it's now being called—is actually a thing.
The inventor of this groundbreaking practice, Alexander Esguerra, "wanted to capture the beauty and passion of the physical act of love through art," according to the website for his product Love and Paint: a sex painting kit that lets loving couples (or brave soloists) make sweet non-toxic love in the privacy of their home, but with the added bonus of an Ikea-quality artwork waiting for them post-coitus.
Mr. Esguerra brazenly tried to sell his own soiled love paintings for a few years before realizing that people probably would prefer to display their own sex trophies. In 2012, he teamed up with a young entrepreneur named Tyler Peters, and the rest is art history.
By now you're probably saying, "ok, I'm dying to hear more about this $250 product. Please tell me more."
Well the first thing I'll tell you is that you're in luck: "Love and Paint II" has apparently just come out—and in time for Valentine's Day. This limited-edition kit includes one obsidian black hand-dyed cotton canvas (5 x 4 feet of it), three jars of "organic" body paint that hopefully won't permanently stain your privates, a clear plastic tarp to help you "contain" your love, an artist brush (only one, you'll have to share) and, oddly, a pair of terrycloth slippers.
But if that sounds like small potatoes to you, you might want to splurge on the Love and Paint Valentine's Day Hotel Experience, which is a lot what it sounds like. You even get to meet Mr. Esguerra himself (optional) who can most likely give you the best tips on how to bang out an Ab Ex style painting as opposed to grinding out a Color Field canvas.
You can visit the Love and Paint website to see examples of the paintings these lovers make as well as some more romantic images like this one. Aw.