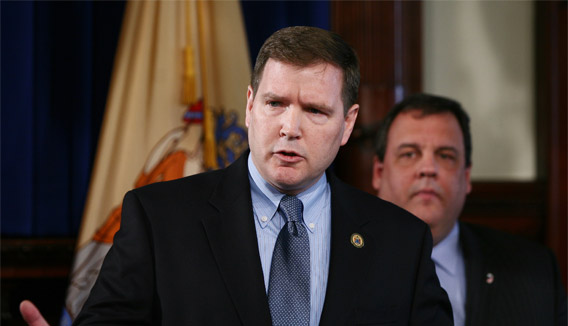 With his second-place showing in the Iowa Republican caucus last night behind Senator Ted Cruz (R-TX) causing some doubts about Donald Trump's candidacy, the only New Jersey Republican to officially endorse 'The Donald' still believes Trump's lead in New Hampshire is the most important factor in his battle against Cruz. Senator Mike Doherty (R-23) said Tuesday that while he is still hoping for a Trump presidency, he hopes the Republican party as a whole will reap the benefits of a volatile primary cycle.
"I think he's in excellent shape. He's leading in the polls in new Hampshire by a strong margin and he's leading nationwide," Doherty said of Trump, adding that he believes Cruz's three-point victory (27.6 percent to Trump's 24.3 percent) resulted from his strong support from the evangelical community in Iowa.
"I just think demographics is destiny in politics. And the demographics in Iowa were set up for him to do well, and he pulled out all the stops to do that," he said, adding that the first primary is not always a reliable bellwether for the eventual nominee. "Iowa was a perfect state for Ted Cruz to run in. In the past folks such as Pat Robertson have won against George Bush in 1988, Ronald Reagan lost in 1980.
"New Hampshire is a different story."
Doherty said that while the Trup-Cruz rivalry has dominated coverage and the caucuses, the clear trend has been a rejection of traditional GOP party authorities. After taking a quick shot at Cruz's odds in the nationwide primaries, he said that Senator Marco Rubio (R-FL) could pose the greatest threat to the two upstarts. Rubio came in third last night, with 23.1 percent of caucusgoers.
"Cruz had to win that state to maintain his viability. I will say this: if you take a look at the vote totals and you start adding them up, the percentage of the votes that went to outsiders, outside the establishment, was huge," he said. "If you add up Trump, Cruz and Carson's totals, clearly the voters are rejecting the establishment candidates this year.
"I still hold out hope that Trump and Cruz will work together," Doherty continued. "If somehow their battle against each other leads to a guy like Rubio sneaking up in between, I don't think that's going to be good for the Republican Party in the fall because you're going to have a base that's very de-energized."
On what he expects between now and next Tuesday when the New Hampshire totals roll in, Doherty said that former establishment favorites like former Florida Governor Jeb Bush, Ohio Governor John Kasich and New Jersey's own Governor Chris Christie will lash out against Rubio in a bid to install themselves as the third-place establishment favorite. Doherty said that Rubio is in for "hell week."
"If Marco Rubio gets through it OK then I guess he's proved his mettle, but I think there's going to be a huge target on his back," he said. "All of these other establishment candidates, it's do or die.
"His former mentor Jeb Bush, I guess he's feeling a little sore right now."
On the Republicans' chances against either former Secretary of State Hillary Clinton of Senator Bernie Sanders (D-VT), who fought it out to a near-draw in Iowa, Doherty said he believes the racial and ethnic diversity of the Republican slate will resonate with voters and combat the perception of the GOP as the party of the country's shrinking white majority. Despite Trump's provocative comments on immigration, Doherty said the electorate will see the difference between the two sides' candidates and make their own conclusions.
"Three of the top four candidates, two of them were Cuban-Americans and one of them was and African-american," Doherty said of Cruz, Rubio and retired neurosurgeon Ben Carson. "That says a lot for the Republican party, I believe, and the conventional wisdom that Democrats try to throw out there is absolutely incorrect. On the other hand, Democrats offered three white candidates."