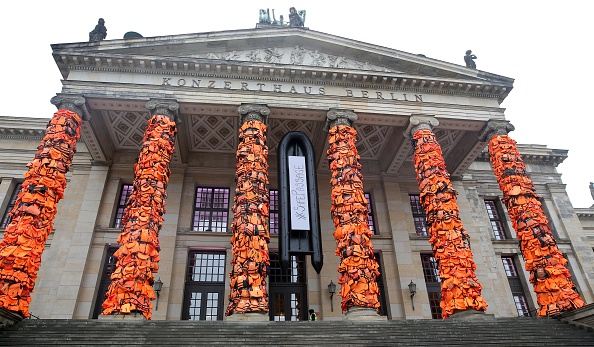 Now we know what Ai Weiwei was up to with the 14,000 refugee life jackets given to him by the Greek island of Lesbos. The artist has adorned Berlin's Konzerthaus concert hall with the orange jackets and is showing his installation concurrently with the Berlinale Film Festival.
Spain's Prado Museum has pulled two paintings from The Netherlands' historic exhibition of works by Dutch painter Hieronymus Bosch after a spat with with the Noordbrabants museum over attribution.
On the Bosch show, which is being celebrated as a homecoming of sorts for many of the artist's masterworks, The Guardian's Jonathan Jones calls the exhibition, "one of the most important exhibitions of our century."
Paris' Pinacotheque, a private art museum, will close today after suffering financial loses and a decline in visitorship following the November 13 attacks on the city.
Los Angeles artist Charles Garabedian has died at the age of 92. Garabedian was known for his brightly colored oil paintings based on Greek sagas.
Here's a case study on the ways that close scientific analysis has helped scientists in recent years distinguish authenticate works by art masters from imitations. In the case of Clementine Hunter, a self-taught artist from Louisiana whose work has been frequently imitated, it was the presence of cat hair that gave away two longtime forgers.