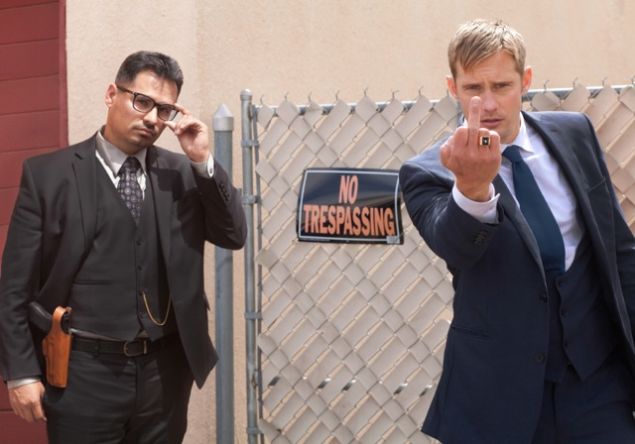 While Deadpool was breaking records in the U.S. over the weekend, the Berlinale hosted its own bloody Valentine to gonzo justice: War on Everyone, in which a pair of coke-snorting, bribe-demanding, plain-clothes New Mexico cops with a penchant for bespoke suits (Michael Peña and Alexander Skarsgård) express their hit-and-run mentality towards the entire world (especially fleeing perps).
"It's like a Starsky and Hutch episode directed by Quentin Tarantino," cracked one cheeky journalist, pretty much nailing the tenor and style of British filmmaker John Michael McDonagh's profane romp, which is a delightfully disturbing indictment of the American police system as well as a fun-house reflection back onto pop culture's own demented—and seriously unhealthy—addiction to law enforcement run amok.
While Skarsgard's character is a booze-soaked playboy who suffers goon-squad beatings with a diffident shrug, Peña's role as an outrageously droll married man—who has him rolling his eyes at his kids even as he shakes down a lowlife to get them an Xbox—complements him perfectly. And both men have brainy, literate, sexy women in their lives that offer deadpan support to their shenanigans while grounding their anarchy in some semblance of an alt-family life.
Even more thrillingly surreal is Spike Lee's Chi-raq, the feverish satire about gun violence in Chicago (which also doubles as an update of the Greek classic Lysistrata) that stars Nick Cannon, Samuel L. Jackson, Wesley Snipes, and Angela Bassett. The film made only a quiet splash at the box office during its year-end release in the U.S. but is now making its European debut. The international journalists responded with hearty applause at the press screening of this highly stylized anti-gun fable, and a packed press conference was predictably provocative. A French Canadian reporter based in Germany confessed to Mr. Lee that she overheard a German talking about another shooting in the U.S. and saying, 'Who cares? A good American is a dead American.' Then she continued: 'From our point of view in Europe, there's a madness going on that is unfathomable. We cannot really understand what's going on."
"The United States of America is a very violent country," replied Mr. Lee. "We have more guns than anybody. Ninety-nine Americans die every day due to gun violence, two-thirds of that are suicides. Fact check! And are you all hip to Flint, Michigan? Somebody needs to go to jail. And that's white people drinking that water too, not just black folks. You must look at America and say, 'What the fuck is going on? Donald Trump is running for President of the United States?!?' It's a very volatile time. What is the famous last line from Bridge on the River Kwai? 'Madness! Madness!'"
With their deft mix of over-the-top dialogue and outlandish situations, the subversive movies War and Chi-raq are arguably the most entertaining and thoughtful of the celeb-driven English-language movies at Berlin this year, especially since the only major studio offering is Midnight Special, a minor-key mash-up of Steven Spielberg's Close Encounters of the Third Kind and John Carpenter's Starman from indie darling Jeff Nichols.
The lo-fi sci-fi nail-biter about a boy with alarmingly destructive alien powers borrows heavily from both Spielberg and Carpenter for the film's kinetic propulsion, piano-wire tension, and common-man earthiness. Notably missing, though, is any sense of emotional involvement among the characters, including Michael Shannon as the kid's dour father and Kirsten Dunst as the plain-Jane mother, not to mention Adam Driver as a baby-faced NSA analyst and Sam Shepherd as a skeevy cult leader. They all just seem content to glower at each other while reveling in pregnant pauses instead of connecting in any sort of endearing or relatable way.
This year's other star quotient was unfortunately relegated to some fairly embalmed prestige pictures. Most disarming of the bunch was A Quiet Passion, Terence Davies' stiff-yet-tender but well-intentioned biography of Emily Dickinson. Played  by Cynthia Nixon with a steely intensity that only occasionally gets smothered in the mannered dialogue, Passion lovingly envelops its subjects in a velvety cinematography that's often accompanied by Nixon's voice reading Dickinson's electric poetry aloud. The mostly chamber-piece film (in which Dickinson essentially becomes a shut-in spinster for most of her adult life) still manages to soar visually with a few breathtaking scenes that open up her inner world with surprising effectiveness (thanks to some creative camerawork.)
Far more conventional—and all the worse for it—is theater director Michael Grandage's filmmaking debut Genius, a broad biopic about Max Perkins, the celebrated book editor at Charles Scribner's Sons in the late 1920s whose roster included F. Scott Fitzgerald, Ernest Hemingway, and Thomas Wolfe. Featuring Colin Firth as Perkins, and based on A. Scott Berg's critically acclaimed book Max Perkins: Editor of Genius, the film also clearly becomes a sandbox for all sorts of Foreign-born actors to dress up as famous American literary figures: Guy Pearce as Fitzgerald, Jude Law as Wolfe, Dominic Cooper as Hemingway. Even Nicole Kidman pops up as Wolfe's long-tortured mistress.
Ostensibly a drama about the mild-mannered book editor who whittled the undisciplined outputs of unruly literary greats into critical and commercial landmarks, Genius quickly and sheepishly prefers to focus on the gossipy interrelationships of all these characters instead of really diving deep into the craft that's behind great writing.
At the film's press conference, reporters also focused on the superficial. "How much did you have to suffer?" asked one reporter to Jude Law about the vocal preparations for his character's twangy Southern accent. "Not as much as we had to suffer!" quipped Grandage and Firth together.  When Firth was asked to name his favorite film and book, the Oscar-winning actor proved himself to be the perfect on-message shill. "My favorite movie is Genius and my favorite book is Max Perkins: Editor of Genius," he said wryly.
Another journalist wanted Firth to reflect on the fact that, in film after film, he always seems to be playing taciturn men who wear business suits. "I just get asked to play them," says Firth. "The suit is the costume, I just put it on. If someone wants me to wear a mankini in a film, I'm available. Anybody wants to free me from restraint, I'm ready to burst out of a cake!"