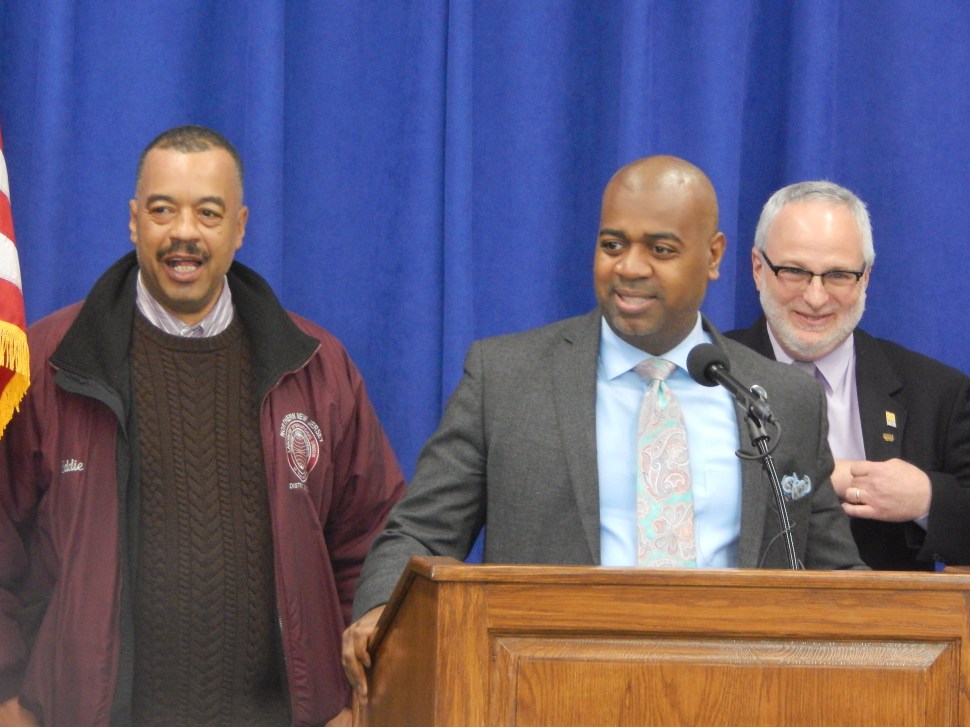 NEWARK – As Democratic Party leaders in the state legislature convene in backrooms trying to bring under one tent a plan to raise the minimum wage to $15 an hour, debating the pros of shorter versus longer intervals for the wage hike's implementation, Newark Mayor Ras Baraka today called on the Port Authority of New York and New Jersey to pay its airport workers $15 per hour.
"I made it clear during my first state of the city address in 2015 that the Port Authority must be a better partner with the city," Baraka (pictured above with 32BJ Leader Kevin Brown, right, and Councilman Eddie Osborne) told reporters at a basement press conference in city hall.  "If not, I would seek other suitors for our valuable land by putting out a ROI (Request of Interest).  And that's exactly what we have done."
In a  room packed with approving SEIU 32BJ workers, Baraka called on the agency to pay its workers better wages in conjunction with a city plan to maximize its lease with the Port. Newark's long-term agreement with the port includes a provision to periodically reexamine gross revenues received by the Port Authority from Newark Liberty International Airport and Port Newark.
The workers in question make on average $10.10 per hour.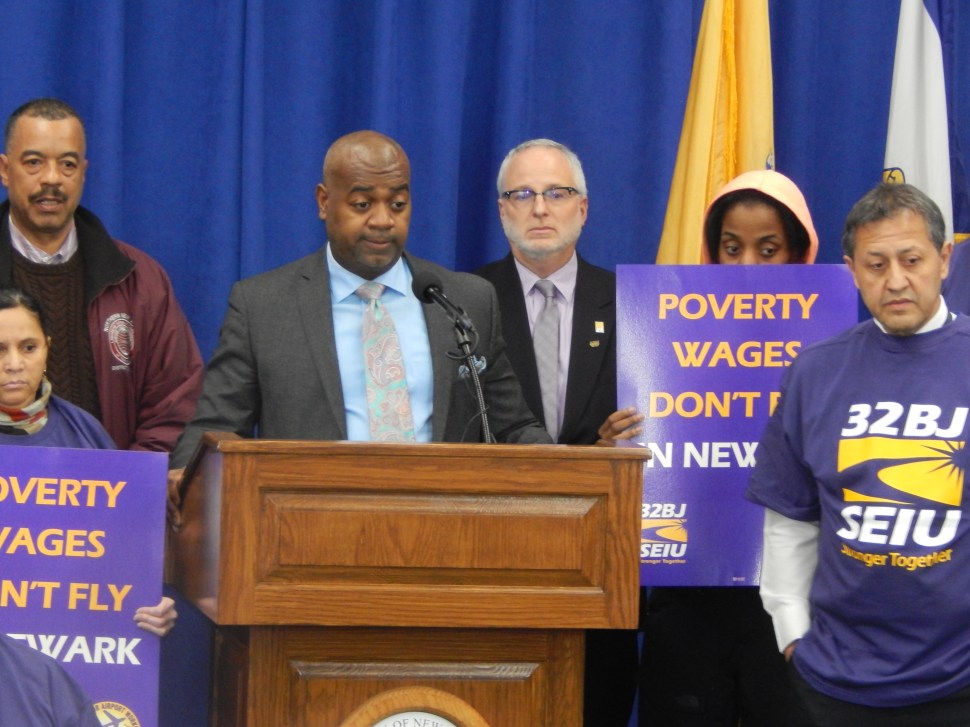 "For far too long, contracted airport workers at Newark Liberty International Airport have struggled to survive on poverty wages," said Kevin Brown, 32BJ vice president and NJ State director. "A $15 minimum wage will help these hardworking men and women afford the basics and leave them with a little left over to spend in the local economy."
The mayor made his statements on the heels of closed door meetings Wednesday among union leaders and Senate President Steve Sweeney and Speaker Vincent Prieto, as the Trenton lawmakers try to figure out how to best advance legislation to get New Jersey to adopt a $15 minimum wage. Prieto first proposed the legislation as an immediate hourly minimum wage hike to $15. Sweeney prefers a phased approach.
Trying to align, Sweeney and Prieto last Friday announced that they will sponsor an effort to raise New Jersey's minimum wage to $15 an hour as early as 2021. Sweeney and Prieto's plan would immediately raise the wage to $10.10, then mandate annual increases. Sweeney and Prieto said that they will pursue a constitutional amendment through a ballot question if Governor Chris Christie vetoes the increase. As reported by PolitickerNJ reporter J.T. Aregood, the ballot question would likely go to voters in 2017 after two consecutive majority votes. Sweeney, who is expected to run for governor that year, sponsored the ballot question that raised the state's minimum wage to $8.25 in 2013. The bill announced Friday joins a long list of Democratic-lead initiatives going to a popular vote to circumvent Christie through constitutional mandates.
At this morning's meeting, 32BJ reps argued for a $15 minimum wage to be effected now, not over an eight year period, but Democratic lawmakers are encountering push-back from business leaders.
Christie in his state of the state speech and Republicans in swing districts are likewise voicing their opposition to the measure.
"The Democratic leadership is suggesting that it is time for big business to ante up," Assemblyman Jack Ciattarelli (R-16) told PolitickerNJ. "What the leadership forgets is that small companies – family owned, mom-and-pop shops – are the real driver of employment and that this proposal will have disastrous effect on their business. Senate President Sweeney isn't solving anything with this kind of knee-jerk, imperialistic policy making."
PolitickerNJ asked the mayor if he favors an immediate minimum wage hike to $15 or a hike at intervals.
"Immediate," Baraka said. "Workers have been living in poverty for too long."
Another reporter asked Baraka is there was a formula that he and union leaders used to come up with $15 per hour.
"The formula is justice," said the mayor to rousing workers' applause.
The New Jersey Business and Industry Association (NJBIA) doesn't share Baraka's view.
"Not only is raising minimum wage a concern for businesses who must increase their employees' pay from $8.38 to $15, but there is also great concern about the ripple effect," said NJBIA CEO and President Michele Siekerka. "If the minimum wage is increased to $15 those now earning $15 will then seek a similar increase, as will all hourly employees. This will ripple on through the salary structure of all small businesses; cost billions of dollars of increased costs and make New Jersey a less attractive climate in which to do business."