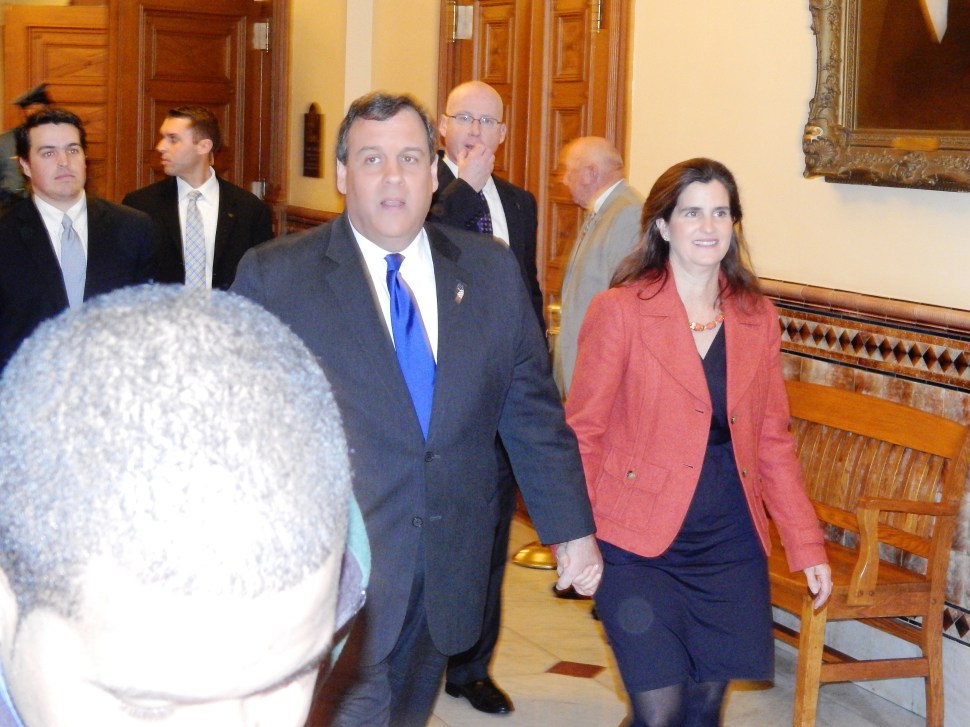 TRENTON – Following his budget address, Gov. Chris Christie exited the assembly chamber and walked back to his office, wife Mary Pat and son Andrew at his side and at his back.
Gone were the cable news trucks from the Statehouse parking lot and West State Street.
There was no stinging sound bite in his speech aimed at the national level chattering classes, just a mild rebuke of the negativity of the media.
Up close, the governor gave a friendly smile of recognition and a greeting, and his demeanor seemed consistent with the goodwill he transmitted from the rostrum following an extended out-of-state absence.
Christie spent much of 2015 out of state as he vainly pursued the presidency, and now he extended a hand.
"Everyone will be watching him when he gives his budget address, because it's like the schoolyard bully who finally got beat up on the playground and now he's walking back into the cafeteria conscious of being vulnerable and aware of people emboldened to challenge him," a Democratic source told PolitickerNJ in the lead up to today's address.
If Christie plans to "settle scores" in his remaining two days in office, as another trembling Democrat put it to PolitickerNJ down in Atlantic City for the League of Municipalities late last year, he didn't appear today to be nursing a grand revenge scheme.
He made one reference to the presidential contest having made him "a better person," and perhaps this was the admission of learned humility so hoped for by his stoutest critics, and a signal that he at last means to try to exercise a greater measure of civility in his relations with people.
Or it could just be him softening people up sufficiently for them to drop their guards.
Assemblyman Jamel Holley (D-20) preferred to see it in a positive light.
"The governor appeared to be very humble, which gives me the hope that he's willing to work across the aisle to fix chronic issues plaguing the state," the freshman lawmaker said. "Everyone knows the issues. But no one is working together to solve them. We all need to get on the same page and that begins with a bipartisan governor who wants to do the right thing for the people of New Jersey."