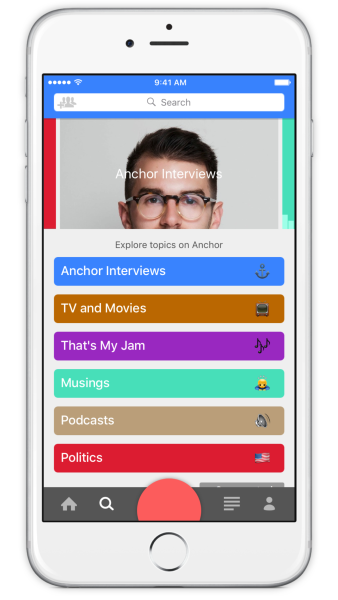 Now that podcasting has captured at least part of the public's imagination, new shows have been flooding into the medium, while new startups have turned from a trickle into a stream. Enter, Anchor, a new social app for audio, just announced via Betaworks' Openbeta newsletter. It lets users record audio messages and invite others to record their own responses. Then, if a user wants, they can publish that conversation as a podcast.
It hearkens back to the bad old days of 2007's pre-mobile web, when there was a site called Utterz. It was a social network grounded in audio. If you gave it your phone number, you could call its server on your mobile and record messages about anything you wanted, and they would be posted under your screen name on the site.
I loved it. It was a great way to sound off about things that crossed my mind as I walked around Philadelphia. A friend called it an RSS feed from my brain. Plus, all posts were shareable and embeddable. The voice component seemed to build a decent little community, at first. People could record or write comments on each other's "utterz." A part of the site's problem might have been its disconnect between the phone call and the text, however. Without any kind of automatic transcription system, no one knew what your Utterz post was about unless you wrote something on a post after you were in front of a computer again. That's a lot of friction. In fact, before long, it seemed users did a lot more blogging than uttering. And then it shut down.
By moving much the same process onto an iOS app, it's easier to enter in both text and sound at once. Will it make a difference?
By the way, while Android users can't use the app yet, anyone can listen to conversations published on the web or as podcasts (the company has its own, naturally).
"These anchor interviews, they are little different than what you might be used to," a member of Anchor's community team, Kristin Myer's, says before this interview with a designer at Tinder. For example, she points to the fact that her interlocutor isn't in the same room as she is. Of course, that's not the strange part; people did phone interviews before the Internet. Here is what is weird: each participant has to listen at a different moment than when something is said, and then reply. Between each "wave" (think "tweet" or "post" here), Anchor plays a little sound to indicate it is shifting between users.
While it makes the conversation stilted, that asynchronous voice element also allows the community to enter into the conversation after whatever wave they like. In that way, it's similar to another iOS app, focused on video, SpeakUp (the proprietor of Selfie.com).
The new app enters a space similar to another the Observer previously reported on, Raur, which also lets users turn their mobile device into a podcasting platform, though more in Periscope or Meerkat's spirit than Twitter's. John Lee Dumas also recently told us about another technological entrant in the podcasting space, Zencastr, which allows each participant in a phone interview to record individual, but synchronized, tracks, which really improves sound quality (that way, neither track sounds like it's coming through a phone line).
We'll see which of these companies still sound interesting a year from now.
See new developments in podcasting technology? Email bdale@observer.com